Investing in a Sustainable Future
Stay ahead of changing investor preferences with Morningstar's latest ESG research findings and in-practice ideas.
A global standard for sustainable investing
The Morningstar Sustainability Rating™ for funds allows investors to evaluate how well the companies in a fund's portfolio are managing the environmental, social, and governance—or ESG—investing factors relevant to their industries. It makes it possible to find sustainable funds even if they aren't specifically marketing themselves as products that support an ESG-investing approach.
FOR INVESTORS
Join a new generation of investors.
Use Sustainability Ratings to evaluate investment opportunities or spark new conversations with your advisor and determine whether funds marketed as socially responsible investments deliver what they promise.
FOR ADVISORS
Be the go-to advisor for sustainable and socially responsible investing.
Reach new demographics of investors and better serve your existing clients (who might care about sustainability, even if you don't know it). You can help your clients understand how sustainable investing has evolved beyond socially responsible investing and which strategy will deliver what matters most to them.
FOR ASSET MANAGERS
Stand out in front of investing trends.
Address changing investor preferences by considering sustainable investing factors when developing new investments.
Enhancing Our Sustainability Rating
Blog
What's Behind Our Enhanced Rating
Read about exciting enhancements we're making to the Globe ratings this October and why we think these changes are better for investors.
On-Demand Webinar
Managing ESG Risk
Hear from our experts as they go in-depth on the enhanced rating's focus on materiality and comparability.
Read Our Research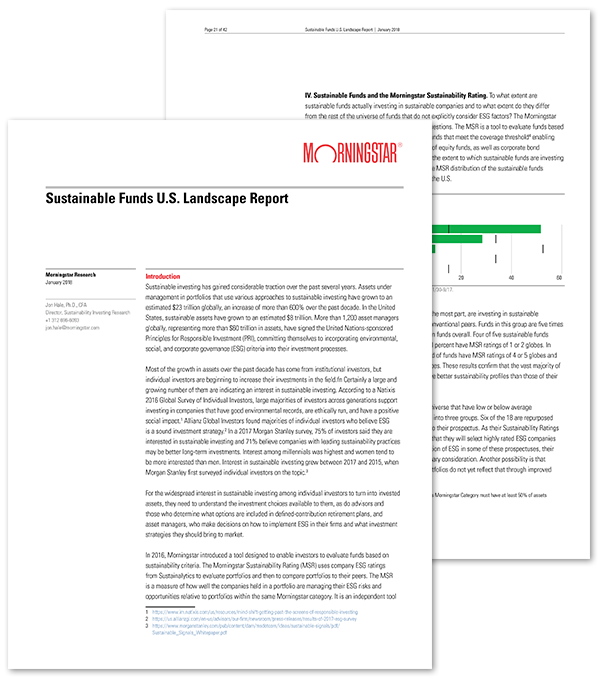 Sustainable Funds Landscape Report
Discover the state of the sustainable fund universe and learn where there's growth in sustainable funds, flows, and assets.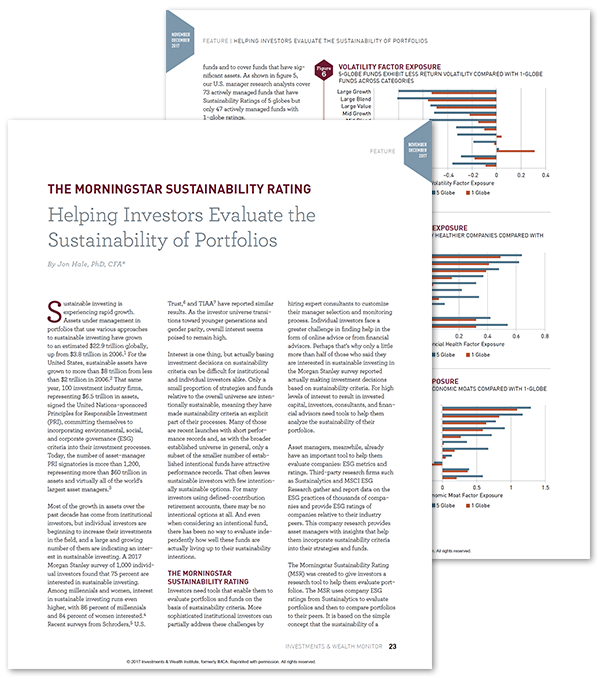 The Morningstar Sustainability Rating
Learn why we created the Morningstar Sustainability Rating and how to use it to evaluate funds.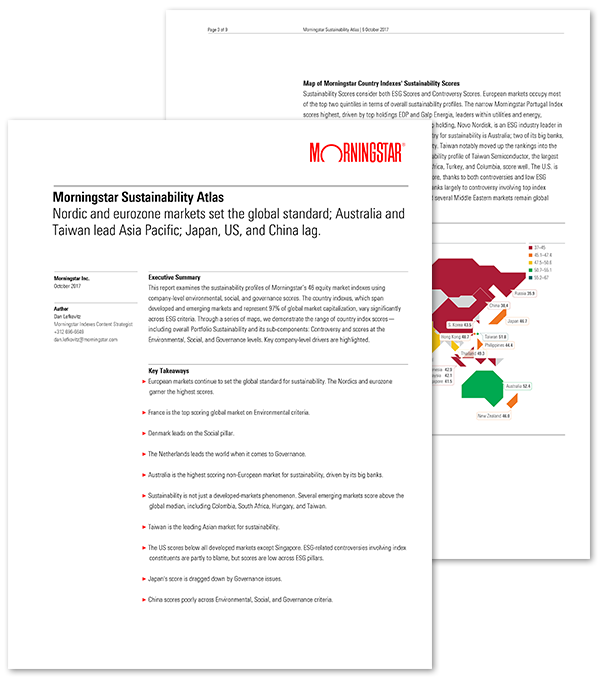 Morningstar Sustainability Atlas
We explore the sustainability profiles of Morningstar's 46 equity market indexes using company-level ESG scores.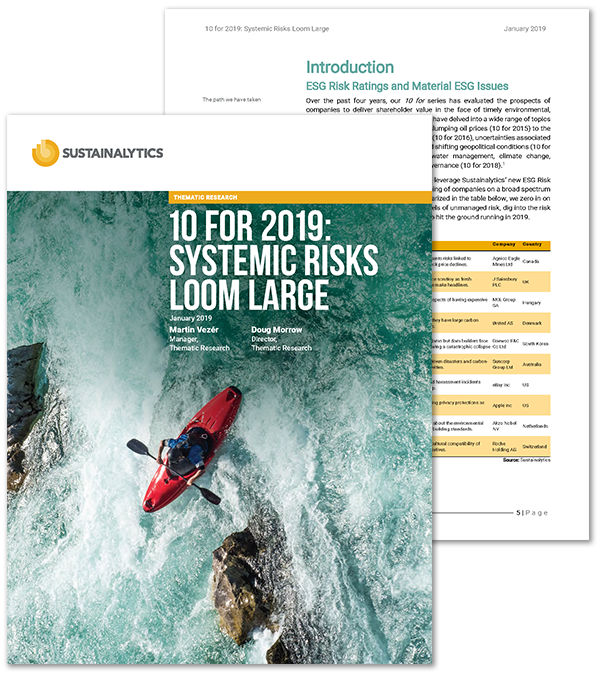 ESG Risks
Sustainalytics, Morningstar's ESG-research partner, examines 10 ESG risks for 2019.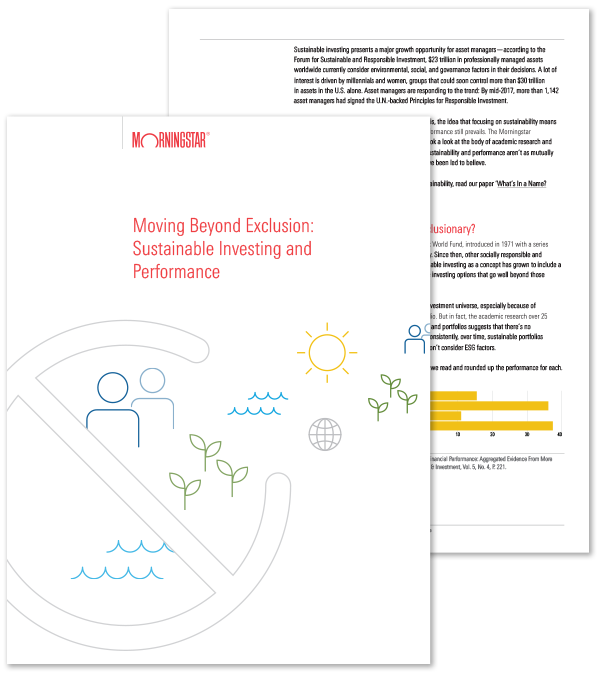 Moving Beyond Exclusion
Based on the research we've studied, we can't find any reason to suggest that sustainability means diminished performance.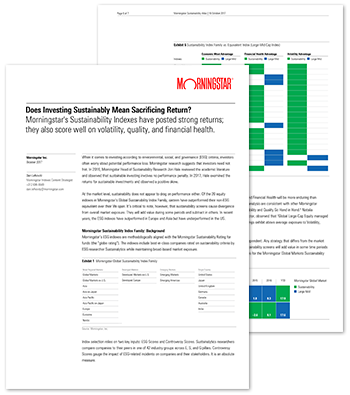 Does Investing Sustainably Mean Sacrificing Return?
We studied the performance of the Morningstar Sustainability Index family and found how many ESG indexes outperform their non-ESG equivalents.
Use ESG data and research in your work.
Address changing investor preferences by considering sustainable investing factors when developing new investments.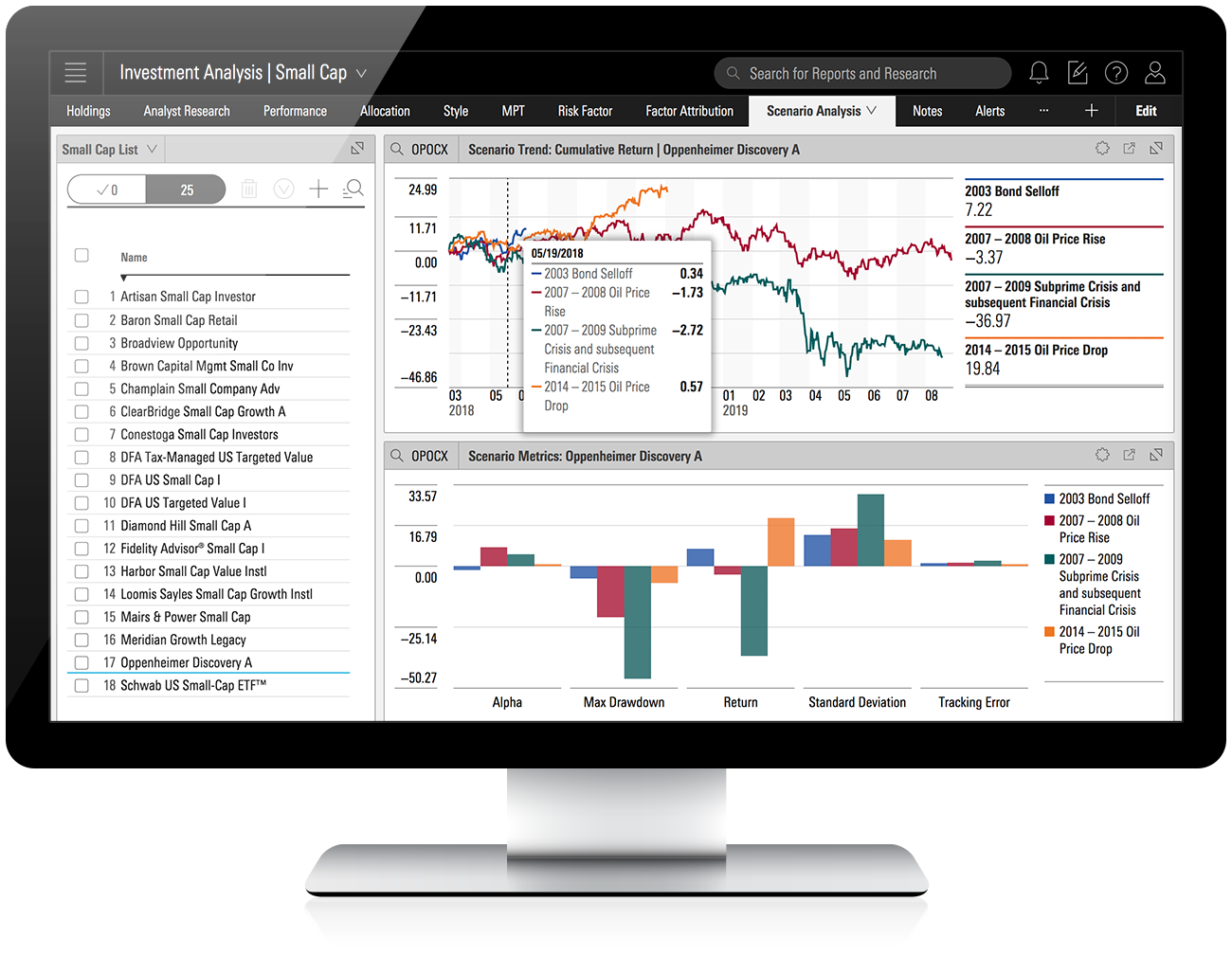 Morningstar Cloud
Get access to our sustainability ratings, product involvement, and carbon metrics in the Morningstar Cloud. ESG data can help advisors and wealth managers choose suitable funds and perform stock research. It can also help asset managers build sustainable products and evaluate their competitors.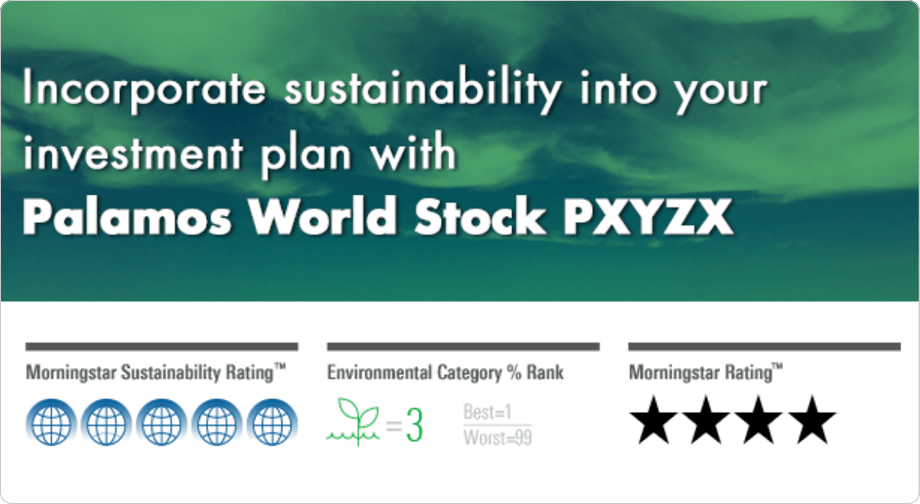 Morningstar Essentials
Use our ESG research and sustainability ratings to send the right message to investors about your firm's funds.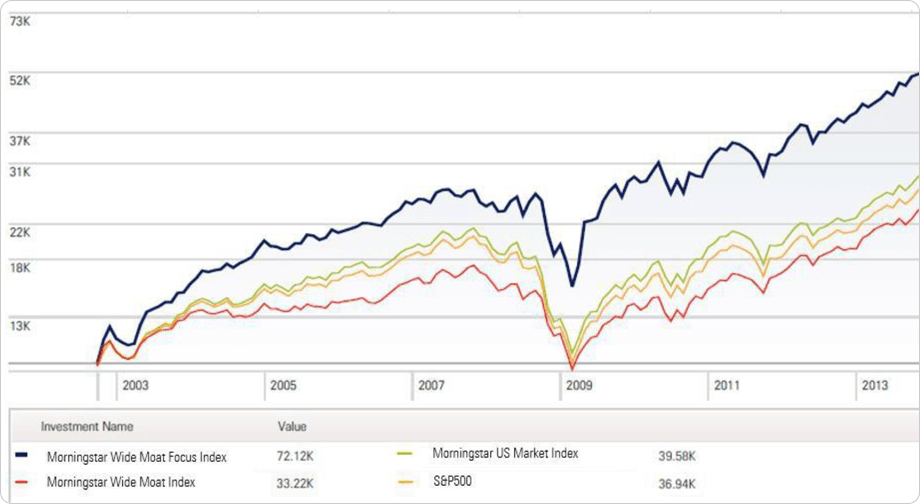 Morningstar Indexes
Discover how you can create distinct products based on our sustainability indexes. Help investors take steps toward investing with positive environment, social, or governance impact.
Want More Insights on ESG Investing?
Read more research findings and in-practice ideas about sustainable investing on the Morningstar Blog.