The Impact of Managed Accounts on Participant Savings and Investment Decisions
A managed accounts service can help guide employees on how much save, how to invest their savings, and when to retire. In this paper, we explore the impact managed accounts can have on participants' savings and investing habits based on whether they're on track to meet their retirement goals and whether they built their own portfolios (or picked from portfolios already built) before entering a managed accounts service.
---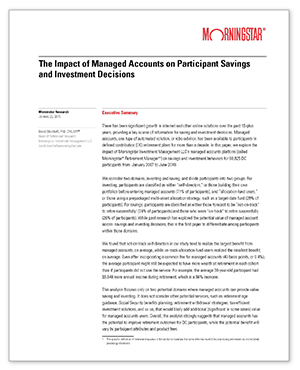 In this report, you will learn:
Which participants may be most likely to benefit from managed accounts

What impact managed accounts has on savings rates and investor portfolios

How managed accounts can help prepare participants for retirement
Download our new research paper.