Your KID's Second-Term Report
The PRIIPs saga has taken its latest turn with a new report submitted to the European Commission by the European Supervisory Authorities at the end of April. It comes as firms continue their implementation preparations for the 2021 rule revisions that will take effect in January 2023. A new Morningstar Policy Research paper explores the changes that product managers must prepare and the new information that investors will see.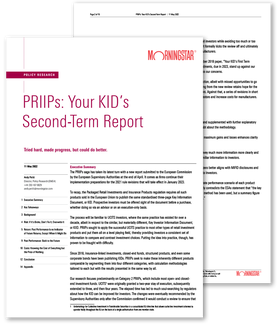 The research is based on perhaps the most comprehensive set of data yet analysed, covering over 50,000 classes of products.
Changing the basis of performance scenarios to reflect maximum gains and losses enhances clarity for investors.
Adding a graphical element to the scenarios would convey much more information more clearly and referring to past performance data at least provides familiar information to investors.
Illustrating one-year costs by assuming a net return of zero better aligns with MiFID disclosures and will give more consistent and comparable information to investors.