SFDR Article 8 and Article 9 Funds: Q1 2023 in Review
The first quarter of 2023 was marked by implementing the SFDR Level 2's regulatory technical standards, or RTS, requiring asset managers to disclose more information on their funds' environmental, social, and governance approaches, sustainability risks, and impact in pre-contractual documents and periodic reports. Ahead of this upgraded disclosure regime and following new regulatory guidance, managers reviewed their funds' classification and downgraded more than 300 Article 9 products to Article 8.
This report provides an update on the landscape of Article 8 and Article 9 funds at the end of March 2023, examining aspects such as flows, assets, product launches, fund reclassifications, sustainable investment targets, and other data from the European ESG Template, or EET.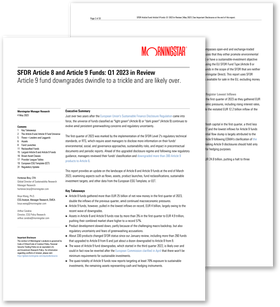 An overview of Article 8 and Article 9 Fund Universe
An analysis of the funds that altered their SFDR status
A closer look at Article 8 and Article 9 funds through the lens of the European ESG Template