The European ESG Template (EET) Ahead of MiFID II Amendment
From 2 Aug 2022, the amended Markets in Financial Instruments Directive II (MiFID II) now requires financial advisers to consider clients' sustainability preferences when conducting suitability assessments. To facilitate this process, a new European environmental, social, and governance template, or EET, has been developed by industry representatives (FinDatEx) to ease the exchange of data between asset managers and distributors.


Morningstar recently collected EET data on 70,580 share classes, accounting for 43% of all share classes in scope of MiFID II, representing 10,316 funds.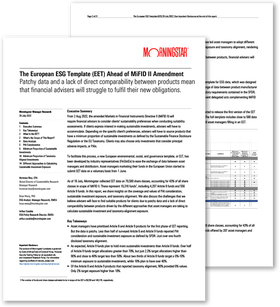 In this guide, you will learn:
The coverage and values of PAI consideration, sustainable investment exposure, and taxonomy alignment, including 4,297 Article 8 funds and 556 Article 9 funds.
The challenges that we believe advisers will face in finding suitable products for clients.
How patchy data and a lack of direct comparability between products is creating a complex sustainable investment landscape for investors and advisers.