Measuring the Return on Technology Investment: Morningstar® Total Rebalance Expert®
Investment advisors need technology to manage and grow their practices. But many advisors are reluctant to take on new technology due to the cost and time involved, along with uncertainty around the benefits. Even if an advisor is willing to consider new technology, the sheer number of tools and platforms offered can make decisions frustrating and, for some, not worth the effort.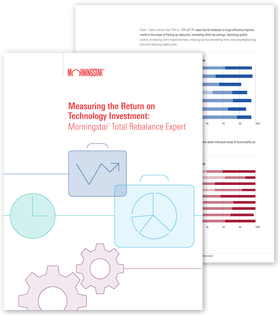 Determining the return on technology investment for any software product presents a challenge.
Measuring the value of new technology can't always be based entirely on monetary units.
Total Rebalance Expert provides an automated solution for the rebalancing process, effectively dealing with multiple variables in a consistent and timely manner.