Global Sustainable Fund Flows: Q3 2023 in Review
In the third quarter of 2023, global sustainable inflows continue to fall, but remain positive. Simultaneously, the global mutual fund and ETF sectors experienced outflows. Persistent inflation, escalating interest rates, and apprehensions of a recession continued to dampen investor enthusiasm.
This quarterly report examines open-end funds and ETFs focused on impact, sustainability, or environmental, social, and governance (ESG) risk factors. This edition of the Global Sustainable Fund Flows report specifically covers recent activity in the global sustainable fund universe and details regional flows, assets, and launches for the third quarter of 2023.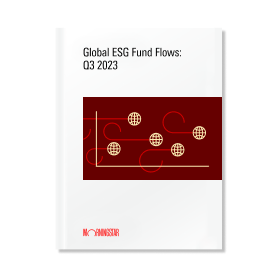 Compare ETF and mutual fund flows in Europe, the United States, Asia, Canada, and Australia/New Zealand.
Track trends in ESG fund launches quarter over quarter.
Analyze leading and lagging investment strategies.
Stay on top of global regulatory updates.