Fund Flows Data: Last Month's Pivots, Trends, and Big Hitters
Analyze leading and lagging fund categories
How are investors reacting to market volatility? With fund flows data, asset managers can map the competition and spot emerging trends.
Each month, Morningstar analysts break down flows by asset class, domicile, and Morningstar category. Track shifts in investor preferences as money flows into and out of investment vehicles.
This report details fund flows data in the United States, United Kingdom, Europe, and Japan. Asset managers can uncover patterns in investor behavior and track the relative performance of other fund families.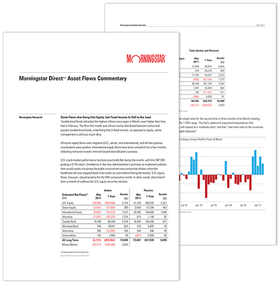 What's Inside Our Research
Dig into monthly fund flow data across global markets.
Analyze long-term trends in bond funds, ETFs, and mutual fund flows data.
Gather competitive intelligence on fund families and recent launches.
Review Morningstar mutual funds data with analyst commentary.