The flexibility to meet your firm's unique investment reporting needs—with enhanced quality and greater efficiency.
Investment reporting support where you need it.
Our solutions empower global firms to tell their story efficiently through print and digital reports. Create templates that align to your brand's core value without losing the ability to scale the report creation and distribution processes.
Outsource and scale custom report creation.
More effectively manage report distribution.
Consistent, timely data across reports.
Help investors and advisors get the information they need to evaluate investment decisions. We can build reports for any investment type, in any language. You can leverage Morningstar's data, integrate your own, or use a combination.
Fund fact sheet production design that elevates your information.
Deliver expertly designed fact sheets, regulatory documents, or other reports with ease. Our graphs and charts demystify raw investment data, while our layouts make information accessible. Create custom reports that reflect your brand or choose from our pre-designed templates.
Take a Look at Our Reporting Solutions
View examples of possible report layouts and design options.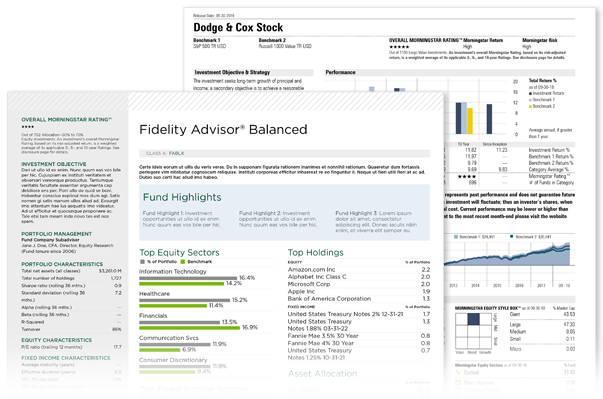 Ready to Discuss Investment Reporting Tools?