Whether you need to select, create, or market investments, Morningstar DirectTM optimises your process by centralising institutional-strength data, proprietary analytics, and in-depth investment research in one platform.
The Foundation you Need for Sophisticated Financial Analysis
data
Understand your firm's data in context with our global, multi-asset investment database, including historical portfolio holdings, equities, Model Portfolios, Separate Accounts, ETFs, indexes, strategy-level data, ESG data, fixed-income data, and more.
Research
Surface global insight grounded in historical context with our independent research, available as it's being published. Our content1 is curated for your day-to-day needs, and includes detailed analysis on markets, equities, and managers.
Proprietary Ratings
Access our research ratings, moat ratings, and analyst ratings, which are unique to Morningstar. Our innovative analytics and methodologies distill complex information efficiently so you can elevate communication with your clients.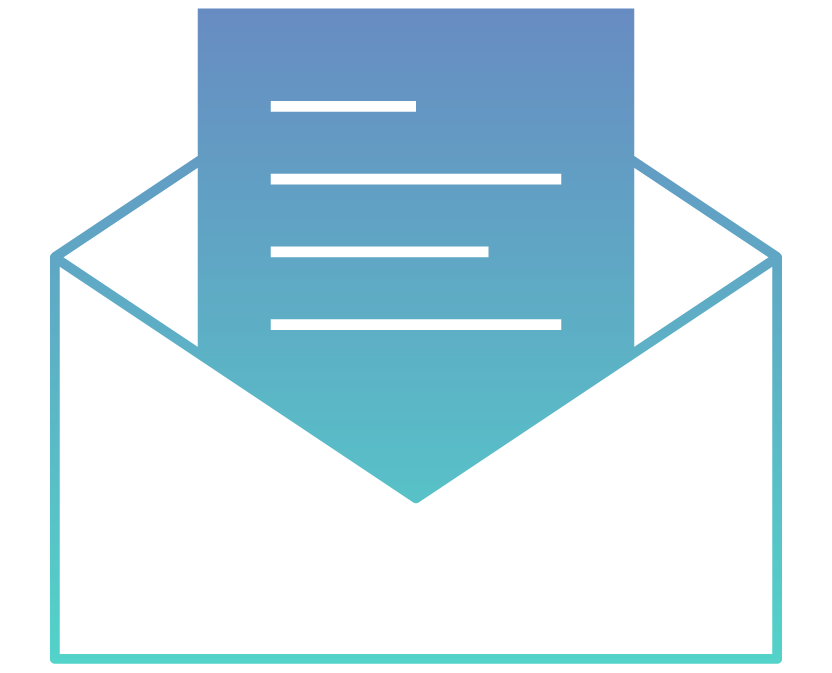 Receive Morningstar Insights
Sign up for our monthly Fund Selector Newsletter for research articles, fund flows analysis and rating changes from Morningstar Direct.
Meet the Morningstar Direct Lineup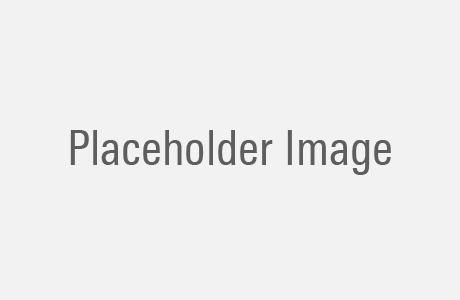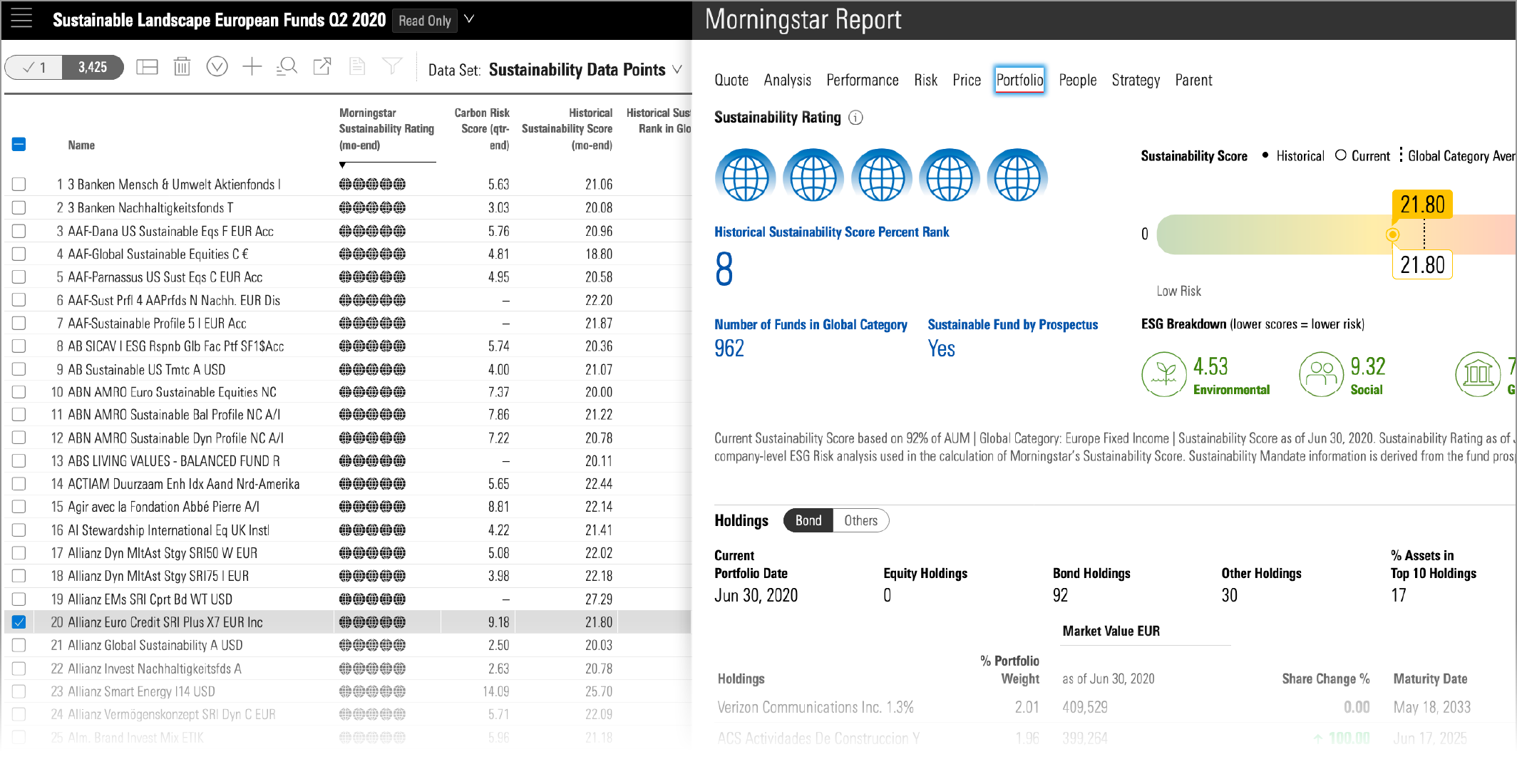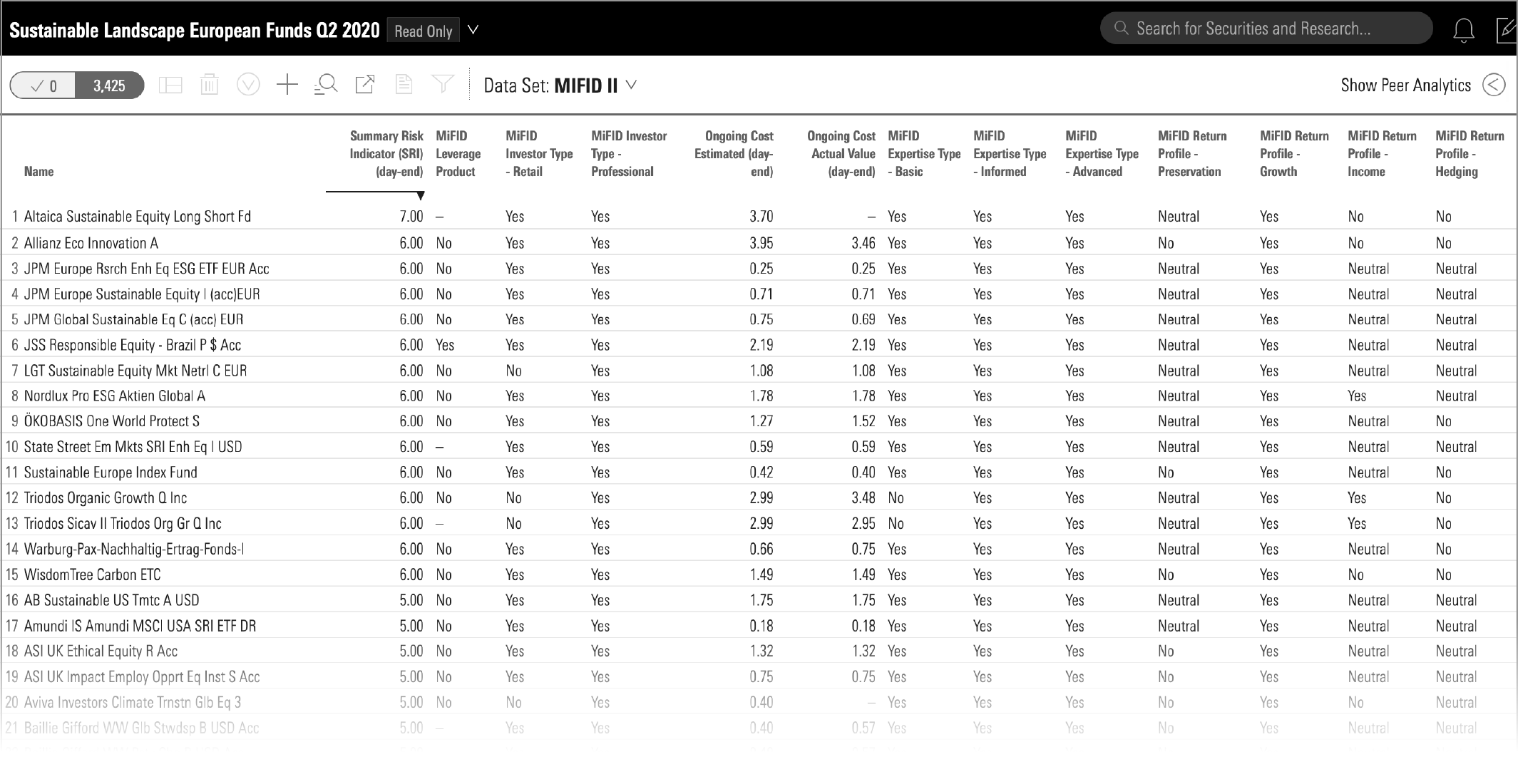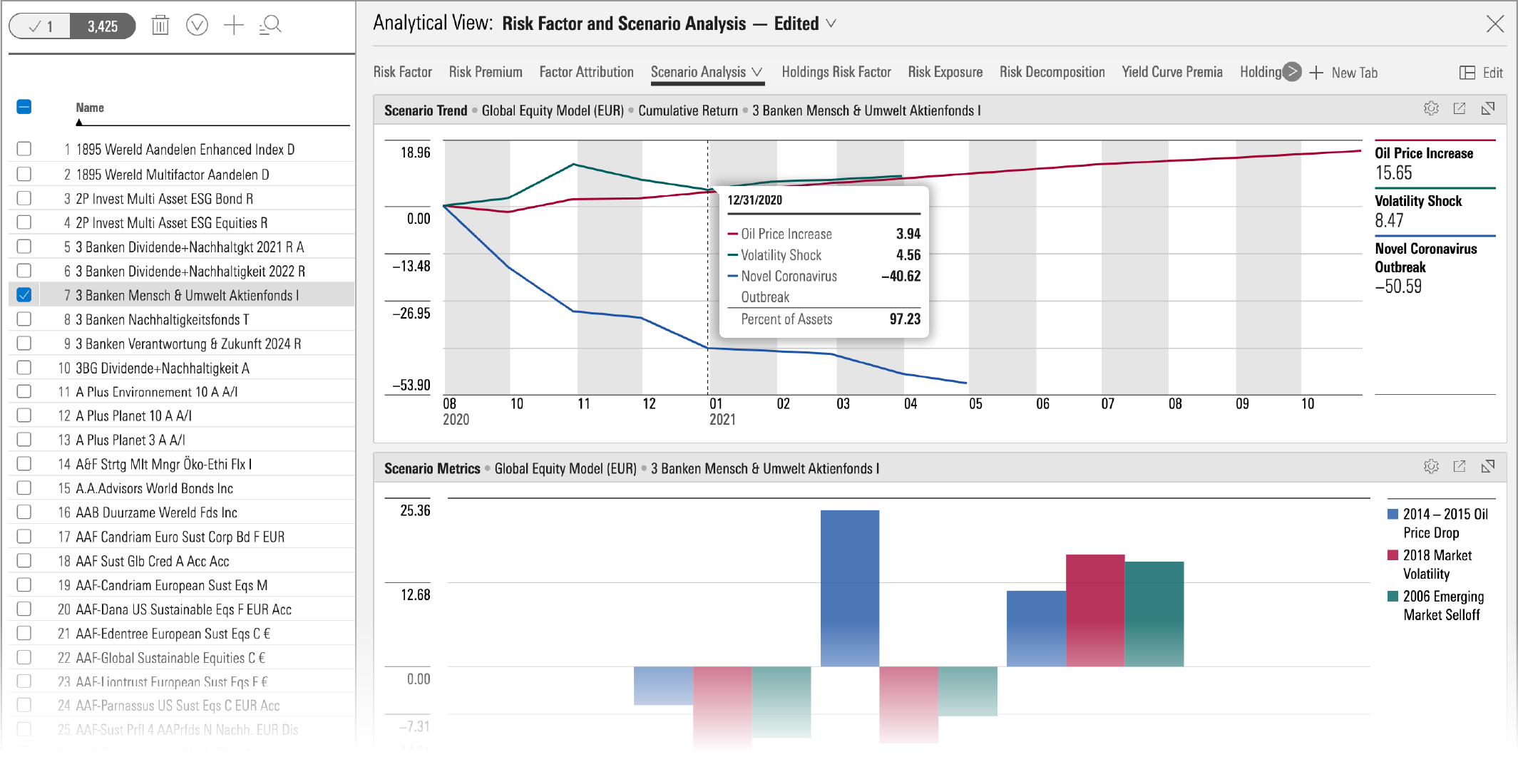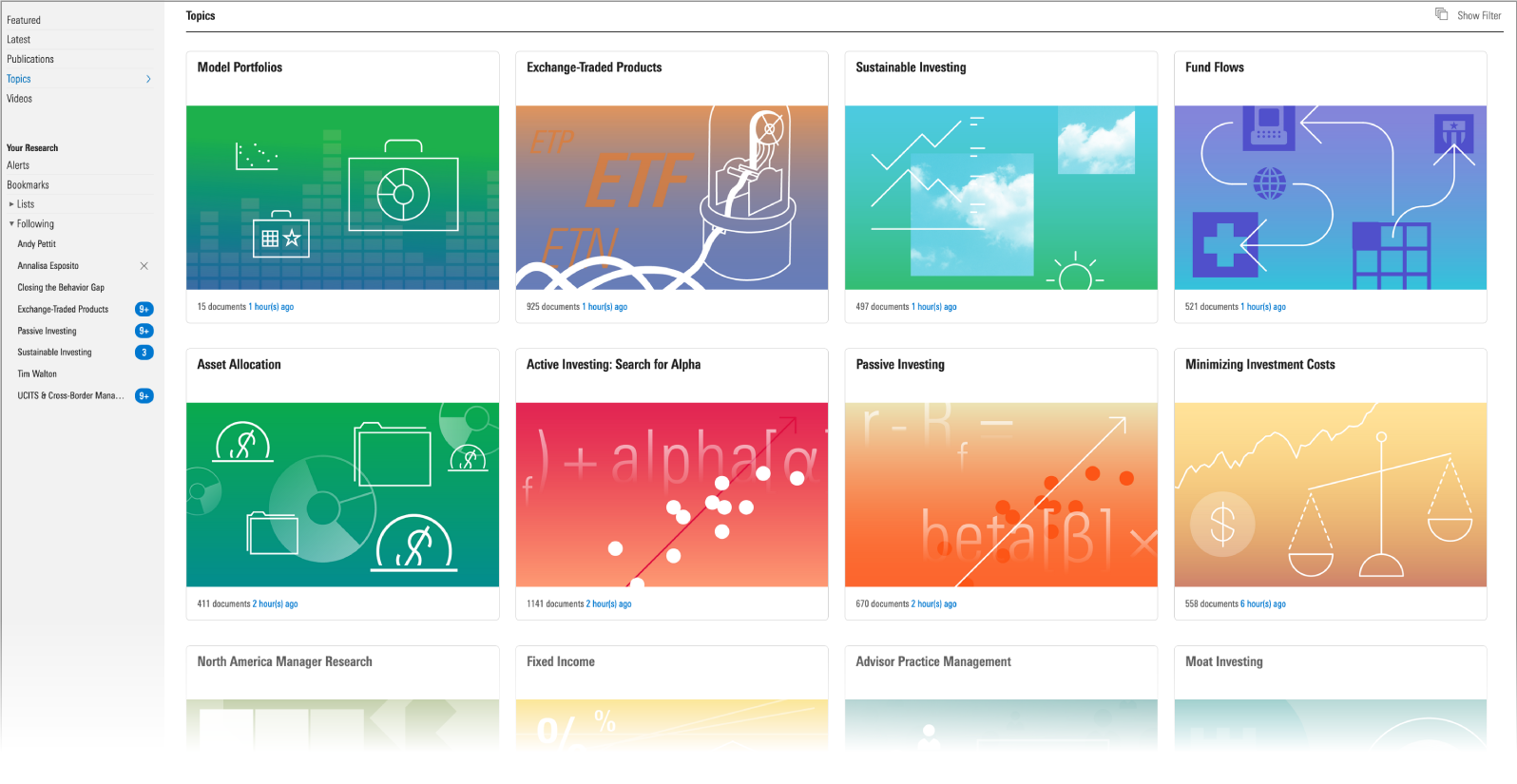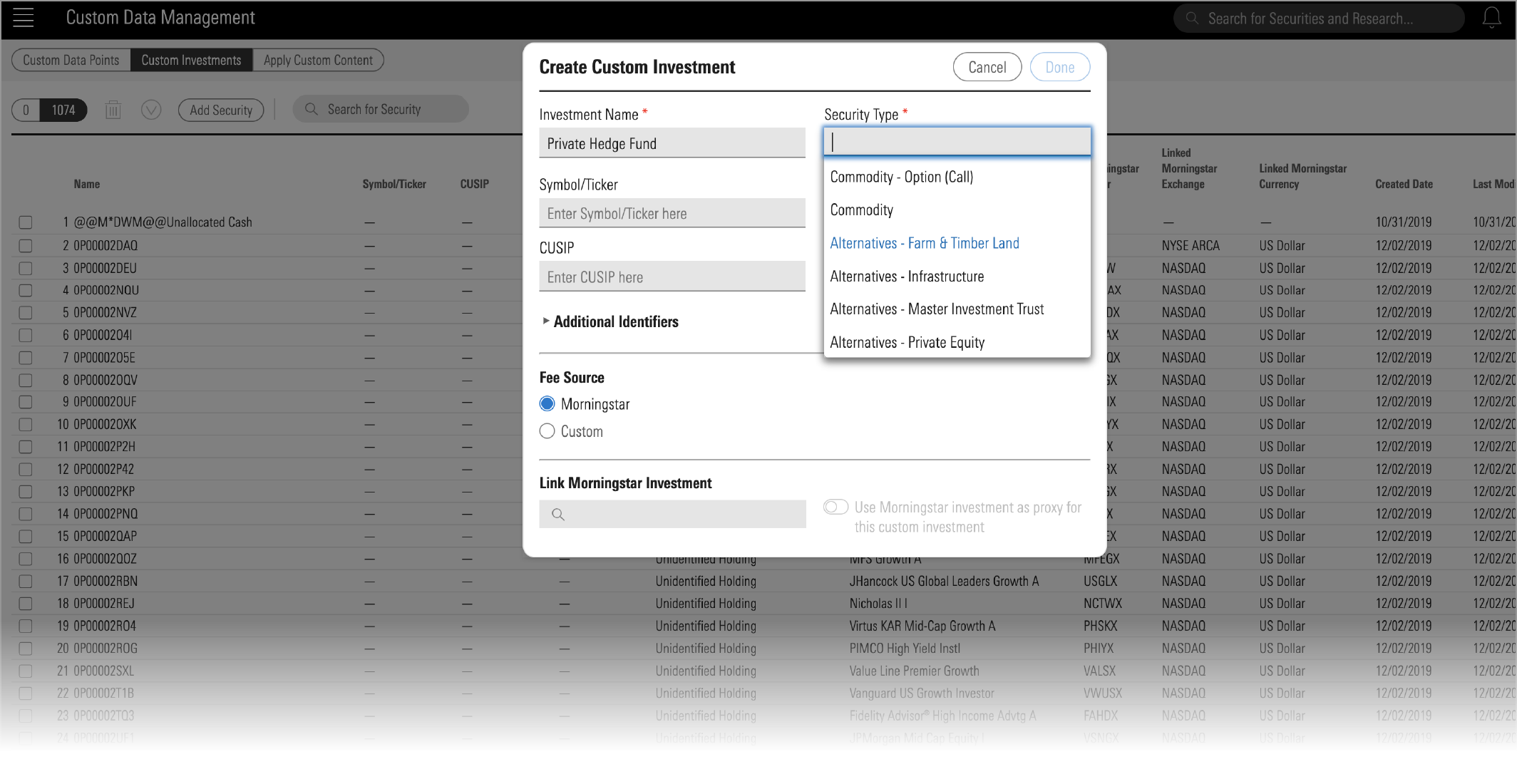 Sustainable Investing
Invest in a Sustainable Future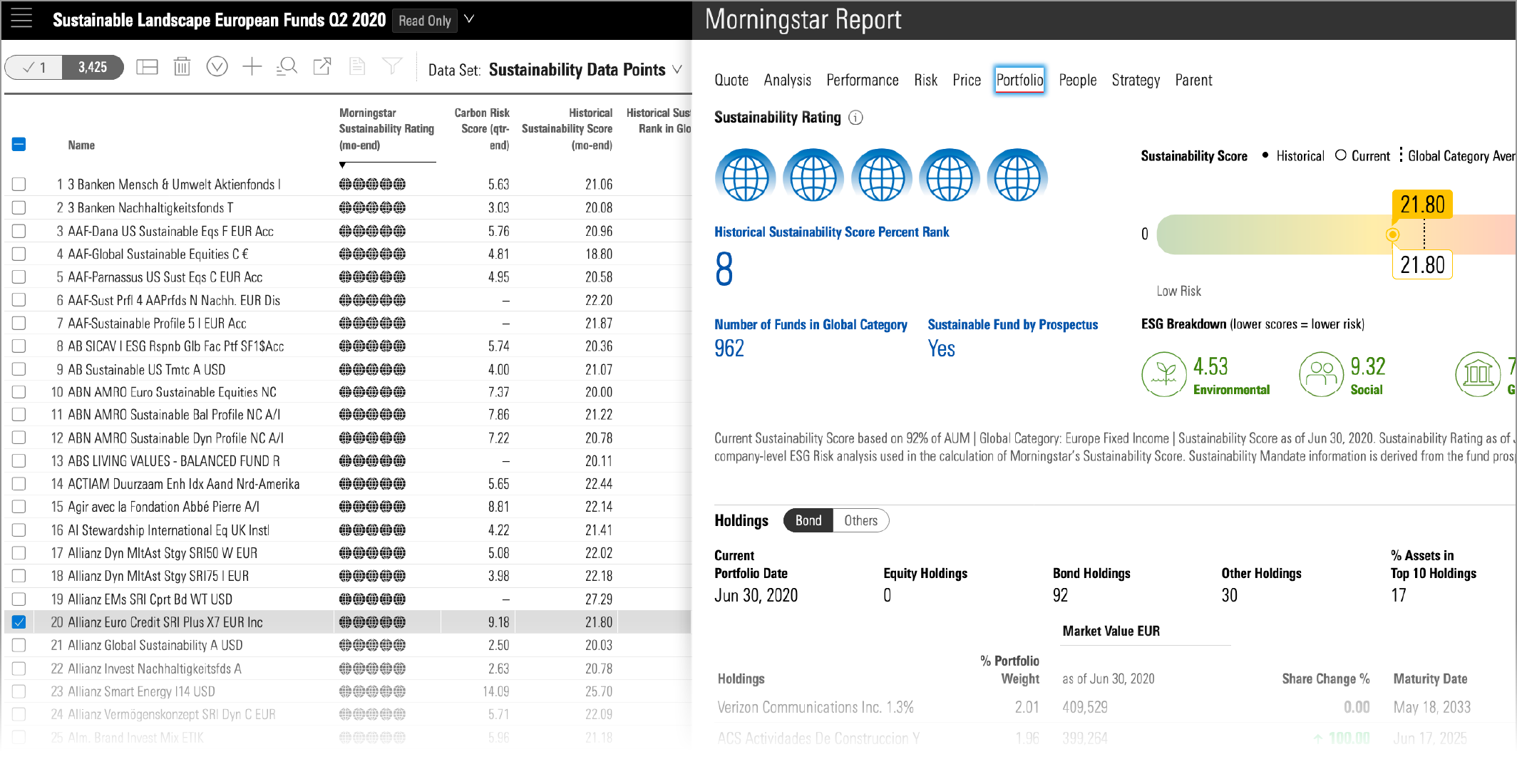 Stay ahead of changing investor preferences and risk-mitigation strategies with Morningstar's equity and fund-level data and ratings, in-practice ideas, and latest environmental, social, and governance (ESG) research findings.
---
Access the broadest ESG fund coverage in the industry with over 50,000 funds covered from 10,000+ companies.

Determine an investment's ESG risk at the company level to align investments to investor expectations.

Make decisions built on our trusted, proprietary Sustainability Rating and Low Carbon Designation.
Data Governance
Turn Regulatory Requirements into Business Opportunities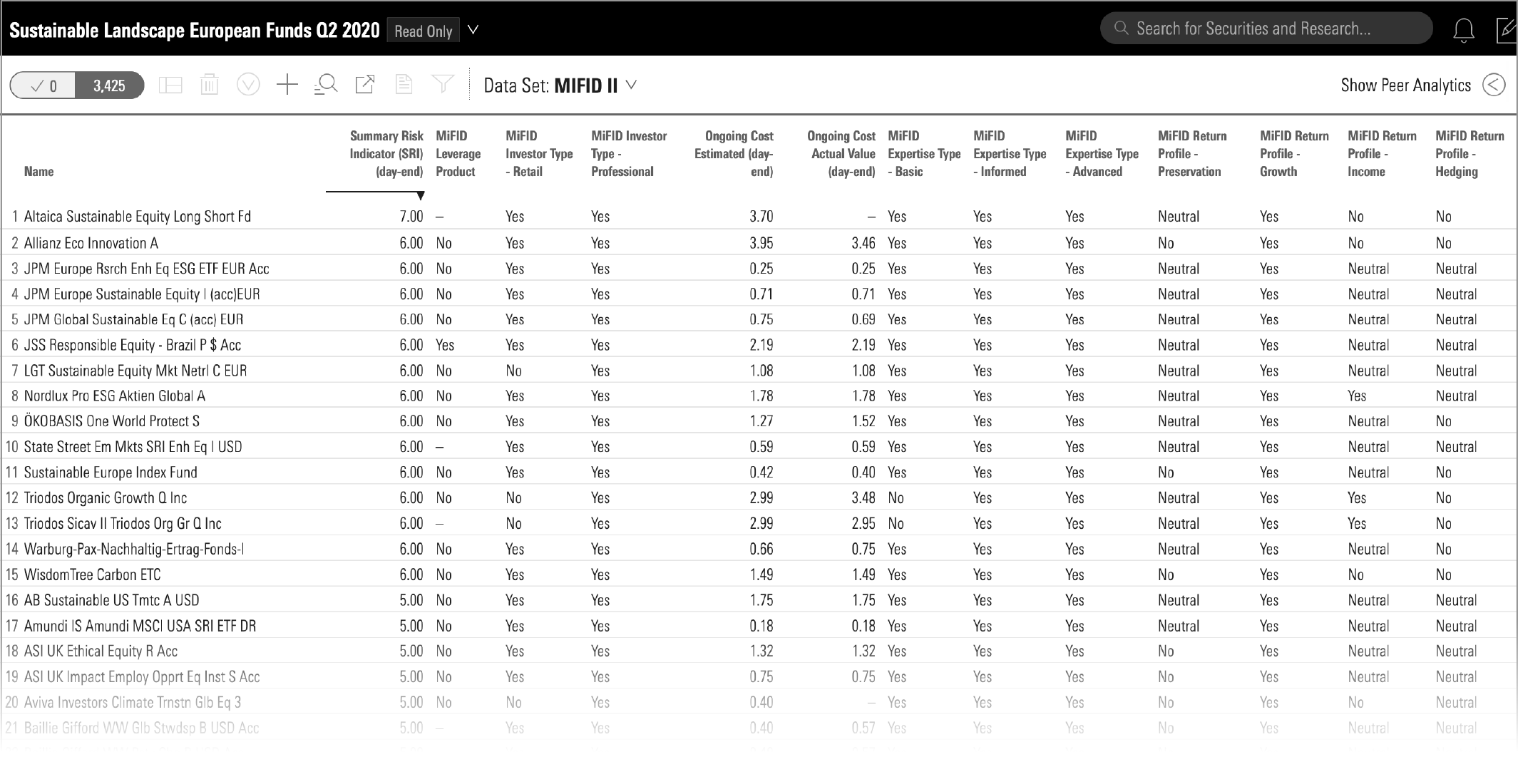 Tackle new governance, inducement, suitability, and transparency requirements with independent data and research to offer best interest strategies.
---
Use custom scorecarding, benchmarks, defined data, and ranking analysis to monitor the performance of custom-grouped investments and to drive manager selection and peer evaluation.

Conduct due diligence with the independent research of 300+ global analysts and our advanced portfolio risk analysis tools.

Screen investments with Morningstar's proprietary quantitative and qualitative fund ratings.
Market Volatility
Prepare for What's Next from Pandemics to Politics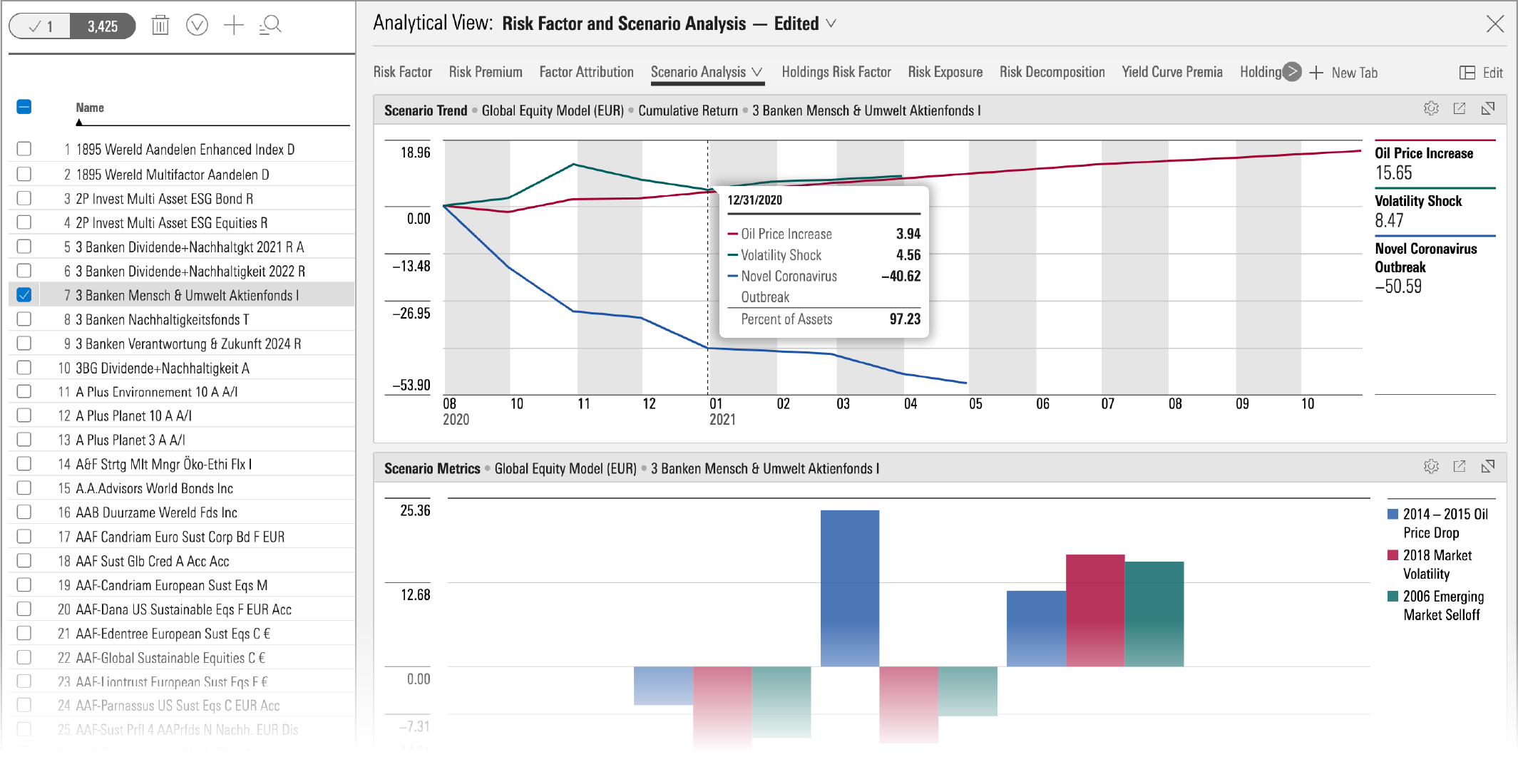 Forecast to prepare for the impact market volatility may have on your investment portfolio.
---
Understand portfolio and investment risk with pre-defined and custom scenario analysis.

Analyse the holdings of your portfolios against your peers with equity and total portfolio attribution tools.

Review geographical impact and optimise with advanced asset allocation tools.
Independent Insights
Support your Recommendations with our Business Intelligence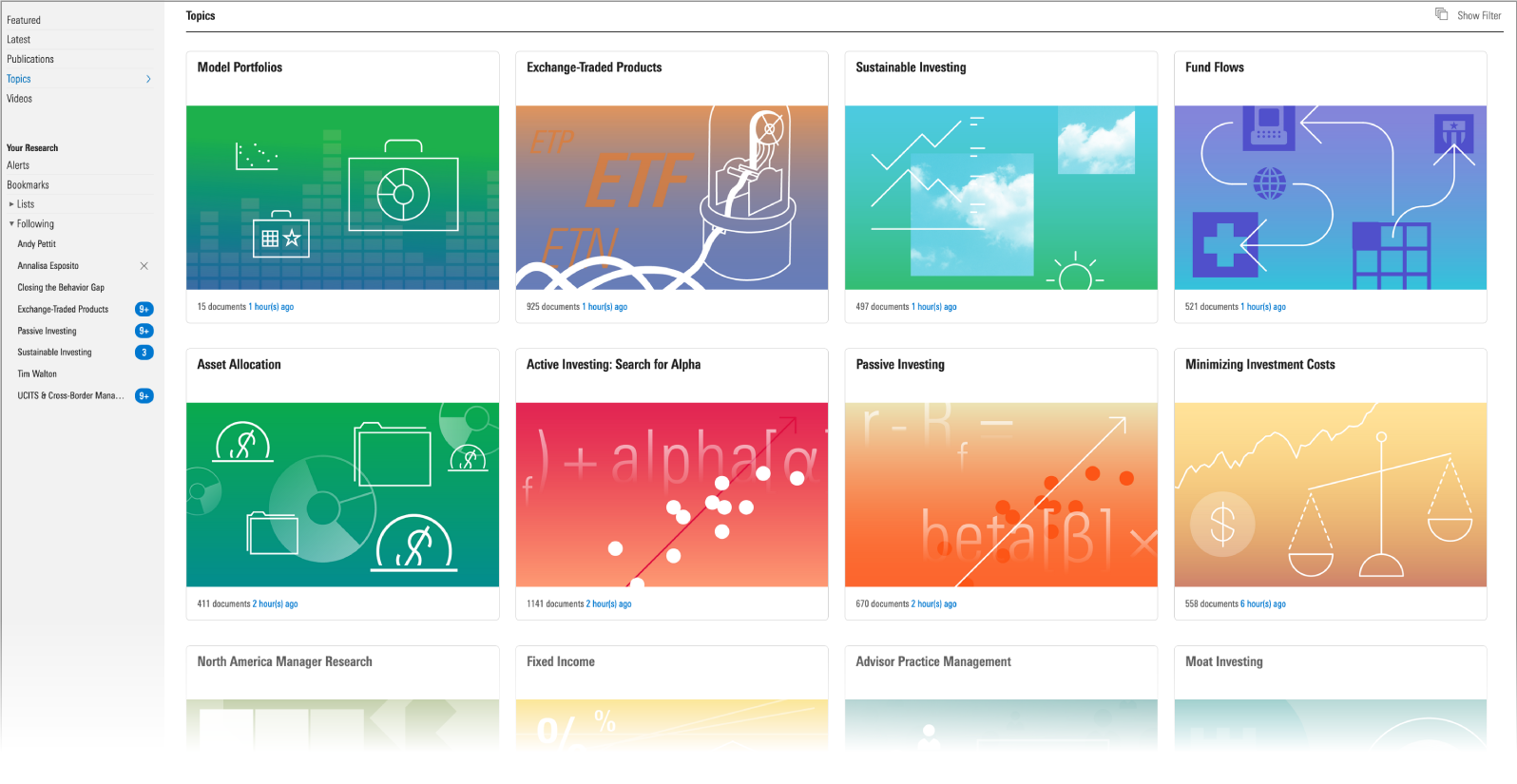 Power better business decisions with clear insights built on current industry trends.
---
Follow topics and analysts in Research Portal to create a curated view of the latest events and thought leadership in the industry. 

Access real-time insights from over 350 global analysts, one of the largest teams of independent analysts in the world, then share that research to back up your decisions.

Amplify your due diligence process with our proven methodologies, like our three-pillar framework for manager research and moat valuation models for equity analysis.
Centralised Data
Unite your data with tools built to support the way you work.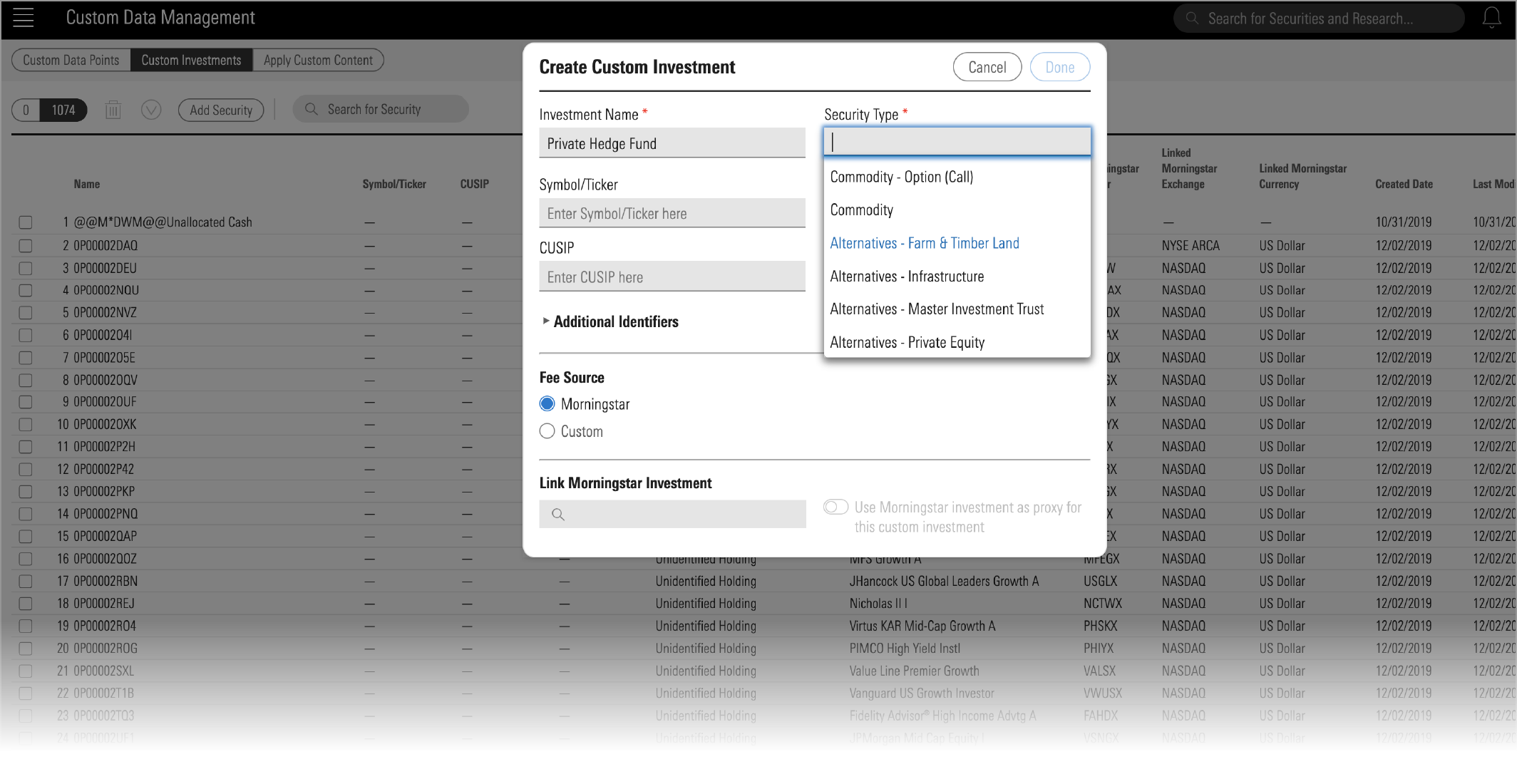 Support decision making with custom data and batch processes.
---
Create your own data points and investments for advanced analysis.

Dive into funds' holdings data and security ownership data with calls to get discrete or time-series information, and use custom templates to display historical return streams for a specific market, performance correlations between various fund line-ups, competitive positioning, and more.

Automate batch imports to keep portfolios, custom investments and benchmarks up-to-date or import when you need to from Microsoft® Excel®.
Custom Communications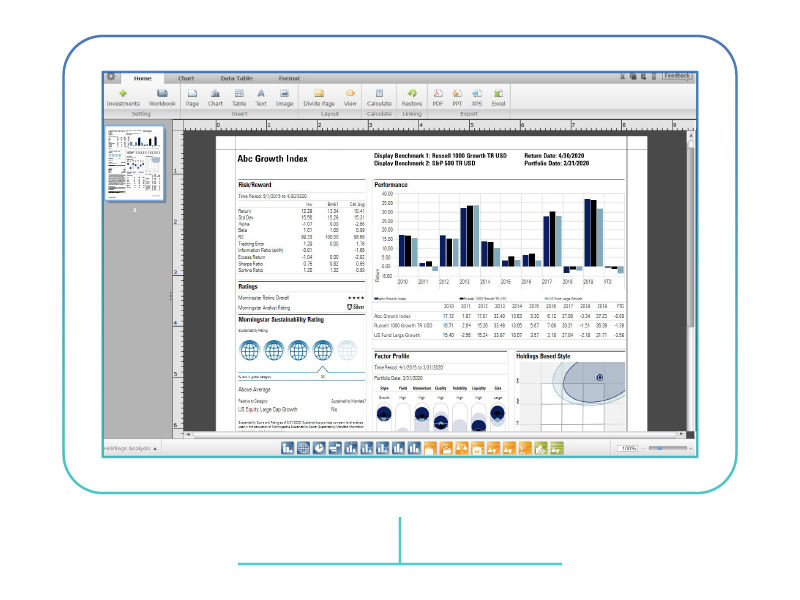 Elevate Communication
With Presentation Studio, deliver branded fund marketing collateral that distills complex investment information into accessible reports and visuals.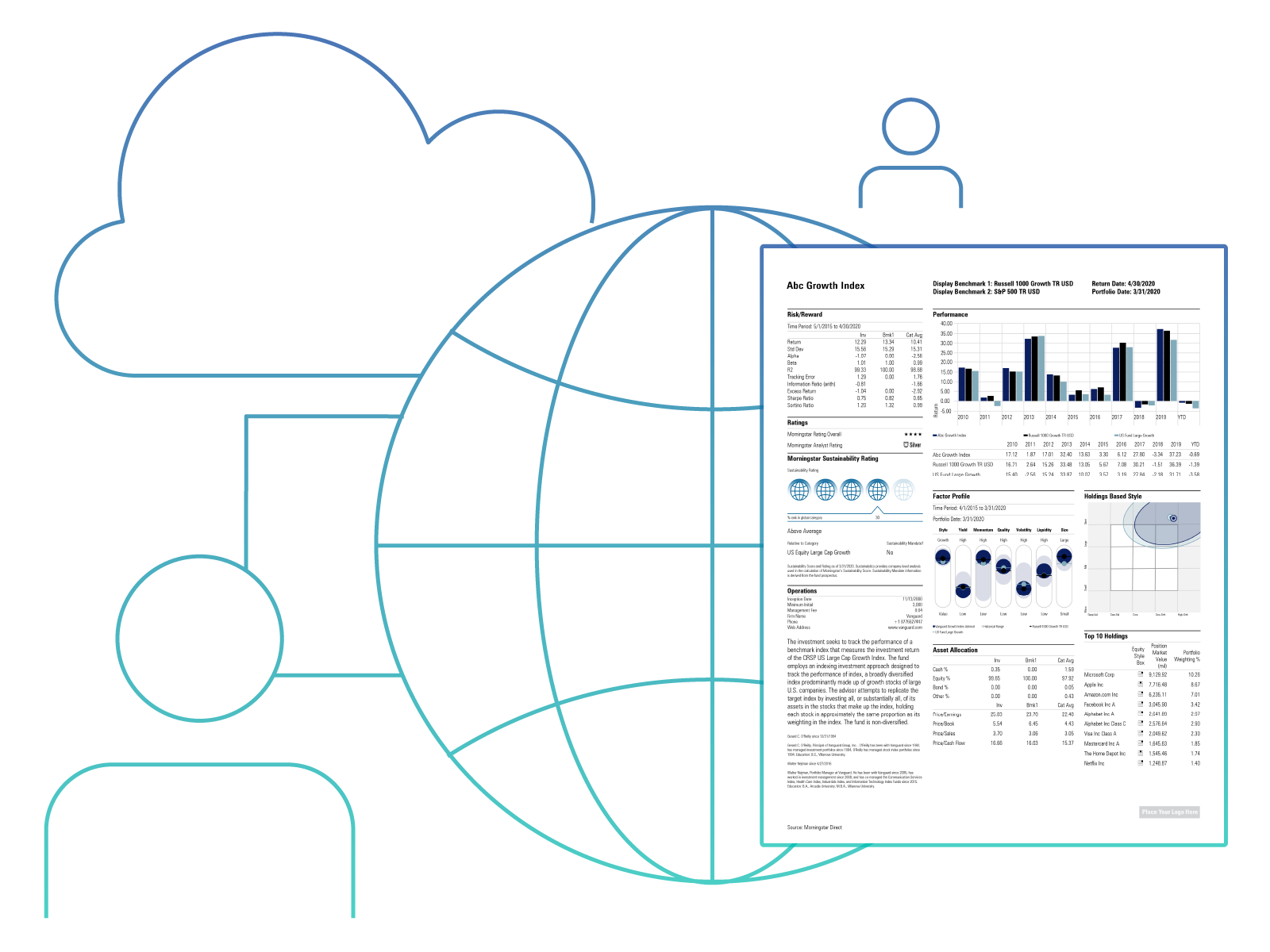 Amplify Your Message
Add on Report Portal to immediately distribute pre-approved collateral across sales and marketing channels, so the whole team can access custom, compliant templates.
Learn more ›
More Add-Ons to Differentiate Your Value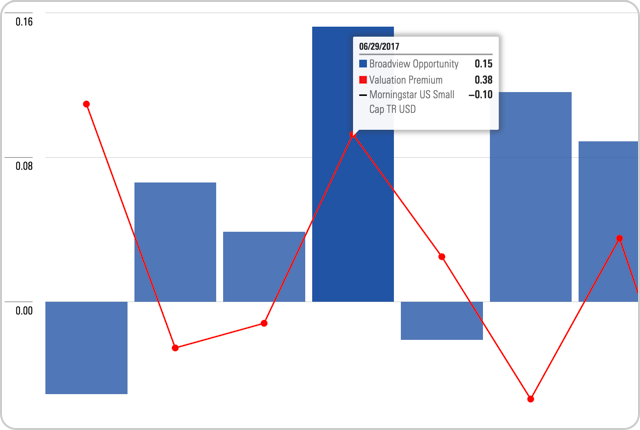 Advanced Risk Model
Stress-test managed products and portfolios in historical or future macro and microenvironments. Model differentiated, competitive positioning in a variety of market conditions.
Learn more ›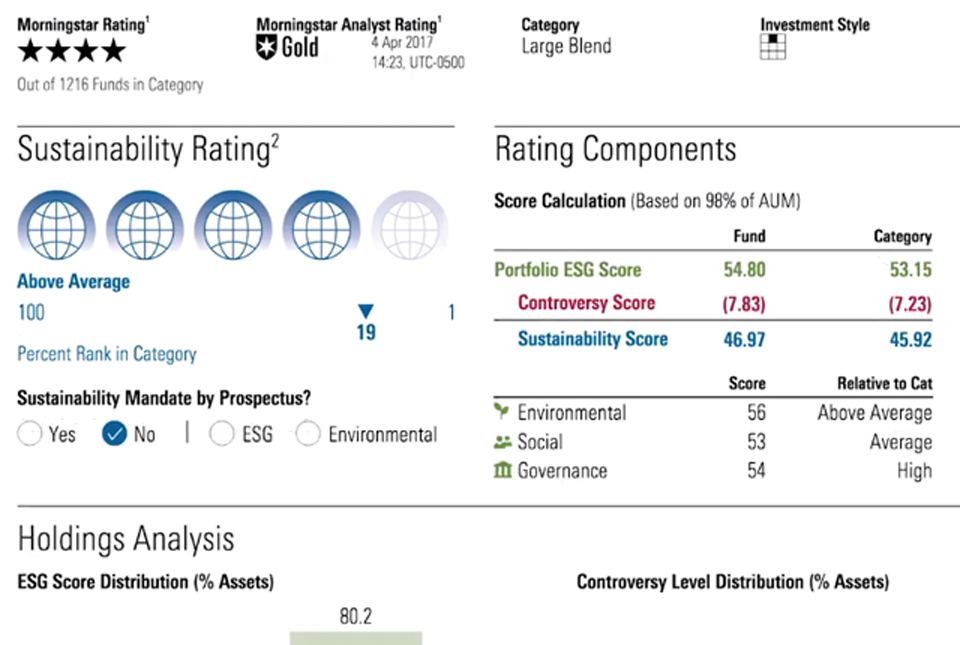 ESG Company Data
Get granular with the data sets in our company-level data enhancement package to meet investor preferences for socially-responsible investing.
Learn more ›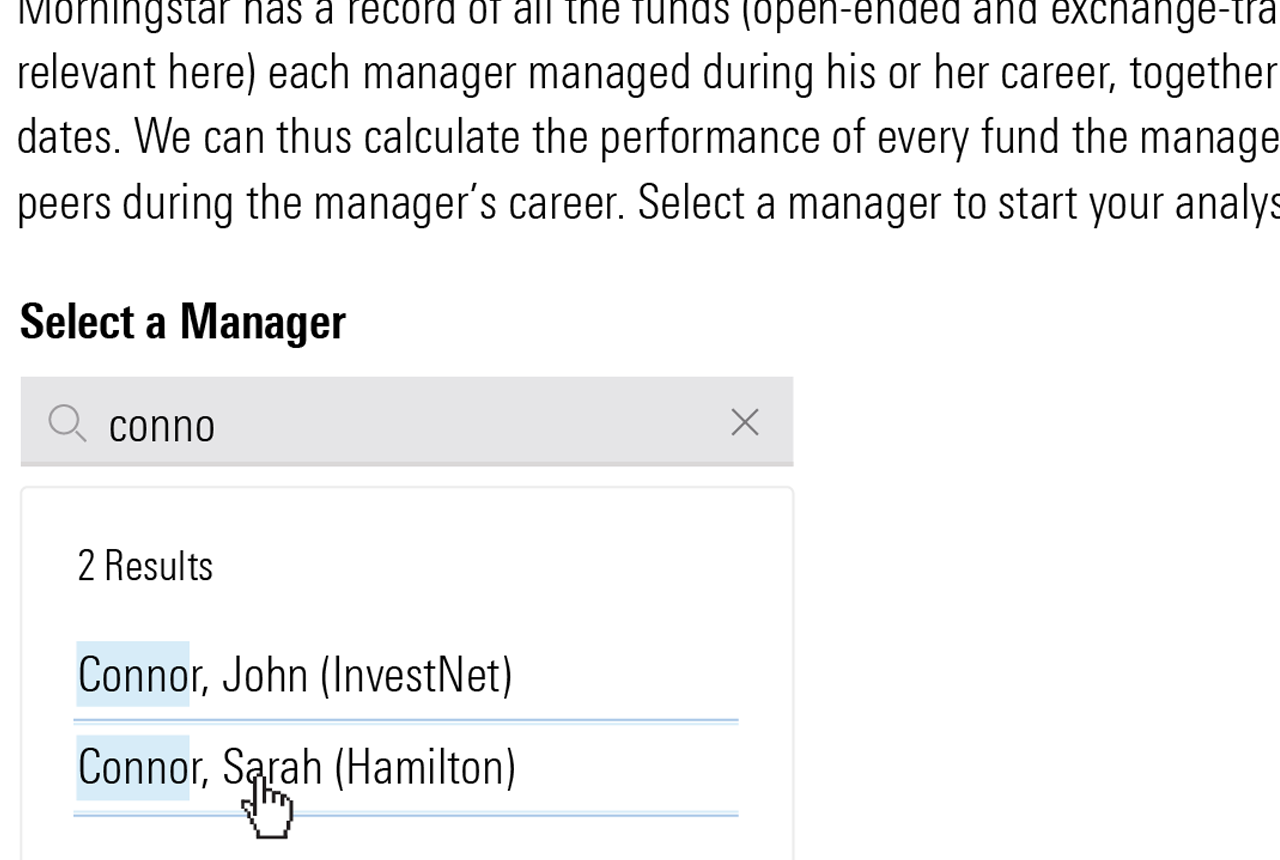 Morningstar Notebooks in Analytics Lab
Our newest Direct workspace centralises data, analytics, and visualisation so you can automate processes that were previously cumbersome or impossible to accomplish.​
Learn more ›
Ready to See for Yourself?
Address your business goals with comprehensive data and analytics.
1Investment research is produced and issued by subsidiaries of Morningstar, Inc. including, but not limited to, Morningstar U.K., Ltd., Morningstar Europe, Ltd. and Morningstar Holland B.V..