See It in Action
Explore flows data to see where investors are focused, using our business intelligence tools. Teams can predict likely future outcomes, pinpoint investor trends as they unfold, and fine-tune their distribution plans, for a proactive approach to asset management.
How Investor Pulse Works
Read in-depth research on the performance of your own funds and your competitors.
Support decisions on when to lower fees, when to develop, and when to pull back on products.
Get a snapshot view of how your overall firm is performing and run analytics versus key competitors.
See which funds are thriving, rising, lagging, or underperforming based on influential factors we've identified.
Forecast the flows of a given fund up to two years into the future using our predictive models.
Get a market overview of where money sits and where it's flowing across product types, categories, or regions.
Under the Hood: The Invesco/
Oppenheimer Deal in 10 Investor Pulse Charts
In 2018, Oppenheimer Funds and Invesco agreed to combine in the biggest asset-management industry's deal of the year. Tom Lauricella editor, Morningstar Direct and Gabrielle Dibenedetto, data journalist, leveraged Investor Pulse, Morningstar's business intelligence tool, to visually highlight the flows environment and competitive standing of the two firms pre-deal, as well as the profile of the merged firm.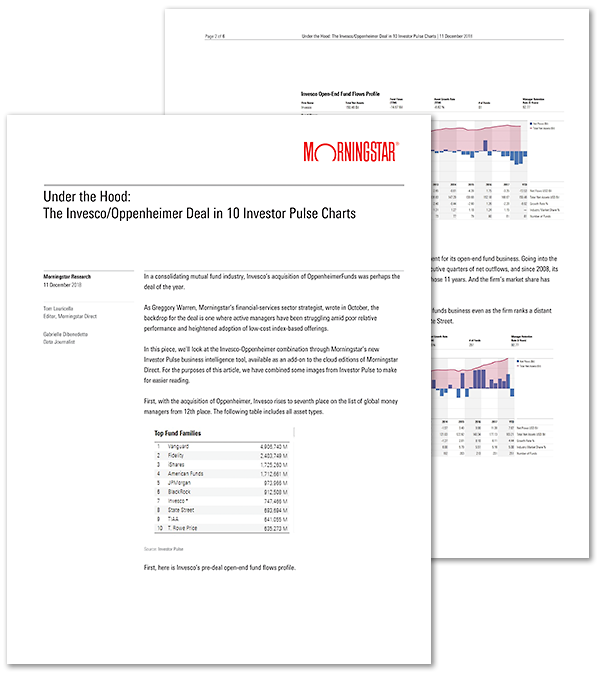 Ready to Try Investor Pulse?