South Star Announces Special Meeting of Shareholders
02/05/18 09:02 AM EST
(TheNewswire)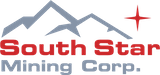 February 5 th , 2018 / TheNewswire / Vancouver, B.C. - South Star Mining Corp. ("South Star" or the "Company") (TSXV: STS.H) has announced the convening of a Special Meeting of the Company's shareholders (the "Meeting") which will be held on February 28th, 2018 in Vancouver.
Further to the proposed acquisition by the Company of the Santa Cruz Graphite pre-production project announced on October 23rd, 2017, in the Meeting the Company will solicit the adoption by its shareholders of special resolutions authorizing the amendment of its articles (the "Articles") to increase the number of Company directors to seven (7).
Modifications to the Articles to Allow the Addition of Directors
The shareholders will be asked to consider and, if deemed advisable, to approve, a special resolution, as provided in the Business Corporations Act (British Columbia), to authorize an amendment of the Company's Articles to authorize the directors to appoint three additional directors to hold office for a term expiring not later than the close of the annual shareholders meeting following their appointment.
Approvals
In addition to the approval of these special resolutions by the Company's shareholders, these resolutions are also subject to the receipt of all required regulatory approvals, including those of the TSX Venture Exchange. In addition, notwithstanding whether these resolutions are passed by shareholders at the Meeting, the board of directors of the Corporation may choose not to implement the proposed amendments to the Articles at any time prior to the issuance of a Certificate of Amendment giving effect to the amendment of the Corporation's Articles of Incorporation, without further notice to or approval of the shareholders.
Meeting Materials
A Notice of Special Meeting, Information Circular and Proxy Form have been posted to the South Star website at http://southstarmining.com/shareholder-circulars/ .
About South Star Mining Corp.
South Star Mining Corp. is focused on the acquisition and development of near-term mine production projects in Brazil to maximize shareholder value. The company is currently developing the Santa Cruz Graphite Project in the Bahia State, Brazil. To learn more, i nvestors and shareholders are invited visit the Company website at www.south starmining.com .
On behalf of the Board,
Mr. Eric Allison
Chief Executive Officer
Ph:      +1 (203) 918-3098
Email: eric@southstarmining.com  
For additional information, please contact:
Mr. Kris Kottmeier
VP Corp Development
Ph:      +1 (604) 506-2502
Email:   kris@southstarmining.com  
Neither TSX Venture Exchange nor its Regulation Services Provider (as that term is defined in policies of the TSX Venture Exchange) accepts responsibility for the adequacy or accuracy of this release.
Copyright (c) 2018 TheNewswire - All rights reserved.