GlobeNewswire
Automatad Becomes Google Certified Publishing Partner
New York, NY, Aug. 29, 2023 (GLOBE NEWSWIRE) -- Automatad, a leading ad tech platform for publishers, today announced its recognition as a Google Certified Publishing Partner (GCPP). This esteemed certification emphasizes Automatad's steadfast dedication to supporting publishers and its expertise across various Google advertising products, including Google Ad Manager.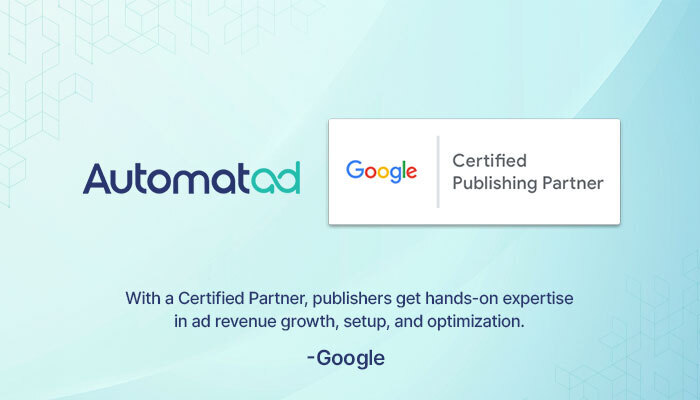 The GCPP certification process necessitated a rigorous evaluation of Automatad's ability to deliver exceptional service, maintain the highest performance standards, and consistently meet and surpass publisher expectations. The recognition further strengthens Automatad's commitment to equipping online publishers with Google's suite of advanced tools, amplifying ad revenue, and unlocking new growth avenues.
As a GCPP partner, Automatad has a privileged position in working directly with Google. As a valued partner, it gets exclusive co-marketing opportunities with Google, partner-only resources, and a unique network of global demand partners.
Automatad's team of Ad Management professionals is committed to assisting web publishers in generating advertising revenue in the most streamlined and cost-effective manner. At the core of Automatad's offerings is its proprietary automated technology platform, which combines real-time analytics, Machine Learning, and industry expertise. The company offers access to an extensive network of demand partners, thus ensuring that publishers' inventory value is fully maximized.
Today, Automatad optimizes billions of ad impressions monthly for its publishers. As a member of the GCPP program, Automatad will be able to monitor customer sentiment more closely, gain early access to Google's ad products, and provide superior technical support in close association with Google.
"We are proud to be recognized as a Google Certified Publishing Partner. This reaffirms our commitment to innovative solutions and quality service for publishers. Going forward, we're determined to advance our performance further and be an essential partner for our clients, helping them grow their ad revenue effectively," said Vijay Kumar, Founder and CEO of Automatad.
About GCPP
The Google Certified Publishing Partner program consists of a select group of global channel partners chosen by Google for their proven track record in assisting publishers with value-added services and technology, offering excellent interactions, expert consulting, and prioritizing a healthy ad ecosystem.
About Automatad
Automatad is an innovative ad tech platform designed to help publishers increase their ad revenue using ad layout optimization, smart bidding technologies, innovative ad formats, and more. Recognized for its role in driving transparency and combating fraud, Automatad has become a vital part of the online publishing ecosystem. Their approach ensures publishers retain more advertising revenue, aligning with their vision to empower content creators on the Open Web.

To learn more about Automatad, visit www.automatad.com or follow us on LinkedIn and Twitter.
Contact:

Abhilasha Sandilya
abhilasha@automatad.com
#1062 25 Broadway, New York, NY 10004
Source: Automatad