If you had to guess which countries are best prepared to transition to a low-carbon economy, the Netherlands, Denmark, and France might reasonably come to mind.
But the United States? The U.S. isn't known as a leader when it comes to combatting climate change. The U.S. is the world's second heaviest emitter of carbon dioxide behind China, according to the International Energy Agency. And in 2017, the Trump administration announced its intention to withdraw from the Paris climate agreement.
Yet, when judging the carbon profiles of the companies that constitute the U.S. equity market, a different perspective emerges.
Here's a carbon risk map from the latest edition of the Morningstar Sustainability Atlas, which examines Morningstar's global family of equity market indexes on a variety of environmental, social, and governance criteria, including Morningstar® Portfolio Carbon Metrics.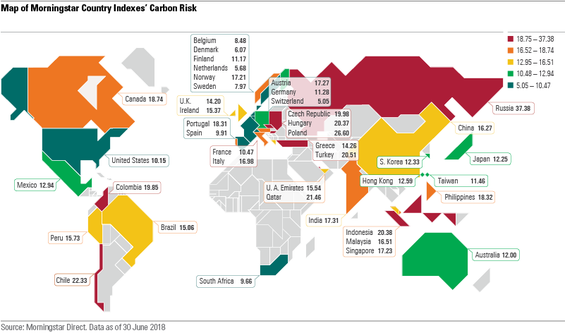 How is the U.S. transitioning to a low-carbon economy?
According to the map above, a low level of U.S. stock market value is at risk from the transition to a low-carbon economy. This puts the U.S. in the company of western European countries that score consistently well across ESG measures. The Morningstar® Portfolio Carbon Risk Score™ assesses the degree to which corporate value is vulnerable to the effects of climate change and the shift away from fossil fuels. Companies with low level of risk, as assessed by Sustainalytics, are well-positioned to survive and thrive in a low-carbon world.
The sectoral dynamics of the U.S. equity market help explain the low Carbon Risk Score. Country index scores are weighted averages of constituent companies' carbon risk levels. Energy companies face the highest levels of carbon risk, including those related to policy, regulation, brand, and stranded assets.
On the low carbon-risk side are healthcare and technology, which represent more than one third of the U.S. equity market capitalization. Meanwhile, less than 6% of Morningstar US Market Index's weight is in energy stocks.
How do other countries compare?
Contrast this to Russia, with nearly 60% of market capitalization devoted to the energy sector and the world's highest level of carbon risk.
Canada is another country with a high level of equity market capitalization facing transition risk. More than a third of the Morningstar Canada Index weight is in energy and basic materials stocks.
Then there are countries such as Australia, South Africa, and Mexico. These markets look carbon-intensive on current metrics, but their companies are doing a good job of managing carbon risk.
Looking forward, Morningstar Indexes will be launching a family of low-carbon benchmarks that will emphasize companies best-positioned for the transition to a low-carbon economy.
Dan Lefkovitz is a strategist for Morningstar's Indexes group.