Achieving retirement goals is a combination of a skill and luck—typically more skill than luck, but it's worth noting what's outside your control as financial advisors.
The skill part includes saving for retirement, which is often ton its own a key part of an investor reaching his or her retirement goals. The luck part includes portfolio returns and, to some extent, how long a person expects to live.
Sure, it's possible to do things to help control the risk of a portfolio. For example, advisors could recommend that their clients invest more of their portfolio in traditionally "safer" assets like bonds or cash. But the returns are really beyond the control of the investor, the advisor, or asset managers.
Mortality is slightly different. No one wants to die early in retirement. But the longer retirement lasts, the more expensive it can become.
Here, we take a look at what's behind the price tag for retirement and how investors may be able to manage it.
How the cost of retirement has increased over the years
To determine how expensive it has historically been to fund retirement, we considered previous interest rates—which are typically used as a proxy for bond returns—and mortality tables. We used these numbers to evaluate the cost of buying a hypothetical annuity that would pay a fixed, inflation-adjusted benefit for life.
I conducted this research as part of a paper I worked on with professors Michael Finke and Wade Pfau of The American College of Financial Services. We ran some numbers to estimate the cost of funding $1 of retirement income, adjusted annually for inflation, each year since 1982. We used historical mortality tables from the Social Security Administration, historical Treasury yields from the Federal Reserve, and historical implied inflation estimates from Cleveland Federal Reserve.
You can see cost estimates for a 65-year-old man and woman in the chart below.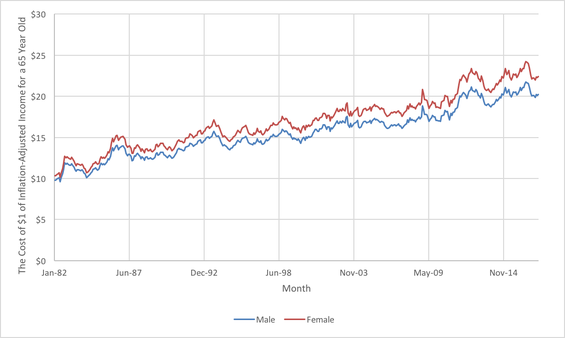 Source: Morningstar and author's calculations, June 2017
While the true historical annuity payouts offered by annuity companies differed slightly from these estimates, this approach was designed to estimate the historical payouts for nominal annuities based on data from www.immediateannuities.com.
The chart shows that a 65-year-old man retiring in 1982 would pay about $10 for each $1 of guaranteed lifetime income. So, if this individual wanted $25,000 a year of guaranteed income it would cost approximately $250,000. The same amount of income costs slightly more for women, because they tend to live longer than men.
Why the cost of retirement has increased over time
The graph above shows that the cost of retirement income has approximately doubled in the past 34 years. That means the cost of funding retirement has more than doubled over that time and is more expensive today than it's ever been in the past.
The increase in cost has been driven mostly by two key factors:
the decline in interest rates, and
increases in life expectancies.
While increasing interest rates may reduce the cost of retirement for future retirees, life expectancies will likely continue increasing.
How to approach the rising cost of retirement
What does the rising cost of retirement mean for most workers? Primarily, it means they need to consider:
saving more for retirement,
spending less during retirement,
delaying retirement, or
some combination of these.
Because saving more for retirement isn't a viable option for many Americans and the impact of higher savings is muted for workers who are closer to retirement, workers may want to consider delaying retirement as long as possible. For many workers, this won't be an option because of issues such as their health or layoffs. But for those who can keep working, a delayed retirement could potentially help them get their finances on track for retirement
Delaying retirement yields a number of results that can help improve your clients' choices of reaching their retirement goals: more time to save for retirement, more time for portfolios to potentially grow, a shorter retirement period to fund, and an increased Social Security benefit.
Being aware of the cost of retirement can help your clients make better informed decisions about how they spend their money. While planning for retirement, help your clients focus on what can be controlled and be conservative about the assumptions of what can't be controlled. That path may help provide the best chance for them to reach their retirement goals.
Please see below for important disclosure.