US Videos
2 Gold-Rated Artisan Funds, but Only 1 Open Door
Artisan International Value and Artisan Global Value have similar strategies, but only the latter remains open.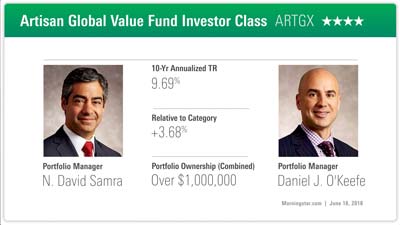 Andrew Daniels: Gold-rated Artisan International Value and Artisan Global Value have several similarities. Both funds are managed by David Samra and Dan O'Keefe, two-time winners of the Morningstar International Stock Fund Manager of the Year award. Samra and O'Keefe are value investors who emphasize quality firms with financial strength and shareholder-oriented management teams. Consistent with management's long-term mindset, turnover is generally low. Both portfolios are compact, holding 40 to 60 stocks, and it's worth noting they're currently tilted toward financial services and technology stocks. 
Despite similarities in management and process, there are also differences to highlight. Not surprisingly, Artisan Global Value has a heavy U.S. stake of approximately 40% as of March 2018, though that's well-below the MSCI ACWI Index's 52% exposure. Management has pulled back its U.S. stake since mid-2016 because of heightened valuations. Moreover, International Value is closed to new investors in order to protect current fundholders, yet Global Value remains open. As such, for investors seeking diversified global equity exposure, Artisan Global Value is an excellent and available option.
To view this article, become a Morningstar Basic member.
Andrew Daniels has a position in the following securities mentioned above: ARTKX. Find out about Morningstar's editorial policies.