Morningstar shifts the focus of the Stewardship Grades to parent from child.
This article originally appeared in the June/July 2012 issue of MorningstarAdvisor magazine. To subscribe, please call 1-800-384-4000.

Distinct traits usually run in families—height, hair color, skin tone. The same thing is true of mutual fund firms. Their funds often look similar when it comes to manager turnover, managers' investment in fund shares, and fees.
Given these similarities, Morningstar is shifting its Stewardship Grade methodology from individual funds to fund families. The goal of the Stewardship Grades is to show advisors and other investors which fund firms are likely to be strong long-term partners, treating investors' capital as if it were the firm's own, and which have room for improvement. The grades, which are available in Morningstar Office and Morningstar Direct, reflect hours of in-depth research that typically includes onsite visits, lengthy interviews with the firm's corporate management, a governance discus- sion with funds' board of directors, and deep analysis of operational and performance data.
The latest shifts to the Stewardship Grades, which Morningstar introduced in 2004, are not a major departure from the past. The grades have always evaluated key traits related to fund families' care of capital. Of the five areas that Morningstar considers when determining a Stewardship Grade— corporate culture, manager incentives, fees, regulatory history, board quality—three of them address firm-level traits. In its evaluation of corporate culture, for example, Morningstar's analysts determine whether the driving force behind a firm's culture and behavior is care of shareholders' capital. Firms with shareholder-focused cultures have strong, repeatable investment processes, a stable roster of fund managers and research- ers, and a lineup of funds that investors can employ easily and successfully in their portfolios. On the flip side, firms with poor cultures, in Morningstar's view, are those that are primarily concerned with gathering assets and growing profits by launching funds that jump on unsustainable trends or by leaving too-large funds open to new investors.
In addition to examining corporate culture at the firm level, the Stewardship Grade methodology also considers whether the funds' board of directors acts in shareholders' best interests by negotiating low fees, signing off on sensible new funds, and closing those that have reached capacity. Finally, Morningstar studies the firm's history with regulators to determine whether there have been violations, and if so, how they were addressed by the funds' senior management and board of directors.
The two remaining areas of the methodology— manager incentives and fees—were largely evaluated at the fund level, but Morningstar found that most funds in a family looked similar on these quantitative measures. For example, managers' investments in fund shares—which are considered along with the criteria used to determine the managers' bonus compensa- tion—are fairly consistent across a firm's funds. A firm's managers typically either make big investments in their funds, or they invest relatively little or nothing at all. Managers make big investments in their funds at American Funds, Janus, and Royce, while they are less likely to do so at American Century, JP Morgan, and Vanguard, for example.
Measuring Skin in the Game
With this in mind, Morningstar now determines a firm's Manager Incentives Grade by looking primarily at the percentage of a firm's fund assets that are run by a manager with more than $1 million invested in fund shares. "More than $1 million" is the highest manager ownership range reported annually to the Securities and Exchange Commission and, thus, an industry best practice. When manager ownership is deep and broad—specifically where more than 80% of the firm's assets have more than $1 million of manager investment, the firm now earns a Manager Incentives Grade of A. Firms with fewer assets in the "more than $1 million" range get lower grades.
When it comes to fees, firms also are relatively consistent in pricing. Either the firm is committed to offering low-cost funds (the case at Vanguard and American Funds), or it is not (Dreyfus and Gabelli). And there are other firms that offer low-cost funds in some share class types, like institutional shares, but look pricey relative to retail or retirement shares (PIMCO).
To capture these trends, Morningstar compares fund fees relative to similar strategies with the same share-class type to create a Morningstar Fee Level Percentile Rank. We then roll up those individual funds' percentiles to arrive at a firmwide, simple average of the fee level percentiles. Firms with averages in the cheapest quintile get a Morningstar Fees Grade of A, while firms with averages in the most-expensive quintile get F's.
Shifting the Weights
Now that all five Stewardship Grade criteria are at the fund-firm level, Morningstar also is tweaking the weights assigned to each area, which are summed to arrive at the firm's overall Stewardship Grade. These changes to the criteria weights are designed to emphasize the areas of the methodology that Morningstar has found are most predictive of good outcomes for fund investors. A 2011 study of the legacy fund-level Stewardship Grades found that the Corporate Culture and Manager Incentives criteria were most predictive of survivorship, as well as average- and-better risk-adjusted total returns and cash-weighted returns. Therefore, a firm's corporate culture and manager incentives now carry more weight when determining the final grade. Meanwhile, there's less weight on Board Quality as it was less predictive of good outcomes.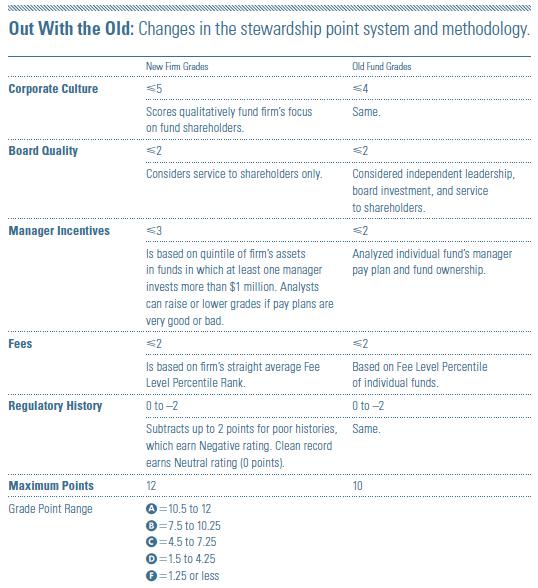 This firm-level methodology is being employed not just to determine a fund firm's Stewardship Grade but also to determine a fund firm's Parent rating, which is a component of Morningstar's new Analyst Rating for mutual funds. To arrive at an Analyst Rating (Gold, Silver, Bronze, Neutral, or Negative) for a fund, analysts must consider the stewardship practices of the parent fund company, along with the other pillars of the rating (Portfolio, Process, Price, and People). Parents that receive a rating of Positive would (or do) receive Stewardship Grades of A or B, while firms earning Neutral ratings would earn C's for Stewardship, and D and F Stewardship Grades map to Negative Parent ratings. Morningstar plans to have Parent ratings on about 200 U.S. mutual fund firms by the end of 2012 and maintain stewardship coverage on about 45 of those firms.
Putting the Grades to Work
Stewardship Grades and Parent ratings are not designed to be primary factors in determining which funds to choose, but many advisors and institutional investors use this research as a tie-breaker when picking among a handful of funds. Others use it to keep tabs on firms that are managing a large portion of an advisor's book of business. To be sure, some poor stewards will deliver strong returns, and some wonderful stewards will struggle, but given the wealth of investment choices, it's sensible to partner with firms that treat investors' capital with the utmost care—not just another dollar in the door.