Why the average investor is paying less for fund management.
The average investor is paying a little less for open-end mutual fund management today. Specifically, the typical investor is paying 0.75% in expenses compared with 0.77% in 2010. Expense ratios dropped in all the major asset classes except for alternatives. The figures include all open-end funds except funds of funds where the layering of fees can make for messy comparisons. To arrive at what the average investor is paying, we asset-weight expenses--thus giving greater weight to the PIMCO Total Returns of the world.
This year we included all share classes in the study rather than excluding institutional share classes as we have in the past.
Expense ratios have come down most years of the past decade--the average investor is paying 19 basis points less than 10 years ago. Costs have come down because of appreciation, inflows, and a shift to lower-cost funds. Yes, there have been some fee cuts over the years--most notably Vanguard's lowered investment minimums for Admiral share classes. But it's the choices made by investors that have had the greatest impact. Investors have generally invested new money in lower-cost funds within a category. In addition, the growing popularity of bond funds has meant that money is flowing toward the lowest-fee asset class, thus lowering the overall rate.
The flow picture based on expense ratios is quite dramatic and helps explain why fees would go down in a year when many markets had meager returns or even losses. We grouped funds into quintiles based on their fee level relative to their category peer group. In the aggregate, the cheapest quintile funds drew in $122 billion dollars in net inflows in 2011. All other quintiles were in net redemptions. The next cheapest quintile suffered $14 billion in net redemptions. The middle quintile shed $21 billion. The fourth quintile lost $18 billion, and the most expensive quintile with an average expense ratio of 2.12% saw $13 billion walk out the door. The data would be even more dramatic if exchange-traded funds were included.
The drop in domestic equity funds was surprising given that the group was overall in redemptions. Fees fell to 0.74% from 0.78%. A strong stock market in 2010 meant asset bases were significantly greater in fiscal 2011 (which ends in October) despite the outflows than in fiscal 2010. Expense ratios reflect the average of fees paid over the course of the entire fiscal year rather than just the level charged at the end of the period.
International-equity funds also saw a big expense ratio drop of 4 basis points. Bond funds saw smaller drops from already low levels. However, the typical investor paid an additional 3 basis points for his alternatives fund.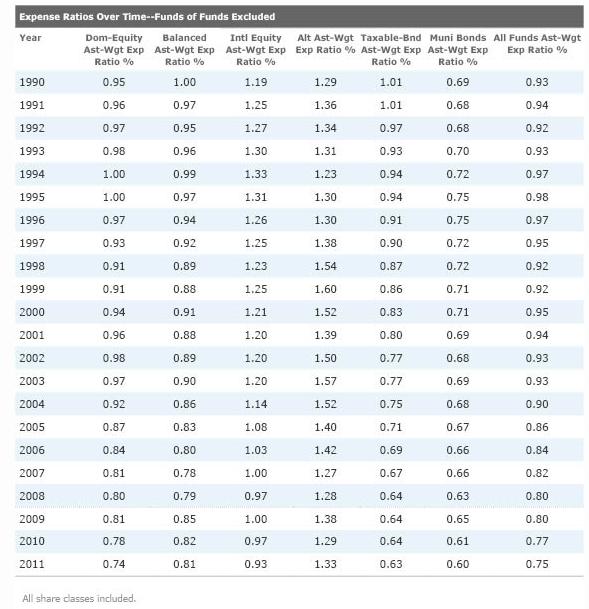 Let's take a look at three of the bigger expense ratio changes in 2011.
Two of the Biggest Expense Drops
Wasatch Ultra Growth WAMCX had one of the biggest fee drops as expenses fell to 1.68% in 2010 and 1.42% in 2011 from 1.75% in 2009. That's still not cheap, but I'd say that the fund has gone from too pricey to consider to merely a touch high.
Artisan Value Fund ARTLX boasts reigning Morningstar Domestic-Stock Fund Managers of the Year--Scott Satterwhite, George Sertl Jr., and James Kieffer--and the newly promoted Daniel Kane. So, it's enticing to see that the expense ratio has fallen to 1.09% from 1.27%. This fund was launched in 2006 when management decided to move its successful mid-value strategy up in cap. They now have top quartile five-year returns to show for it, so I'd say their style works pretty well in large caps.
The Biggest Fee Hike
Fairholme Focused Income FOCIX is the biggest riser with a 17-basis-point spike to 0.67%. In fact, shareholders are now paying even more than that. They are actually paying 1.00% as indicated by the prospectus net expense ratio. The annual report fee (0.67% in this case) tells you what the fund charged in the most recent fiscal year. The prospectus net tells you what it was charging as of the date of the prospectus. In this case that's as of March 29, 2012. The fund was launched with a 0.50% expense ratio, but that included a 50-basis-point fee waiver that Bruce Berkowitz and the fund's board allowed to lapse. That takes it from a cheap conservative-allocation fund to a pricey one.
So far the fund has modestly outperformed Fairholme FAIRX largely because it's mostly a bond portfolio and thus lost a mere 0.7% in 2011, but it also hasn't had the big gains that Fairholme did in 2012. The fund looks really quirky with an 18% weighting in bonds from Emigrant Bancorp, 33% in different bonds from MBIA MBI, 16% in Sears SHLD debt, and 10% in Citigroup C debt.