Why the average investor is paying less for fund management.
The average investor is paying a little less for open-end mutual fund management today. Specifically, the typical investor is paying 0.75% in expenses compared with 0.77% in 2010. Expense ratios dropped in all the major asset classes except for alternatives. The figures include all open-end funds except funds of funds where the layering of fees can make for messy comparisons. To arrive at what the average investor is paying, we asset-weight expenses--thus giving greater weight to the PIMCO Total Returns of the world.
This year we included all share classes in the study rather than excluding institutional share classes as we have in the past.
Expense ratios have come down most years of the past decade--the average investor is paying 19 basis points less than 10 years ago. Costs have come down because of appreciation, inflows, and a shift to lower-cost funds. Yes, there have been some fee cuts over the years--most notably Vanguard's lowered investment minimums for Admiral share classes. But it's the choices made by investors that have had the greatest impact. Investors have generally invested new money in lower-cost funds within a category. In addition, the growing popularity of bond funds has meant that money is flowing toward the lowest-fee asset class, thus lowering the overall rate.
The flow picture based on expense ratios is quite dramatic and helps explain why fees would go down in a year when many markets had meager returns or even losses. We grouped funds into quintiles based on their fee level relative to their category peer group. In the aggregate, the cheapest quintile funds drew in $122 billion dollars in net inflows in 2011. All other quintiles were in net redemptions. The next cheapest quintile suffered $14 billion in net redemptions. The middle quintile shed $21 billion. The fourth quintile lost $18 billion, and the most expensive quintile with an average expense ratio of 2.12% saw $13 billion walk out the door. The data would be even more dramatic if exchange-traded funds were included.
The drop in domestic equity funds was surprising given that the group was overall in redemptions. Fees fell to 0.74% from 0.78%. A strong stock market in 2010 meant asset bases were significantly greater in fiscal 2011 (which ends in October) despite the outflows than in fiscal 2010. Expense ratios reflect the average of fees paid over the course of the entire fiscal year rather than just the level charged at the end of the period.
International-equity funds also saw a big expense ratio drop of 4 basis points. Bond funds saw smaller drops from already low levels. However, the typical investor paid an additional 3 basis points for his alternatives fund.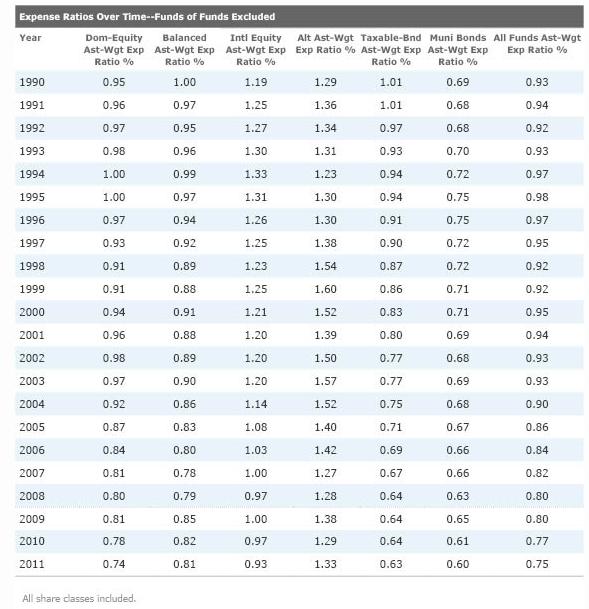 Let's take a look at three of the bigger expense ratio changes in 2011.