Process
In terms of process, alternatives mutual funds vary significantly, from bottom-up fundamental managers, to black-box quantitative managers, and everything in between. As with traditional funds, investment processes that are transparent and repeatable garner the most respect from Morningstar analysts. But because alternatives are meant to diversify the risk of a traditional portfolio, it's important that risk-management process be clearly defined and implemented as well. Turner Spectrum Fund TSPEX, for example, is a long-short equity multimanager fund with a strict "lockdown" policy. Managers who lose more than 5% during a month must significantly reduce their gross and net exposure. This helped the fund mitigate losses in the third quarter of 2011.
Not all risk-management processes work, however. Hedges can impede performance. Hussman Strategic Growth HSGFX is an example of a fund that has struggled with its hedging techniques. The fund's stock-picking has been successful, but management's hedges have caused underperformance. In 2010, for instance, the fund fell 3.6%, while the average long/short fund increased 4.1%.
Performance
No fund should be analyzed in a vacuum. As with traditional funds, alternative funds can be compared and ranked on a risk-adjusted basis relative to their peers (the Morningstar Rating). With alternative funds, however, there are some other important considerations.
The first is how the fund performs in different market environments for that particular strategy. For example, 2008 was an excellent year for most managed futures funds, but since then, performance has been abysmal. That's not to say that managed futures or momentum strategies are bad investments--their correlation over time has been near zero to stocks and bonds and have worked in the worst of times. But some managed-futures funds have held up better than others, even in a poor environment. Mutual Hedge Frontier Legends MHFAX, for example, returned 1.73% in 2011, when the category lost almost 7%. The fund's diversification into shorter-term trend and non-trend-following strategies drove performance.
Next, because alternative mutual funds haven't been around for decades and because funds in the same Morningstar category may follow strategies that vary significantly, it's important to consider similar strategies in other vehicles. The 5-star non-traditional bond fund, Forward Credit Analysis Long/Short FLSIX, for example, is run similarly to a hedge fund listed in Morningstar's database. The manager's performance relative to other funds in the same mutual fund category may not be as relevant as the performance of the same strategy in hedge fund format, as the mutual fund is currently the only hedged high-yield municipal bond fund in the nontraditional bond category. Investors must consider how lower levels of leverage and illiquidity will manifest in the mutual fund (generally in lower risk and returns).
Price
It's no secret that alternative funds cost more than their long-only counterparts. First, alternative products tend to have fewer assets. Larger funds carry greater economies of scale and thus lower operational fees as a percentage of assets. Second, alternative strategies often require more-experienced risk managers, traders, or the poaching of a highly compensated hedge fund manager. The average fees charged by all seven alternative mutual fund categories are displayed in the table below.
In some regards, investors are paying higher than equity cost, for bondlike risk. Such high fees are only justifiable if managers can produce positive returns and an uncorrelated return profile. The market-neutral category, for example, looks extremely expensive. Although most market-neutral funds show low correlations to stocks and bonds, the average fund charges 2.1%, while returns have been disappointing. But there are some cheaper funds in the category (JP Morgan Market Neutral Research JPMNX, for example) and funds that have so far justified their high expenses through performance (TFS Market Neutral TFSMX, for example).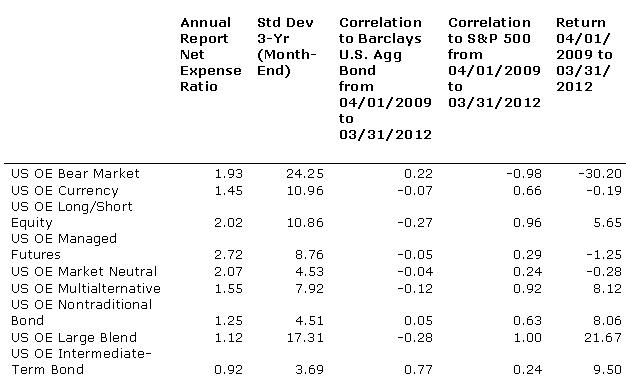 Purpose?
Alternative investment may sound sexy, but it must fulfill a need and serve a purpose. Unlike traditional long-only funds, alternatives differ vastly on their stated purpose. Sadly, far too many funds overpromise and underdeliver. For example, absolute return funds rarely (if ever) offer investors absolute returns. It's important to keep managers honest and to avoid those who overpromise.