Time to ditch the old 10% allocation rule.
This article originally appeared in the April/May 2012 issue of MorningstarAdvisor magazine. To subscribe, call 1-800-384-4000.
The rapid growth of liquid alternative mutual funds and exchange-traded funds, both in number and asset size, has challenged all definitions of alternatives, the perception of who should invest in them, and most important, how much should be invested in them.
Investors Are Spoiled for Choice
These new alternative-investing products have grown rapidly, in response to investor demand for diversification and liquidity. Over the past five years, the mutual fund industry has launched new products at a blistering pace of approximately four per month (Exhibit 1). At the end of 2011, Morningstar counted total alternative mutual funds assets of $122 billion after five consecutive years of inflows. Meanwhile, U.S.-equity mutual funds had five consecutive years of outflows, leaving those funds with just more than $260 billion in assets (Exhibit 2). This massive growth is also a global trend. The European version of mutual funds (UCITS) also offers exposure to a wide range of alternative investments and exchange- traded products.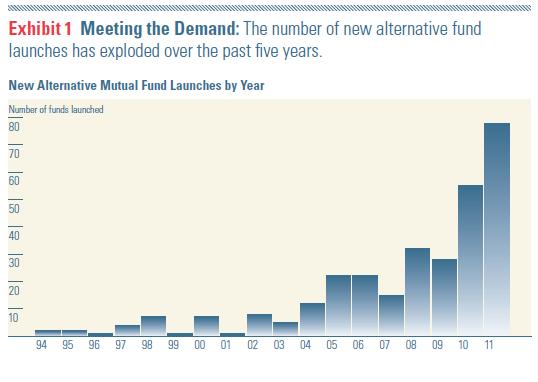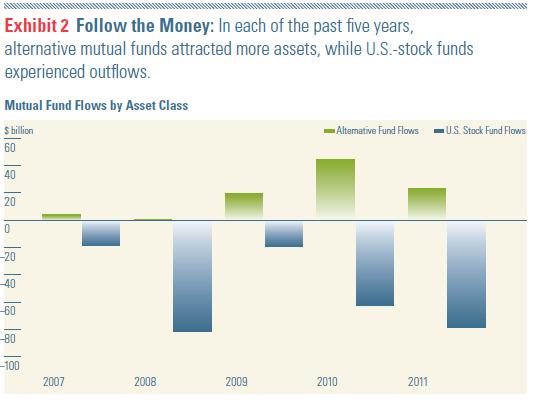 Advisors and retail investors can now choose from a bewildering array of investments touted as alternative, many available only to institutional investors in the past. These include mutual funds and exchange-traded products invested in commodities, Treasury Inflation-Protected Securities, REITS, emerging- markets equities and bonds, listed private equity, infrastructure securities, equity volatility, and active strategies used by hedge funds.
What Is Alternative?
As access to alternative strategies has expanded, so, too, has the very definition of alternative investing. Historically, alternatives were considered to be hedge funds— unregistered legal structures with liquidity restrictions and high-net-worth thresholds that prevented access to most retail investors. As a result, alternatives were considered investments suitable for a small portion of the population and the portfolio. Now, with more than 300 hedge-fund-like mutual funds (and several ETFs) available to the general market, the legal structure of an investment is no longer a defining characteristic.
Even when trying to classify alternatives by their underlying assets or trading strategies, the challenge lies in the changing definition of alternatives over time. Ten years ago, emerging-markets equities and global REITs were largely grouped as alternatives. Does that classification hold today as these asset classes have been adopted by mainstream investors? And will commodities be considered alternative 10 years from now? To answer these questions, investors need to reconsider why they are allocating to alternatives in the first place; the answer is diversification. In a recent Morningstar and Barron's survey, advisors and institutional investors cited "diversification with a low correlating asset" as the single most important reason for allocating to alternative investments.1
If equities are the mainstay of a client's portfolio, then any alternative investments in the portfolio should provide decent returns and behave differently from the stocks, especially in equity bear markets. The worst returns from equities have occurred in periods when corporate profits fall, typically during recessions. This makes sense as corporate profits are linked to the economic cycle; recessions mean lower revenues, lower profit margins, and a fall in corporate profits growth. Poor returns from equities can also occur when equities become heavily overvalued.
There are two tests investors can apply to tell whether an investment will behave differently from equities and, therefore, should be considered as an alternative.
The first is whether the underlying income an investor receives from owning the investment (for example, commercial property rents, emerging-markets company dividends, interest payments by companies in the case of corporate debt) is as sensitive to economic growth as are corporate profits. Will the underlying cash flows of these assets fall when there is a recession or sharp slowdown in economic growth? Assets that pass this test include essential infrastructure assets such as pipelines, regulated utilities, and agricultural commodities. Private equity is less effective as a diversifier because it has the same link to economic growth as do equities, which is why it has been used more as a substitute for equities than a diversifier. Emerging-markets equities are also less effective because a major U.S. economic downturn has an impact on our trading partners and their economic and profits growth. Globalization has made geographic diversification less effective over time as business cycles have become more correlated. TIPS and emerging-markets government bonds are better diversifiers because revenues are less sensitive to economic growth. The bottom line is to favor assets with underlying cash flows that are less susceptible to economic slowdowns and can hold up during recessions.
The second test is whether the behavior of returns is different from those of equities. We can use this criterion to evaluate active investment strategies, including those used by hedge funds. Historically, hedge funds have performed better than equities in equity bear markets while still providing attractive long-term returns. There is evidence that managers have generated significant returns from skill over time and have not relied upon being fully invested in equities to generate returns (Exhibit 3). Strategies that rate well on this test include global macro and managed futures. The outlook is positive despite disappointing returns from these strategies in 2011. There is less capital competing to generate returns from hedge fund strategies after the outflow of capital from hedge funds in 2008–09 and the shrinking of investment bank proprietary trading activities. Meanwhile, extreme economic conditions and mispricings present a multitude of opportunities. Investors can now gain access to hedge fund strategies via daily or monthly liquidity vehicles (though due diligence is still essential to weed out inappropriate strategies and those managers with insufficient experience, expertise, and resources).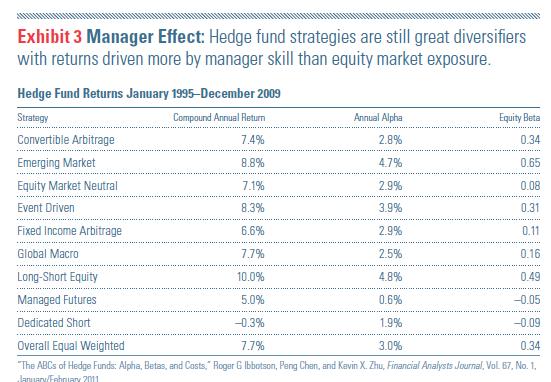 In a nutshell, investors looking for diversification should favor asset classes that are less cyclical than equities and skill-based strategies that are not dependent on exposure to equities to generate returns. Infrastructure and hedge fund strategies remain highly attractive as diversifiers and suitable as the core of an alternative investment portfolio.
Is 10% Enough?
For financial advisors, the historical answer to how much of a portfolio should be in alternatives was 10%. This answer was rooted in the assumption that alternatives were hedge funds. Because hedge funds locked investors' money up for a year and gave them only quarterly redemptions, why would someone have more than 10% in such restrictive products? Moreover, a hedge fund manager could blow an entire investment on a bad bet, or the unscrupulous manager could just walk away with the cash. In short, the 10% rule of thumb was not based on any hard science; it was fundamentally a safety and liquidity-driven allocation.
But today, investors can gain access to a wide variety of alternative investments in more-liquid forms, so investing more than 10% across a range of investments is feasible. While there is no single "right" answer, portfolio modeling and the experience of investors provide some useful pointers to the range investors should consider. Studies indicate a range of 10% to 20% is consistent with better outcomes and can accommodate liquidity constraints. This is based on portfolio modeling for individual alternative investments such as infrastructure2 and a combination of alternative investments3. Recommendations from brokerage houses are even higher, based on their own definitions of alternative investments and subject to the needs and circumstances of each client:
In March 2011, the research investment committee inside Merrill Lynch's wealth management division recommended that weightings to alternatives fit in a range from 5% to 45% of a portfolio.

In September, Wells Fargo Advisors' strategic models called for alternatives to range from 14% to 25%.

In December, UBS' wealth management research published its 2012 outlook with benchmark guidelines for "nontraditional assets" ranging from 9% to 27%.

In December, the tactical asset-allocation models from Morgan Stanley Smith Barney's global investment committee suggested that "global alternative-absolute return" investments have a range weighting from 9% to 29%.

So, 10% is really the bare minimum for investors who want to diversify their portfolios, and allocations of 15% to 20% are now feasible for liquidity-constrained investors, given today's broad range of alternative mutual funds and exchange-traded products. But with this greater focus and access come challenges. For fund managers, new products marketed as alternative must provide diversification when equities perform poorly, as well as attractive, long-term net returns. For investors, the right mix of alternative assets, strategies, and managers is critical. Here, there is no substitute for specialist investment research and advice.
1 "2010 Alternative Investment Survey of U.S. Institutions and Financial Advisors," Morningstar and Barron's, January 2011.

2 "Infrastructure and Strategic Asset Allocation: Is Infrastructure an Asset Class?", Thomas Idzorek, Christopher Armstrong, Ibbotson Associates research paper, January 2009.
3 "Appropriate Policy Allocation for Alternative Investments," Kevin Terhaar, Renato Staub, and Brian Singer, The Journal of Portfolio Management, Spring 2003.