Time to ditch the old 10% allocation rule.
This article originally appeared in the April/May 2012 issue of MorningstarAdvisor magazine. To subscribe, call 1-800-384-4000.
The rapid growth of liquid alternative mutual funds and exchange-traded funds, both in number and asset size, has challenged all definitions of alternatives, the perception of who should invest in them, and most important, how much should be invested in them.
Investors Are Spoiled for Choice
These new alternative-investing products have grown rapidly, in response to investor demand for diversification and liquidity. Over the past five years, the mutual fund industry has launched new products at a blistering pace of approximately four per month (Exhibit 1). At the end of 2011, Morningstar counted total alternative mutual funds assets of $122 billion after five consecutive years of inflows. Meanwhile, U.S.-equity mutual funds had five consecutive years of outflows, leaving those funds with just more than $260 billion in assets (Exhibit 2). This massive growth is also a global trend. The European version of mutual funds (UCITS) also offers exposure to a wide range of alternative investments and exchange- traded products.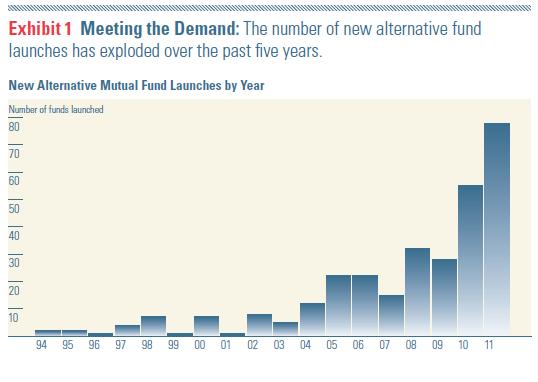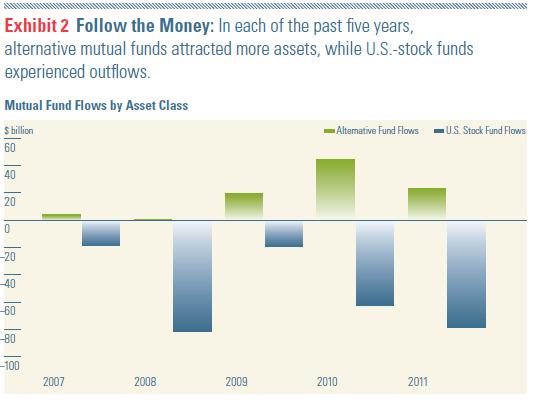 Advisors and retail investors can now choose from a bewildering array of investments touted as alternative, many available only to institutional investors in the past. These include mutual funds and exchange-traded products invested in commodities, Treasury Inflation-Protected Securities, REITS, emerging- markets equities and bonds, listed private equity, infrastructure securities, equity volatility, and active strategies used by hedge funds.
What Is Alternative?
As access to alternative strategies has expanded, so, too, has the very definition of alternative investing. Historically, alternatives were considered to be hedge funds— unregistered legal structures with liquidity restrictions and high-net-worth thresholds that prevented access to most retail investors. As a result, alternatives were considered investments suitable for a small portion of the population and the portfolio. Now, with more than 300 hedge-fund-like mutual funds (and several ETFs) available to the general market, the legal structure of an investment is no longer a defining characteristic.