DIRECTV stands out among Berkshire's fourth-quarter stock purchases; IBM and Wells Fargo are other big buys.
By Drew Woodbury | Stock Analyst
When we relaunched the Ultimate Stock-Picker concept two years ago, we made a point of including a few insurance companies in our list of top managers because, unlike their peers in the mutual fund business, the portfolio managers at insurance companies tend not to be impacted by investor redemptions during weak market environments. They're also a bit more long-term oriented than most fund managers, investing their portfolios according to the time horizon and payout profiles associated with the product lines that are underwritten by their firms. While fixed income tends to dominate the average insurance company's investment portfolio, as the asset class provides a steady stream of cash flows necessary for duration matching, some insurers choose to hold a larger portion of their investment portfolios in stocks, which have historically generated superior returns over other investments when looked at in the long term.
Of the four insurance companies in our Investment Management Roster-- Berkshire Hathaway BRK.A/BRK.B, Markel MKL, Alleghany Y and Fairfax Financial FRFHF--Berkshire is probably the best known, owing to the cult-like status that Warren Buffett and Charlie Munger have with investors. Buffett has been involved in Berkshire's investment portfolio for more than 40 years, while Munger has been contributing to investment decisions at the firm for nearly as long. This type of longevity is rare among asset managers, and speaks to the success that Berkshire has had finding investments that not only meet the needs of its business, but that allow Buffett and Munger to demonstrate their investing acumen.
While the long and successful tenure of Berkshire's portfolio managers has been a competitive advantage for the firm, Berkshire is in the midst of a changing of the guards, with Lou Simpson stepping down from his position running GEICO's portfolio at the end of 2010, and both Buffett and Munger moving ever closer to that century mark. While both men are in good health and could theoretically run the investment portfolio at Berkshire for many more years, the firm started looking for upward of three to four people to oversee these investments several years ago. Buffett's first pick (announced in October 2010) was a little-known hedge fund manager named Todd Combs, who ran a fairly concentrated fund at Castle Point Capital Management dedicated almost entirely to financial services stocks.
The second investment manager picked by Buffett (and announced in September of last year), was Ted Weschler, the manager of an extremely concentrated portfolio of slightly more diverse holdings at Peninsula Capital Advisors. Weschler's hiring is notable for several reasons, the most interesting of which was the fact that he was the highest bidder on two separate occasions in a charity auction whose prize was lunch with the Oracle of Omaha. The hedge fund that he ran at Peninsula Capital followed investing methodologies similar to those preached by Buffett, and the $2 billion portfolio (at the end of June 2011) had DIRECTV DTV and W.R. Grace & Company GRA as its two largest holdings (each comprising more than 25% of the total portfolio). While Buffett has not provided explicit details about the responsibilities of each of his lieutenants, we expect Weschler will manage a similar proportion of the portfolio as Combs--that is, around $2 billion-$3 billion of the more than $65 billion equity portfolio.
Berkshire Hathaway's Top Stock Holdings (as of Dec. 31, 2011)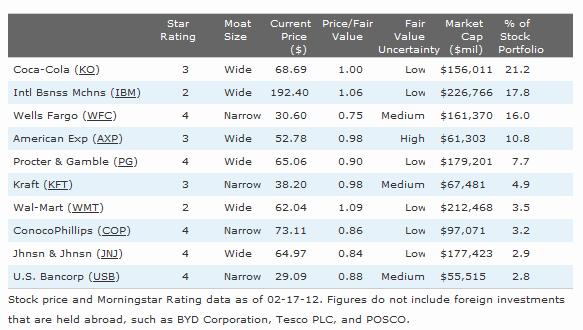 Turning to Berkshire's most recent 13-F filing, which details the company's holdings at the end of the fourth quarter, the first transaction of note was Buffett's purchase of another 22.3 million shares of Wells Fargo WFC, which brings the insurer's stake in the bank up to 383.7 million shares (worth $10.6 million at the end of the period). After touting Wells Fargo in his annual review to shareholders last year as a major holding that could see a meaningful increase in its dividend, Warren Buffett put his money where his mouth was in 2011, snatching up another 41.1 million shares of the bank last year, which increased Berkshire's position in the firm by 12%. Morningstar analyst Jim Sinegal continues to be positive on the name as well, noting that it is one of the premier financial institutions in the United States, thanks to its nationwide base of low-cost deposits and relentless focus on customer service and efficiency, not to mention its plain vanilla banking model. This narrow-moat firm continues to trade at a meaningful discount to his fair value estimate, and is likely to receive approval for further dividend increases and share repurchases by mid-2012, which would provide a positive catalyst for the stock price.