Investors should consider how their individual holdings might be exposed to Europe and other export-dependent economies.
Despite a U.S. economy that is stronger than anyone anticipated it would be just two months ago, investor attention has shifted to Europe, all day, every day. From a simple economic point of view, a weakening Europe should have little direct impact on U.S. GDP growth, though the effect on the worldwide banking system is a bigger, potentially more lethal issue. Profits and revenue growth of large multinational corporations dependent on Europe are also at risk. Certainly, at a minimum, investors should consider how their individual holdings might be exposed to Europe and other export-dependent economies.
European Concerns Drive Markets
U.S. exports to every corner of the globe constitute just 14% of U.S. GDP. Europe represents a relatively small portion: 22% of exports and 3.1% of U.S. GDP.
Keep in mind that at least a portion of those exports are basic necessities, such as food, or items that can't easily be obtained elsewhere. So, even if Europe were to move into a recession, the drop in U.S. exports to Europe wouldn't be large.
Throughout 2011, exports to Europe weren't much stronger or weaker than other markets. Exports did spike in August to a 5.9% growth rate before declining 0.5% in September. Whether this was just normal volatility or a reflection of a weaker export market in Europe is a tough call. Still, an even larger decline would do little to directly affect the United States.
European GDP Could Contract
Growth prospects in Europe certainly don't look positive, given a lethal mix of government austerity programs combined with declining consumer confidence in the private sector. While exports have cushioned some of that pain, especially for Germany, they may not be enough for Europe to avoid a recession, or at least a quarter or two of economic contraction. The Organization for Economic Cooperation and Development recently cut its 2012 growth forecast to a measly 0.2%. A slowing growth rate in China, a major European trading partner, certainly won't help matters, either. By comparison, the U.S. economy is projected to grow at 2% in 2012. Over the shorter term, the OECD forecasts an annualized decline of 1% in the fourth quarter of 2011 in the eurozone and predicts a 0.4% decline in 2012, far behind the levels expected in the United States.
Whatever happens, I don't believe a weakening European economy is enough to sink the U.S. economy.
What should give investors pause before making aggressive investments is the potential impact on the worldwide banking industry. Frankly, no one knows the state of the banks for certain. However, in a chain that includes European banks lending to sovereign governments and those governments lending the money back to the undercapitalized banks, the failure of any one link could bring down a healthy chunk of the European banking system.
Making matters worse, European companies are generally more dependent on banks for capital than their U.S. counterparts, which have better access to both equity and bond markets. The problem is that no one can see inside the relatively opaque balance sheets of European banks, so it is difficult for anyone to provide a lot of reassurance to investors on this front. This type of opacity and cross-lending dependency turned a potentially minor recession in the United States into a near catastrophe for the world economy in 2008. And though the United States took powerful steps to recapitalize its banks in 2008 and 2009, European efforts thus far have been far more muted.
Small Export Dent: A recession in Europe would have a minor impact on the U.S. economy because a small percentage of U.S. GDP is dependent on exports to Europe.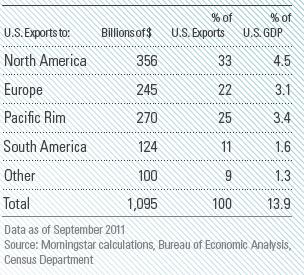 Europe Will Hurt Big Firms More Than U.S. GDP
The situation may not be as positive for U.S. multinationals either. Many of these firms derive 20% to 40% of their revenues from Europe. Because many of those goods are produced in Europe or in other markets outside the United States, they are not counted in the U.S. GDP calculations and don't directly add to U.S. employment. Therefore, a weak Europe could significantly affect U.S. companies even if it doesn't make a dent in the U.S. GDP growth rate.
This is the exact opposite of what we have seen over the past several years as revenue growth and earnings at S&P 500 companies have far outstripped U.S. GDP growth rates.