When listed REITs offer so many benefits, it's hard to go nonlisted, for now.
Commercial real estate can be part of a long-term and diversified investment strategy. Beyond the benefits of lower long-term correlation to other investment classes, such as equities, commercial real estate provides the opportunity for inflation protection, income, attractive growth, competitive returns, and diversification. For many investors, gaining direct exposure to commercial real estate can be difficult because of large capital requirements and limited liquidity.
A more practical way to invest in the asset class is through publicly traded real estate investment trusts. Investors can choose between public, SEC-registered listed REITs or nonlisted REITs. In terms of enterprise value, the public REIT industry currently aggregates $1.2 trillion, consisting of listed equity REITs ($738 billion, or 62% of total), listed mortgage REITs ($291 billion, or 24%), nonlisted equity ($158 billion, or 13%), and nonlisted REITs ($14 billion, or 1%).1, 2
Listed REITs are the largest segment of the REIT industry and have proved to improve the return and risk of a traditional long-term investment strategy. According to the FTSE NAREIT All REIT TR Index, listed REITs would have provided investors with an average annualized total return of 10.2% (and 10.9% for just equity REITs) over the past 20 years (ended Dec. 31, 2011), outpacing the S&P 500's 7.8% increase. The index's dividend growth has also impressed, averaging 5.8% annually since 1991 and exceeding the average annualized inflation of 2.6%.1 Further, listed REITs have generally outperformed other investment classes during slow economic growth and during periods of rising inflation and interest rates.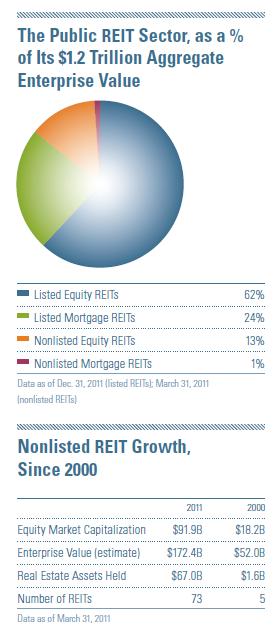 The Basics
Nonlisted REITs differ dramatically from their listed counterparts. Although nonlisted REITs are SEC-registered "public" entities, they do not trade on a major exchange and are therefore illiquid. Nonlisted REITs are also sold as "blind pool" investments, meaning that, unlike most listed REITs, they raise investment capital identifying and buying specific investments. Nonlisted REIT shares, or units, are sold by financial advisors and are typically available for $10 each throughout a "bestefforts" offering period, which often spans several years.
On average, nearly 100% of a nonlisted REIT's shares outstanding are marketed to and owned by individual retail investors, rather than institutions, who stick to listed REITs. Nonlisted REIT securities are typically distributed through a broker/dealer affiliated with the REIT sponsor. The affiliated broker/ dealer receives fees for marketing, distribution, investor relations, and maintaining SEC registration and reporting requirements.
Significant Growth
Despite the long-term attractiveness and accessibility of listed REITs, yield-hungry investors have been clamoring for their less-liquid and less-shareholder-friendly nonlisted cousins in recent years. Although the nonlisted segment of the REIT industry has been around for some 30 years, its most significant growth has occurred over the past 10 years, with the catalysts being broader acceptance of the REIT structure, healthy commercial real estate fundamentals, and a need for greater investor asset-class diversification and yield. Nonlisted REITs, as of the first quarter of 2011, owned or had an investment interest in real estate assets valued at $67 billion, up 419% from $1.6 billion in 2000. Nonlisted REIT sponsors and programs currently number 31 and 73, as compared with four and five in 2000, respectively. Since 2000, nonlisted REITs have raised an aggregate $73.7 billion, representing 80.2% of the current $91.9 billion equity capitalization of the nonlisted REIT segment. (Estimated enterprise value, or total capitalization, is $167 billion, which assumes 45% leverage on programs closed or within offering periods.) Nonlisted REITs were on pace to raise approximately $10 billion in 2011, the highest annual amount since 2007, when $10.9 billion was raised.2
The Drawbacks
Nonlisted REITs present a number of problems for the retail investor, to whom most nonlisted REITs are sold. The financial crisis has drawn even more attention to these issues. Investors feel misled, and regulators have noticed. Efforts are under way to both improve the product and investor suitability and to better align shareholder interest. Before investing in nonlisted REITs, investors should consider these 10 potential areas of concern:
1. Costs and fees
Costs and fees associated with an investment in nonlisted REITs average 15% to 18% of the initial investment (a net investment of $0.82 to $0.85 per $1). This compares with the $0.97 to $0.99 net investment in shares of listed REITs purchased in the secondary market.
2. Costly diversification
Like most listed REITs, nonlisted REITs generally follow narrow portfolio and operating strategies, which allow managers to better capitalize on their sector or geographic expertise. So, diversification across commercial real estate property types is costly, as multiple nonlisted REITs mean multiple sets of high fees.
3. Blind-pool structure
Blind-pool investments, such as nonlisted REITs, raise investment capital before buying and/or identifying investments. Because a nonlisted REIT's offering and investment (or stabilization) period is a process that takes several years, investors may find it difficult to evaluate the merits of the investment.
4. Potential dividend risk
The blind-pool investment structure and lengthy offering period means there may be limited initial operating cash flow to meet and sustain investors' annual dividend expectations. This may require the REIT to use cash reserves, investor capital, bank lines of credit, asset sales, and sales of additional shares to pay the dividend. Essentially, investors in nonlisted REITs may be receiving a return of capital instead of a return on capital. In comparison, the average listed REIT, according to the National Association of Real Estate Investment Trusts, has an FFO dividend payout ratio of 70%, which means the operating cash flow sufficiently covers current dividends and can cushion against a future economic downturn or allow for a potential dividend increase.
5. The "have to" investor
The dividend obligations, and the rate at which investors are pouring money into these offerings, put significant pressure on the nonlisted REIT and its advisor to invest the blind pool's money as quickly as possible, regardless of the current market conditions. This type of scenario does not lend itself to the best or most appropriate investment decision-making process. Furthermore, it does not allow for proper risk management throughout different market cycles. Consider that, between 2005 and 2008, nonlisted REITs raised and invested $33.3 billion (45.2% of the total assets raised since year-end 1999). This period is widely considered the peak in commercial real estate valuations.
6. Acquisition-only marketing machines
Most nonlisted REITs focus on acquisitions, rather than development, and spend significant resources on marketing, sales, and distribution. Morningstar favors proven REIT business models and managers with a diversified real estate skill set, which includes acquisition, development, redevelopment, and property-management experience. These skills allow the REIT to exploit growth opportunities and manage risk and cash flows throughout real estate and economic cycles. Many of these characteristics and skills are lacking within many nonlisted REIT business models, potentially increasing risk and limiting growth.
7. Potential conflicts of interest
A REIT can choose to be managed internally or externally. Most listed REITs are internally advised, while most nonlisted REITs are, at least initially, advised by an "outside" advisor that is affiliated with the REIT sponsor. Just like internal management, outside advisors operate and supervise REIT activities, including administration, acquisition, and disposal of assets; portfolio management; property management; and shareholder services. Most often, outside advisors are owned, controlled, and managed by the principals and board of the REIT. This may create potential conflicts if the advisory fee and incentives aren't structured properly.
8. Lack of transparency
Nonlisted REITs are SEC-registered public entities and are, therefore, subject to minimum reporting requirements, such as filing quarterly and annual financial documents. We live in a relative world, however. Nonlisted REITs report far less useful or relevant data as compared with their listed counterparts. For example, most listed REITs host quarterly conference calls, property tours, and management visits for investors and analysts. Additionally, the majority of listed REITs provide information packages to supplement required filings. These disclosures outline, in detail, pertinent information related to real estate operations, property-level specifics, and corporate capital structure. This transparency provides the necessary tools for investors to make intelligent and informed investment decisions. Conversely, nonlisted REITs rarely disclose more than is required by the SEC.
9. Volatility—more than meets the eye
One of the benefits touted by nonlisted REITs is that the shares do not swing with the stock market, as shares are not listed on a major exchange and because the underlying investments are not marked-to-market frequently. It would be naive to think, however, that underlying nonlisted REIT portfolios and business models are not affected, both positively and negatively, by many of the same factors that contribute to stock market volatility. In fact, the 2007–09 economic downturn resulted in significant declines for nonlisted REITs. Sudden dividend reductions and unit-price markdowns took many investors by surprise. More disclosures combined with a regular mark-to-market and an independent valuation process would have certainly exposed this increased volatility and risk profile. At the very least, better communication may have limited the panic felt by investors.
10. Limited access to capital and illiquidity
Nonlisted REITs gain access to capital primarily through retail investors during specific offering periods and under announced terms. These limitations may result in a nonlisted REITs' inability to raise capital when needed, for refinancing or capital-structure purposes, for example. This illiquidity may result in the undesirable scenario of having to sell assets at an inopportune time. The illiquidity extends to nonlisted REIT investors, who have limited options to cash out.
What the Future May Hold
Morningstar does not believe a significant investment in nonlisted REITs makes sense for most investors. There are still too many drawbacks and unresolved issues. Listed REITs are the most appropriate option, from the standpoint of both the alignment of shareholder interests and long-term risk/return potential.
That said, a better nonlisted REIT product is possible—the segment is in transition, with efforts under way to improve investor suitability, transparency, standardization, fee structure, and incentive programs. FINRA and the Dodd-Frank reforms are driving much of this change, but a few nonlisted REIT sponsors have begun to address concerns. There is a real first-mover opportunity for both sponsors and the broker/dealer in this regard, making a better REIT product a win-win for investors, sponsors, and broker/dealers alike.
1 NAREIT® REITWatch® A Monthly Statistical Report on the Real Estate Industry. October 2011. 2 Robert A. Stanger & Co. Inc. and the Investment Program Association.

Philip J. Martin is director of REIT research 
with Morningstar.