Unconstrained bond funds have gotten off to a tepid start.
Investors have been unconstrained in their eagerness to invest in unconstrained bond funds.
PIMCO started the trend with PIMCO Unconstrained Bond PFIUX in mid-2008, and right away people couldn't get enough of it. The idea was that rather than make modest adjustments around a benchmark, PIMCO would be able to make big bets on duration (a measure of interest-rate sensitivity), currencies, and high yield. This fund could go from a duration of negative 3.0 years (essentially betting against bonds) to one of 8.0 years. Oh, and the fees are unconstrained, too. The Institutional shares charge 0.90%, or double what you'd pay for PIMCO Total Return PTTDX.
Amid the wild swings in the market and the economy and the fact that PIMCO was one of the few active managers to still look brilliant, the cash poured in; today it's a $15.5 billion fund despite just hitting its three-year mark. The movement went beyond PIMCO, though, as funds at JP Morgan among others proved to be hot sellers, too. You know what happened next: Every fund company with a bond operation started hopping on the bandwagon. Just last month, Met West and Scout jumped on board.
However, enthusiasm is waning as it turns out that being unshackled has made PIMCO Unconstrained lag significantly behind PIMCO Total Return in returns and yield alike. PIMCO Total Return itself is suffering from taking duration down to near its own limits in a bet against Treasuries, but its unconstrained sibling went even further in the wrong direction. It's an unhappy reminder that even PIMCO isn't very adept at making interest-rate calls, and it should give us all pause before buying an unconstrained bond fund.
A Tepid Start for Unconstrained Bond Funds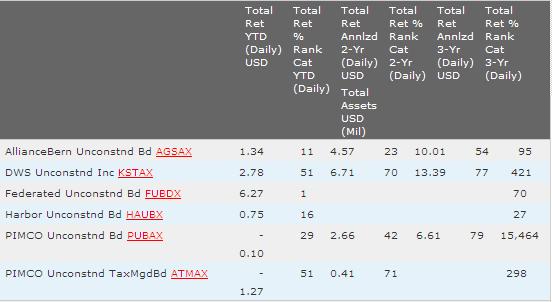 Data through Dec. 5, 2011.
We know well some very successful less-constrained bond funds. FPA New Income FPNIX doesn't tether itself to the Barclays Aggregate Index, but it leans strong toward capital preservation so that its flexibility makes it easier to own than most bond funds. Loomis Sayles Bond LSBRX goes the other direction with savvy investments in higher-yielding corporate and foreign bonds. In this case you get greater yield but need to hold the fund for a longer period than you might a fund that does stay close to the Barclays Aggregate.
But the big bets allowed by unconstrained bond funds mean they might not perform the basic tasks we generally want from bond funds: to provide a useful stream of income and strong total returns to ensure continued healthy levels of income.