Cash is no longer king, but caution still rules.
Nearly two years after college savings were decimated in 2008's market crash, 529 account holders are increasingly exposing their education nest eggs to market forces.
Fund flow data from Morningstar shows that among investment options with steady asset allocations, 529 college-savings plan assets are moving away from cash and into investment options featuring stocks and bonds. To be sure, flows into all 13 Morningstar categories for static 529 investment options were positive, but 79% of flows over the past 12 months have been into hybrid investments, which include stocks and bonds, or into pure equity investments. About 1% of flows into static 529 investment options went into money market choices, with the remainder into bond investments.
Of the new money flowing into asset-allocation funds, conservative-allocation investment options (those with between 20% and 50% of their assets in equities) edged out moderate-allocation investments (with 50% and 70% of assets in stocks), but not by much, indicating that college savers are more comfortable taking on market risk.
Investors' confidence in the asset-allocation options may stem from recent market returns. While the average 529 investment option lost 24% in 2008, the typical conservative-allocation option gained nearly 11% over the past 12 months, while the average moderate-allocation option was up more than 16%.
These trends in flows over the past 12 months suggest that college savers may be bolder than the 529 industry assumes. Many plans have added more-conservative investment options to their menus of choices: More than a dozen 529 plans now feature bank-guaranteed investment choices for account holders. Those cashlike investments may still hold appeal for college savers later on, as their students near college enrollment and nest eggs are largest. But the more-aggressive choices are capturing the lion's share of new money.
It's worth noting that Morningstar's analysis of 529 flow data excludes popular age-based investment options, where the 529 investment's asset-allocation shifts toward bonds and away from stocks as the student ages. It's difficult to track flows in these investments because many of the age-based options shift assets from one investment to the next on behalf of the investor as the child gets older. Therefore, it's currently impossible for Morningstar to tell whether new assets into an investment are actually assets being transferred from one age band to the next based on a child's birthday or whether the new assets are truly new investment dollars flowing into the option.
Interestingly, college savers working with financial advisors seem less risk-averse than do-it-yourself savers. Among advisor-sold 529 plans, non-U.S. equity investments garnered the most new cash--about 24% of the total flows. Meanwhile, among direct-sold plans, conservative-allocation investment options were the top flow-getters, attracting about a fourth of the new assets. In fact, more than half of the new money into direct-sold static investment options went into asset-allocation choices.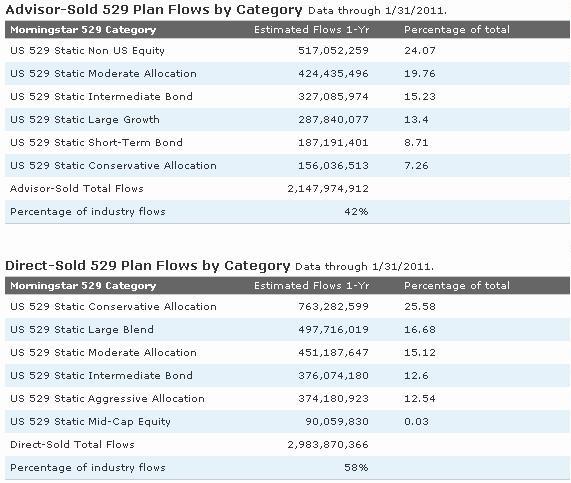 Among the money-market options, the advisor-sold plans were in net outflows, while $46 million (about 2% of the net new cash) went into direct-sold plans' money-market options.
Bond investment options, which have been huge flow winners among traditional mutual funds during the past 12 months, have been popular among 529 investors as well. About 20% of flows into static investment options have gone into pure bond offerings, with advisors sending more clients' money there than self-directed investors have.
Laura Lutton and Christina West collaborated on this article.
Laura Pavlenko Lutton is an editorial director in Morningstar's fund research group.
Get this column delivered to your e-mail inbox every month. Sign up for our free College Planning Educator e-newsletter.