A roundup of investment news from Morningstar Advisor magazine.
Risks and Rewards of Emerging-Markets Bonds
Investors who shy away from foreign stocks because of their risks miss out on numerous opportunities by limiting their equity investments to the United States. Morningstar research and communications manager Jim Licato says that the same can be said for emerging-markets debt, with many investors preferring to invest in developed nations' fixed-income markets. "With the recent crises in Europe, however, along with the growing debt burdens in developed nations," Licato says, "it might be time for investors to consider adding emerging-markets bonds to their portfolios."
Investors have long been made aware of both the diversification and performance benefits that come from holding non-U.S. equity investments. A similar case can be made for a portfolio's fixed-income side. Holding international bonds can add useful diversification, Licato says. The performance of international bond markets does not correlate with that of U.S. markets. Moreover, international fixed-income returns have been impressive.
In the chart below, Licato compares returns of emerging-markets bonds over various holding periods with the returns of different domestic bonds. Over every time period analyzed, from short term (one year) to long term (15 years), emerging-markets bonds were the top performer. Although this performance might make emerging-markets bonds appear attractive, keep in mind that a high level of risk also accompanies this asset class. Investors considering emerging-markets investments must be comfortable with their special risks, such as fluctuations in currency, foreign taxation, economic risks, political risks, and differences in accounting and financial standards.
Improvements in both the economic policies and government transparency of emerging- markets countries should help to limit volatility going forward for this market segment, but future results cannot be predicted. For investors who are willing to take on an added risk, the potential reward could be appealing.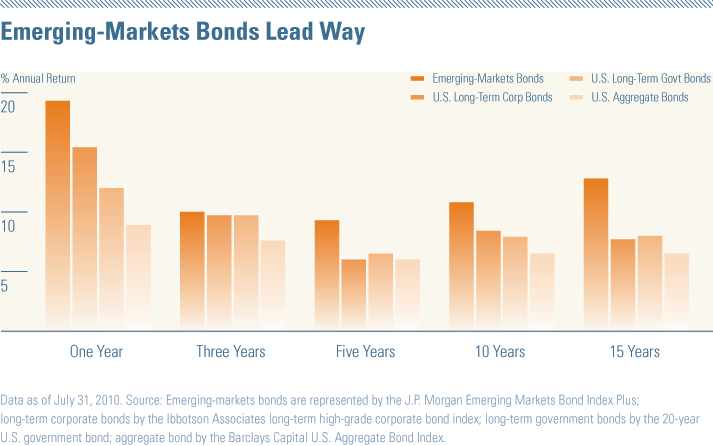 How Expenses and Stars Predict Success
Investors should make expense ratios a primary test in fund selection, according to a recent study by Morningstar fund analysts. The study looked at how expense ratios and the Morningstar Rating for funds predict future performance. In 23 out of 40 (58%) observations, expense ratios had a better success ratio than did the star rating.
In the study, analysts took a snapshot of expense ratios and star ratings from 2005 through 2008 and then tracked their progress through March 2010 using measures such as total return and the success ratio, which shows what percentage of funds in a given group survived and outperformed their peers. The study placed funds into five broad asset classes: domestic equity, international equity, balanced, taxable bond, and municipal bond.
The study found that expense ratios are strong predictors of performance. In every asset class over every time period, the cheapest quintile of funds produced higher total returns than the most expensive quintile. For example, the cheapest quintile from 2005 in domestic equity returned an annualized 3.35% versus 2.02% for the most expensive quintile over the ensuing five years. The gap was similar in other categories such as taxable bond, where cheap funds returned 5.11% versus 3.82% for pricey funds. The gap was also impressive as measured by the success ratio, because high-cost funds are much more likely to have poor performance and be liquidated or merged away. For the 2005 group, we found that 48% of domestic-equity funds in the cheapest quintile survived and outperformed versus 24% in the priciest quintile. Put another way, funds in the cheapest quintile of domestic equity were twice as likely to succeed as those in the priciest quintile. It was a similar story in other categories, although in munis the advantage was greater than 6 to 1.
The star rating was also a good predictor, although not as good as expense ratios. In 2005, 5-star domestic-equity funds produced a subsequent return of 2.8% versus 1.6% for 1-star funds. Balanced funds and municipal- bond funds enjoyed a slight edge, but 5-star international funds that survived actually lagged the returns of 1-star funds that survived.
The results of the star rating were better when measured by the success ratio. In the 2005 class, 53% of 5-star international equity funds survived and outperformed, whereas a mere 13% of 1-star funds survived and outperformed.
"Perhaps the most compelling argument for expenses is that they worked every time-- because costs always are deducted from returns regardless of the market environment," says Russel Kinnel, Morningstar's director of mutual fund research. "The star rating, as a reflection of past risk-adjusted performance, is more time-period dependent. When the market swings dramatically, the star rating is going to be less effective."
Old-Time Returns in Risky Frontier Markets
Between January 1926 and December 1999, the S&P 500 Index compounded at an annual return rate of 11.3%. During what has become known as "the lost decade" (January 2000-December 2009), however, the S&P 500 lost 0.9% annually. Stock returns are nowhere near what they used to be, and bleak forecasts for market returns over the next decade have investors scrambling for growth.
Alina Tarlea, a research and communications analyst for Morningstar, says that investors will be hard-pressed to find double-digit returns domestically. Beyond the United States' borders, however, there are countries that seem to be recovering quite well. A few frontier markets have posted impressive returns for the one-year period ending on June 30. Although heavily affected by the global crisis, Lithuania, for example, returned 67.9%, and its GDP is expected to grow by 3% in 2010. In Asia, Sri Lanka and Pakistan experienced healthy returns, and future growth projections also look attractive (6.5% for Sri Lanka in 2011).
With the global crisis, many investors may have scratched risky assets off their lists, but Tarlea says that these frontier countries may now be the only places where high growth is still possible. Of course, it's not guaranteed that frontier countries will keep growing at these rates, but at least some potential for high returns still exists.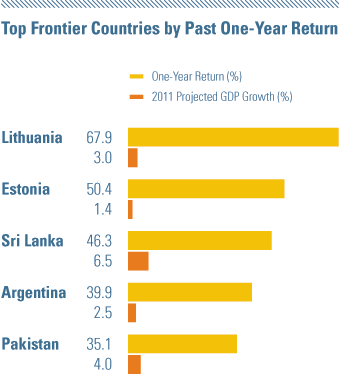 Analyst 'Batting Average' on the Rise
In Morningstar FundInvestor, editor Russel Kinnel tracks the "batting averages" of Morningstar's Fund Analyst Picks. He recently reported that analysts' fund-picking record has improved in four of five broad asset classes since 2007.
The averages show what percentage of analysts' picks have outperformed their peers over the trailing five years. The figure is weighted based upon how long a fund was a pick in that time period. In September, there were 192 Analyst Picks. Here are the results by asset class: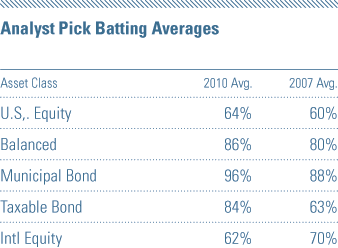 Fund Analysts Pen Target-Date Letter to SEC
In August, Morningstar's Fund Research Group submitted a comment letter to the SEC urging the commission to require funds to take new steps aimed at helping investors better understand target- date funds.
Here are some excerpts from the letter:
* "Given target-date funds' prominence in retirement portfolios, it's crucial that investors understand what they own, especially because target-date funds' approach to asset allocation is relatively new."
* "We believe target-date series would benefit from a more comprehensive set of disclosure guidelines from the Commission."
* "Easily accessible, intuitive graphics that illustrate how a fund's asset allocation shifts over time should be required disclosure to individual investors because they'll help tell a complex story."
* "It would be helpful to know ... a fund's intended subasset class allocation within those broader asset classes. Two funds with identical equity-bond-cash allocations may have very different risk profiles."
* "If investors know how their target-date funds will be managed over the entire ownership period--as some of the above suggestions help facilitate--there's less need to draw attention to one year over others through decades of investment. ... A major problem with target-date funds has been that investors assume that all funds with the 2010 or 2030 moniker will perform similarly. So, too, might they erroneously assume that funds with identical target-year allocations will perform alike."
Gold No Match for Long-Term Returns of Stocks
Gold has done well recently, but stocks carry a long-term advantage, says Morningstar senior research and communications analyst Preethi Parmar. The past decade caused panic among investors, many of whom fled to the safety of gold. But $1 invested in the stock market beginning in 1980 would have grown to $24.37 by July 2010. That dollar invested in bonds over the same time period would be $18.20. And if $1 would have been put into gold in 1980? It would be a mere $2.23 today.
What does history reveal about investing in gold versus the stock market? In the table below, Parmar lists the average annual returns of stocks, bonds, gold, a stock- bond portfolio, and a diversified portfolio of stocks, bonds, and gold over different time periods. Over the past 20 and 30 years, stocks have provided higher average returns than has gold. In fact, even bonds fared better than gold in the long run.
With gold prices at an all-time high and fear of a double-dip recession, investors may want to consider diversifying their portfolios to include a mix of stocks and bonds, as well as gold. Because these assets generally do not react identically to the same economic or market stimuli, combining them can often produce a more appealing risk-and- return trade-off.