A roundup of investment news from Morningstar Advisor magazine.
Risks and Rewards of Emerging-Markets Bonds
Investors who shy away from foreign stocks because of their risks miss out on numerous opportunities by limiting their equity investments to the United States. Morningstar research and communications manager Jim Licato says that the same can be said for emerging-markets debt, with many investors preferring to invest in developed nations' fixed-income markets. "With the recent crises in Europe, however, along with the growing debt burdens in developed nations," Licato says, "it might be time for investors to consider adding emerging-markets bonds to their portfolios."
Investors have long been made aware of both the diversification and performance benefits that come from holding non-U.S. equity investments. A similar case can be made for a portfolio's fixed-income side. Holding international bonds can add useful diversification, Licato says. The performance of international bond markets does not correlate with that of U.S. markets. Moreover, international fixed-income returns have been impressive.
In the chart below, Licato compares returns of emerging-markets bonds over various holding periods with the returns of different domestic bonds. Over every time period analyzed, from short term (one year) to long term (15 years), emerging-markets bonds were the top performer. Although this performance might make emerging-markets bonds appear attractive, keep in mind that a high level of risk also accompanies this asset class. Investors considering emerging-markets investments must be comfortable with their special risks, such as fluctuations in currency, foreign taxation, economic risks, political risks, and differences in accounting and financial standards.
Improvements in both the economic policies and government transparency of emerging- markets countries should help to limit volatility going forward for this market segment, but future results cannot be predicted. For investors who are willing to take on an added risk, the potential reward could be appealing.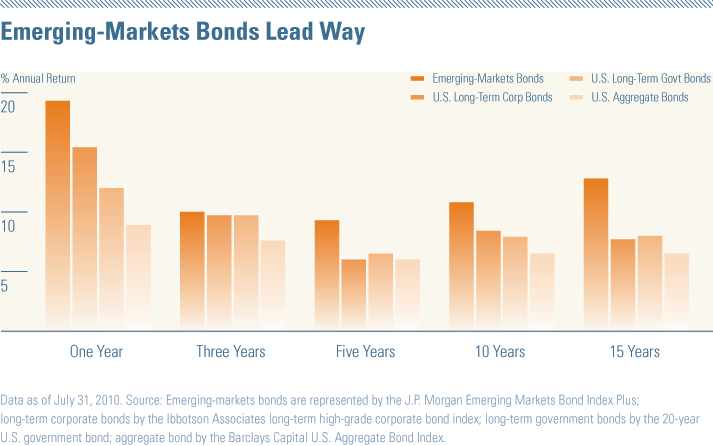 How Expenses and Stars Predict Success
Investors should make expense ratios a primary test in fund selection, according to a recent study by Morningstar fund analysts. The study looked at how expense ratios and the Morningstar Rating for funds predict future performance. In 23 out of 40 (58%) observations, expense ratios had a better success ratio than did the star rating.
In the study, analysts took a snapshot of expense ratios and star ratings from 2005 through 2008 and then tracked their progress through March 2010 using measures such as total return and the success ratio, which shows what percentage of funds in a given group survived and outperformed their peers. The study placed funds into five broad asset classes: domestic equity, international equity, balanced, taxable bond, and municipal bond.