A roundup of investment news from Morningstar Advisor magazine.
Commodities and the Weak Dollar
Thanks primarily to the weakening of the U.S. dollar, commodities are becoming increasingly attractive, Morningstar research and communications manager Jim Licato says. Moreover, the Federal Reserve has committed to buy $600 billion in government bonds in an effort to further stimulate the economy.
"The depth and breadth of the global recession has required a highly accommodative monetary policy," Fed chairman Ben Bernanke wrote in a Wall Street Journal opinion piece. "Since the onset of the financial crisis nearly two years ago, the Federal Reserve has reduced the interest-rate target for overnight lending between banks (the federal-funds rate) nearly to zero. We have also greatly expanded the size of the Fed's balance sheet through purchases of longer-term securities and through targeted lending programs aimed at restarting the flow of credit." He added that these policies "will likely be warranted for an extended period."
What does all this mean for investors? Well, another round of easing by the government will pump more money into the U.S. financial markets, which in turn can lead to further weakening of the U.S. dollar. And commodities, particularly those priced in U.S. dollars, may reap the corresponding rewards. Silver, gold, and live cattle were the top year-to- date performers through the end of September. Wheat, corn, and copper also performed quite well.
Before rushing to invest in this particular segment of the market, however, investors might want to examine the bigger picture. The graph illustrates the range of annual returns for a number of the most commonly traded commodities. Natural gas experienced the greatest range of returns, while the live-cattle category has been the most stable. The returns of some commodities are more volatile than others; investors might want to consider this information before they invest.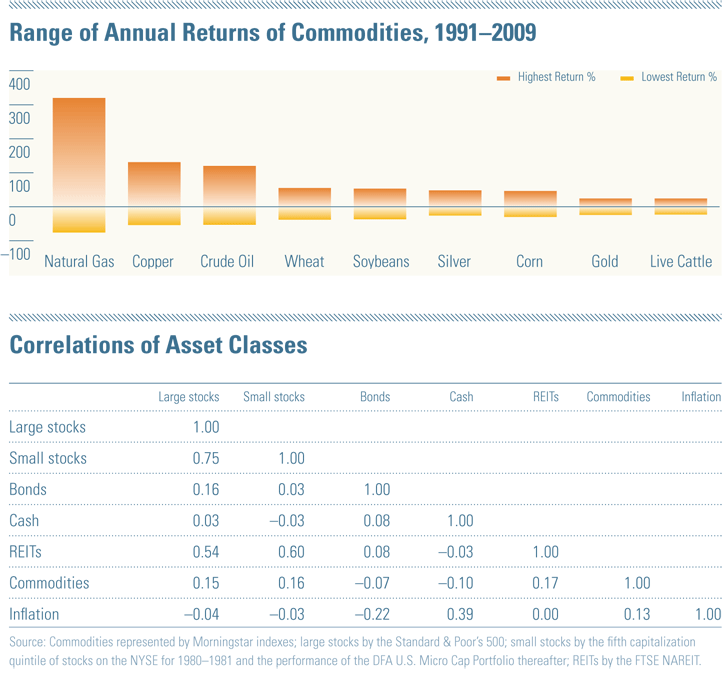 It is also important to examine the performance of commodities relative to other asset classes before adding them to a portfolio. The table displays the correlations for stocks, bonds, cash, REITs, inflation, and commodities since 1980. According to the data, commodities have negative correlation to bonds and cash and relatively low correlation to stocks and REITs. Because a well-diversified portfolio should consist of individual investments that behave differently, commodities may deserve a place in your clients' portfolios.
Morningstar Names Best 529 Plans
Laura Pavlenko Lutton, an editorial director in Morningstar's fund research group, recently introduced Morningstar's seventh annual study of 529 college-savings plans, based on months of research into more than 50 of the largest 529 college-savings plans. Morningstar's mutual fund analysts studied detailed comparisons of the plans' asset allocations, under- lying investments, returns, fees, stewardship practices, and tax incentives. The team also discussed investment strategies with the plans' program managers and talked with the states' representatives to determine how they oversee, market, and administer their 529 plans.
From this work, Morningstar developed a new analyst rating for 529 plans. The 529 plans that received top ratings are:
T. Rowe Price College Savings Plan
Maryland College Investment Plan
T. Rowe Price runs both these plans, and they are two of the few direct-sold 529 plans that emphasize actively managed funds. Thus, college savers pay more than they would for an indexed-only plan, but they're getting a strong set of funds run by experienced managers.
CollegeAdvantage 529 Savings Plan
This plan, managed by the Ohio Tuition Trust Authority, mixes sought-after money managers from a number of firms. Vanguard runs a set of age-based indexed options, while another track of investments mixes active managers from PIMCO, Vanguard, Oppenheimer, and GE, along with some Vanguard index funds.
The Vanguard 529 College Savings Plan
This plan, sold through the state of Nevada, features an expense ratio of 0.25% on its age-based options, making it a top choice for college savers. If the $3,000 minimum investment for this plan is too steep, New York's 529 College Savings Program (Direct), another Vanguard-run, direct-sold suite of indexed options, charges the same but requires just $25 to get going.
CollegeAmerica
This Virginia-based plan is the nation's largest. American Funds offers its complete lineup here for advisors to mix for their clients. Many other broker-sold 529 plans are significantly more costly than their namesake mutual funds, but these funds are barely higher, and their long-term records are enviable.
Morningstar to SEC: Shine More Light on Fees
On Oct. 20, Morningstar submitted a comment letter to the SEC in response to its 12b-1 fee reform proposal.
 "We urge you to consider a sweeping overhaul of fund expense ratios, from top to bottom, that would break fees into appropriate, easy-to-understand buckets and standardize the accounting," the letter says.
The letter suggests that the SEC divide fund expense ratios into four buckets:
Management
"This is the fee charged to actually run the money from an investment standpoint and is agnostic to whether the fund is a retail mutual fund or institutional separate account."
Sales and Marketing
"This fee covers the full cost of selling and distributing the fund, including shelf- space arrangements with broker-dealers, advertising campaigns, and costs to be included on supermarket platforms."
Advice
"We've partitioned off an 'advice' bucket that is distinct and separate from sales and marketing because there are meaningful differences between the two services."
Administrative Overhead
"This portion of the expense ratio covers the administrative costs of running the operation, transfer agency, record-keeping, and board oversight."
"Transparency and simplicity have made mutual funds the vehicle of choice for decades," the letter concludes. "Yet, over the years, we've ended up with a cloudy landscape of meaningless accounting, confusing share classes, and fee jargon that make mutual funds less competitive. This is evidenced by the large proportion of fund assets moving to cheap institutional shares and ETFs. We encourage you to step in and help bring the virtues of simplicity and transparency back to the mutual fund industry."
China Region Leads New Category Rollout
Russel Kinnel, Morningstar's director of mutual fund research, recently introduced three new Morningstar fund categories:
China Region
Funds and individual investors alike continue to show more interest in playing the biggest emerging markets. There are 25 open-end and 17 ETFs in this new category. We define it as funds with at least 75% of their equity assets in China, Taiwan, and Hong Kong. As the group has grown, a number of approaches to regional exposure have been applied, and we captured most by including any of the three markets that are seen as plays on China.
Market Neutral
We're carving our long-short group into two by pulling out the market-neutral funds from those that can have more varied long-short exposure. Market-neutral portfolios seek income while maintaining low correlation to fluctuations in market conditions. They typically have net equity exposure between negative 20% and 20% and a beta between negative 0.3 and 0.3. All told there are 29 open-end market-neutral funds and no ETFs.
Aggressive Allocation
Over the past few years, fund companies have been adding funds that land between the typical balanced fund mix of 60% stocks/40% bonds and fully invested stock funds. It's now eached a critical mass of dedicated funds that we're creating a category to capture it. We're defining the category as funds with a slug of bonds and between 70% and 90% in stocks.
Back to Basics: The Stock and Bond Puzzle
The National Bureau of Economic Research recently announced the official end date for the recession: June 2009. But economists and investors are still dealing with pervading uncertainty. In what has been called the "new normal" market environment, asset classes are behaving in increasingly unpredictable ways, making it more difficult to manage risk and return within an investment strategy, Morningstar research and communications analyst Alina Tarlea says.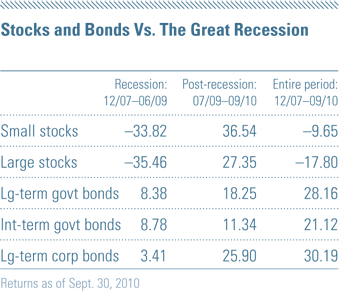 Historically, stocks and bonds have been negatively correlated, However, the unusual way the market's been behaving recently may force market participants to revisit the conventional wisdom, Tarlea says. She looked at how stocks and bonds have performed since the end of the recession (see table above). Despite persistent gloomy economic news, small- and large-cap U.S. stocks earned strong returns. With this solid stock growth, one would normally expect bond returns to drop or at least stay flat, but the bond market is still going strong, with both government and corporate bonds posting impressive returns in the past 15 months.
At first glance, strong stocks and strong bonds seem like an ideal situation, and diversified portfolio-holders are getting the best of both worlds. Unfortunately, this looks more like a post-recession anomaly than a sustainable long-term trend, Tarlia says. An adjustment period of 15 months or longer may cause a disconnect between the underlying economic fundamentals and what's actually happening in the market.
Plus, one of those markets may be overvalued. The economy is still far from stable, and a new round of quantitative easing was announced by the Fed in November, which may prompt an adjustment in the bond market. Also, because bond prices and yields move in opposite directions, yields on Treasury bonds are now at or near record lows. Then there's the stock market. If earnings reports are not compelling enough to maintain the upward momentum, the rally could run out of steam.
Be Wary of Index Turnover Costs
After the Standard & Poor's announced that Berkshire Hathaway would be joining the S&P 500 Index, Berkshire's stock shot up nearly 12%. Did S&P's announcement increase Berkshire's intrinsic value by that amount? Warren Buffett would say no. What changed was that everyone knew that a chunk of the $1 trillion indexed to the S&P 500 would move in lock step to buy Berkshire stock two weeks later when it joined the index. Naturally, hedge funds and traders rushed in to buy the stock before the inclusion date. When the day rolled around, the index funds obeyed their mandates and bought more than $20 billion worth of Berkshire Hathaway stock at a 12% premium. It was a $2 billion payday on the index investor's dime.
Market events like Berkshire's inclusions happen regularly with indexes. To add insult to injury, the same mechanisms that drive up stocks before they're bought by index funds drive stocks down before the funds sell them. Index investors lose, and market-makers and hedge funds win. The cause is a well- established but poorly known phenomenon called index turnover cost.
Any index with enough assets following it will suffer from this index turnover cost to some degree. Not much has been made of it because it's hard to measure just exactly how much indexers are losing. But Morningstar ETF analyst Samuel Lee has some tips for investors trying to sidestep it. The big red flags:
1. Lots of assets tracking the index. If an index has more than a $1 trillion marching in lock step, as the S&P 500 does, price impact is a fact of life.
2. High index turnover. Price impact matters less if an index is making infrequent changes.
3. Illiquid underlying holdings. Micro-caps and small emerging-markets stocks are among the hardest-to-trade holdings. The less liquid a holding, the bigger the price impact of a trade.
Foreign Funds, Emerging Markets
The most direct way for U.S.-based investors to get access to these markets is through an emerging-markets mutual fund, but quite a few diversified stock funds have significant emerging-markets exposure. Four funds with largest stakes, Morningstar fund analyst David Kathman says, are:
Oppenheimer International Small Company OSMAX
As of May 31, this fund had 39% of its equity assets in emerging markets, including top-10 holdings Anvil Mining (from the Democratic Republic of the Congo), Oriental Bank of Commerce (from India), Pacific Rubiales Energy (from Colombia), and Colossus Minerals (from Brazil).
Janus Overseas JAOSX
This $13 billion fund has been managed since 2001 by Brent Lynn, who has been more adventurous than his foreign large-growth category peers.
Artio International Equity BJBIX
This fund's 28% emerging-markets stake (as of July 31) is just slightly below that of Janus Overseas, and it has a similarly strong 10-year record, but otherwise it's a rather different fund with a lower risk profile.
William Blair International Growth WBIGX
This is another fund with a longtime manager, George Greig, whose willingness to take risks has led to a good long-term record with some short-term bumps along the way.