Probably not at these prices.
As the returns of real estate investment trusts have been climbing over the past year, investors have flooded real estate mutual funds with cash.
Although REITs bottomed in early 2009, along with the rest of the stock market, less than $400 million found its way into real estate funds during the year Exhibit 1. It wasn't until after the category roared back later in 2009, finishing the year up 33%, that investors began to notice. For the year through July 31, $1.56 billion of new assets have flowed into real
estate funds. In other words, investors have been putting money into real estate funds with dramatically greater velocity after REIT prices have risen and yields have dropped. Granted, the category had risen by another 15% in 2010 through July 31, but many investors clearly missed an opportunity to snag REITs at meaningfully lower prices in early 2009.
Investors may be giddy with recent performance and the fact that REITs pay dividends. But they are likely chasing REITs for the same reason that they've been pouring money into bond funds--a frantic quest for current yield. By law, REITs pay out 90% of their reported earnings as dividends in exchange for status as tax-free corporations.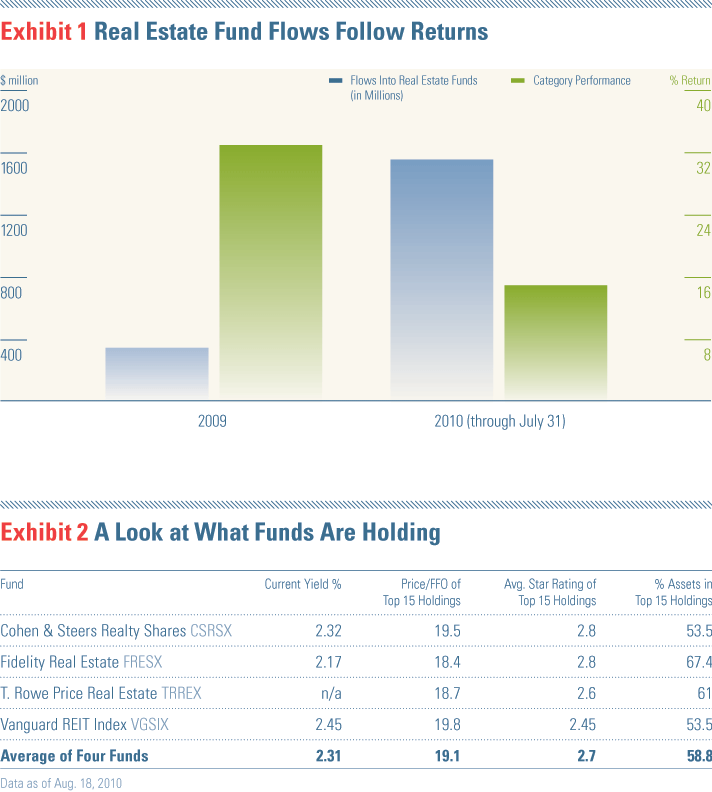 Given the recent climb in prices, however, are REIT funds' best days behind them? We studied REIT funds' valuation from four angles to find out. First, we compared the prices of the top 15 holdings in four of the most popular real estate mutual funds with a REIT cash-flow metric called "funds from operations." Second, we compared dividend yields of REITs with the interest from 10-year U.S. Treasuries, and we studied the future five-year returns of REITs based on the dividend yield at the time of purchase. Third, we examined how Morningstar's equity analysts currently view REITs. Finally, we analyzed how much exposure three go-anywhere mutual fund managers have had to REITs over the past decade or so. We think that go-anywhere managers provide a more objective view of the asset class than dedicated REIT fund managers, who have to own REITs regardless of their underlying valuations.
Analyzing FFO
Funds from operations is a REIT metric that analysts use to see how much cash flow a group of properties or a REIT is generating. To get the FFO number, analysts must adjust a REIT's net income for property sales and depreciation, which is a material noncash charge (the IRS allows real estate companies to depreciate property at a prodigious rate that distorts the reality of a property's cash-flow generation). This, by the way, is why a traditional price/earnings metric is an ineffective REIT valuation tool. REITs actually generate more cash than their net income lines indicate.
To be sure, using the FFO as a valuation tool has its shortcomings. It adds back the full depreciation charge even though, as any homeowner knows, a property requires significant upkeep; appliances, plumbing, wiring, and countless other things wear out and need replacing. But REITs uniformly report FFO, so we'll consider it with the understanding that it can provide a rosier cash-flow and valuation picture than what really exists.
If we divide the price of a REIT by its FFO, we get a good idea about how the REIT is being valued by the market. We looked at the 15 top holdings of four popular real estate mutual funds: Cohen & Steers Realty Shares CSRSX, Fidelity Real Estate Investment FRESX, T. Rowe Price Real Estate TRREX, and Vanguard REIT Index VGSIX. The holdings were trading at an average price/FFO multiple of about 19 based on the stocks' closing prices on Aug, 18 Exhibit 2. REITs are stocks or ownership units of businesses. In the stock market, paying 19 times operating cash flow (which is similar to price/FFO) has rarely produced a good long-term result for companies that don't grow very much.
Of the top 15 holdings in each fund that had positive FFO for the past 12 months, only two--retail landlord Kimco KIM and New York City office owner SL Green SLG--clocked in with price/FFO below 15. Some firms have posted negative FFO for the past 12 months because of noncash write-downs or impairments of land held for development or developments partly finished, and we left them out of our calculation. Those impairments could be reversed in the future, but they also can get worse.
If we flip the price/FFO of the top 15 holdings around, owners of these stocks are getting a 5.3% FFO yield, about half of what REIT investors were getting 10 years ago. REITs would have to grow considerably to bump FFO yields back to 10%. REITs are inherently constrained from significant growth because of the legal constraint requiring that they pay a large amount of earnings as dividends. As a comparison, Apple AAPL, which is expected to increase sales and earnings more than any REIT in the coming years, is currently trading at around 19 times trailing earnings.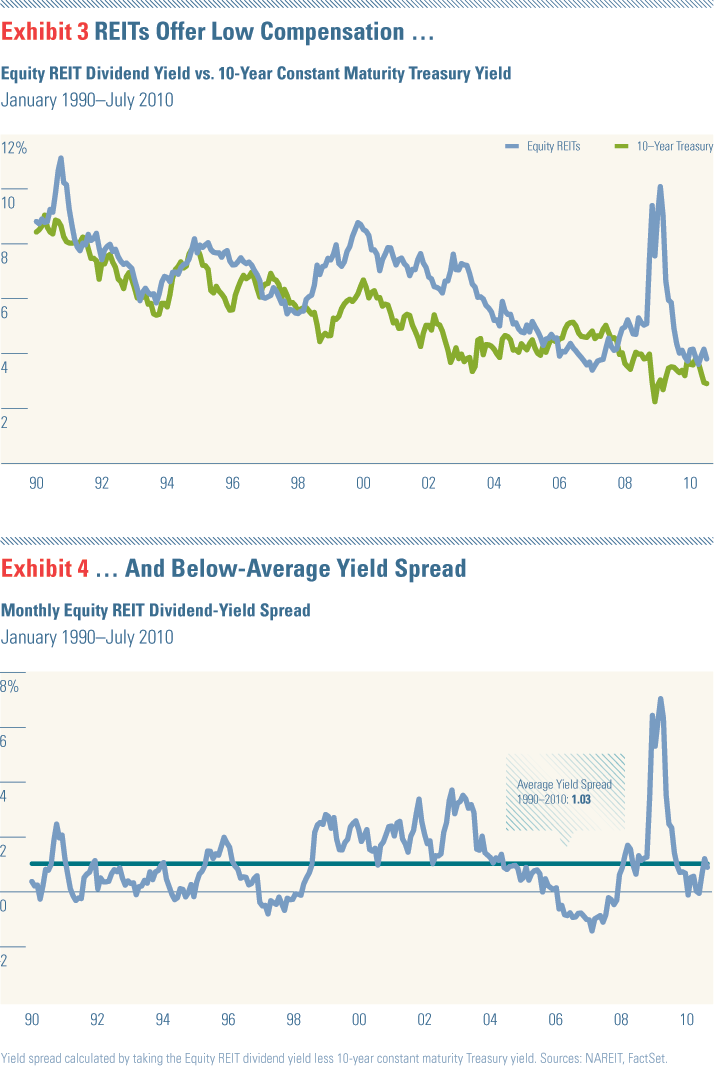 Examining Yield Spreads
Price/FFO doesn't look lovely, and neither does actual dividend yield. None of the three funds reporting current yields as of May 14-- the offerings from Fidelity, Vanguard, and Cohen & Steers--is paying out more than 3%, which is lower than most analysts have seen in recent memory.
To put that yield in context, analysts often compare REIT dividend yields with the interest rate of U.S. Treasuries. Until the recent dip in the Treasury yield, REIT investors were getting paid less to own REITs than they were in interest payments from safer U.S. Treasury notes Exhibit 3. The REIT dividend yield relative to the yield of a 10-year U.S. Treasury note has been hovering below the 20-year average Exhibit 4. The compensation for owning REITs was much better a year ago.
REITs may offer the possibility of growth, while Treasury notes do not, but REITs also court more risk with their debt-burdened balance sheets and the possibility of deflation crimping their cash flows.
An advantage of dividend analysis over FFO analysis is that we are able to see what investors' five-year returns would be when buying at various dividend yield ranges from the beginning of 1992 through June 30, 2010 Exhibit 5. Buying REITs at an average dividend yield of 4% to 5% produced virtually no return over the next five years. Buying at a 6% to 7% average yield produced a 12% annualized return for the next five years, while buying at an 8% to 9% yield produced a whopping 16% annualized return for the next five years.
Folding in Morningstar's Equity Analysis
Morningstar's equity analysts predict companies' cash flows in the future, and their analysis paints a slightly happier picture than the one suggested by trailing our FFO and yield-spread analyses--but not much happier. The average Morningstar Rating of the top 15 stocks in our four real estate funds is 2.7 stars as of Aug. 18, which means that, on the whole, the stocks are trading at slightly more than Morningstar analysts' fair value estimates.
Forecasting future cash flows isn't perfect. Borrowing conditions, for example, can change and alter a REIT's future returns. Also, companies in the sector sometimes radically change their structures, selling and buying large blocks of property. Finally, apartments and hotels function with what are basically one-year and one-night leases, respectively, making it tougher to normalize their future cash flows than those of office and industrial properties with multiyear leases and built-in inflation adjustments.
Still, a business' worth is the present value of its future cash flows, and taking a stab at forecasting what those cash flows might be has its merits. At the very least, it can indicate what sort of growth currently is priced into a stock, and Morningstar REIT analysts think more growth is implied in today's prices than warrants a margin of safety for investment.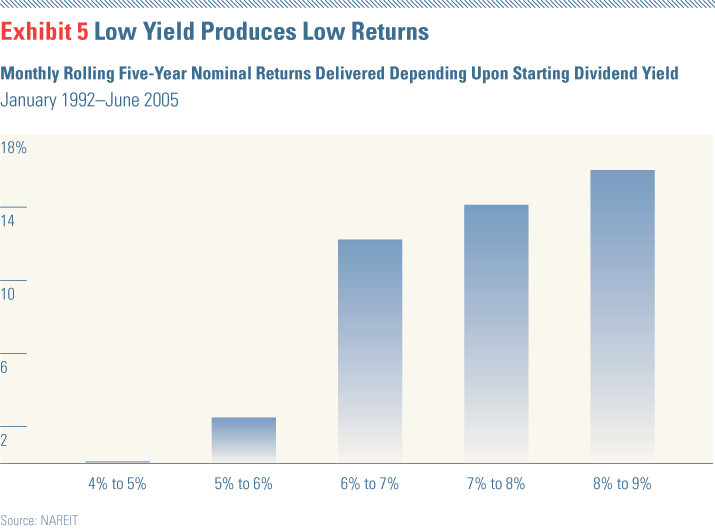 Learning From the Pros
The last leg of our analysis focuses on how flexible managers, instead of those running dedicated real estate funds, view the asset class. Because real estate funds have to own REITs, we think we get a more objective opinion by examining the portfolios of managers who have the flexibility to avoid or bet on an asset class based on their understanding of its valuation. We looked at PIMCO All Asset All Authority PAUDX, managed by Rob Arnott; GMO Global Balanced Asset Allocation III GMWAX, run by Ben Inker; and FPA Crescent FPACX, run by Steven Romick, to see how these managers view REITs. All three have a consistent outlook on REITs. (Inker and Romick also have a similar view of high-quality stocks, which they discuss in this issue's Morningstar Conversation on Page 38.)
At its inception in the spring of 2004, Arnott allocated 15% of the PIMCO fund's assets to the real estate sector via PIMCO Real Estate Real Return PRRSX. Six months later, he had dramatically shed exposure to 6% of assets. By September 2005, the fund's exposure was down to 3% and to less than 1% by June 2006. Today, the fund has no exposure to REITs.
REITs soared by more than 30% in 2004 and by another 15% in 2005. Although dividend yields dropped from about 5% to about 4% during the time, Arnott effectively was shedding his exposure as he saw prices getting stretched relative to underlying values. The companies were gorging on debt and becoming less capable of paying the dividends, as evinced by more dividend cuts in 2008 and 2009. It's true that the category soared again in 2006, making Arnott's departure seem a bit premature, but in hindsight, his caution served his shareholders well.
The GMO fund showed a similar pattern. In January 2002, Inker had 8.7% of the fund's assets in REITs, because the firm estimated that the asset class would return about 9.1% per year in real terms over the next seven years. By Dec. 31, 2005, however, the fund's real estate exposure was less than 1%, when the firm estimated that the asset class would return negative 0.6% per year for the next seven years. The GMO fund had less real estate exposure than did the PIMCO fund in the spring of 2004, but they both cut their exposure dramatically at roughly the same time. The GMO fund currently has no real estate exposure.
At FPA Crescent, Romick has the ability to short stocks in addition to owning all types of securities he deems fit by his valuation analysis. In 2010, Romick is shorting seven REITs (among his 31 short positions) and has no long REIT positions.
Conclusion
Whether the reason is a search for yield or a case of chasing returns, investors are pouring money into real estate funds. Based on what three valuation metrics and the actions of three talented, go-anywhere managers are telling us, we question the wisdom of these investors.
Price/FFO, dividend yield, and Morningstar's equity analysis reveal that REITs currently don't look cheap. They could trade at current prices until their underlying valuations grow into their prices, but current economic conditions don't favor REITs. Investors committing capital to them now aren't investing with a margin of safety. Managers Arnott, Inker, and Romick confirm our thesis.
John Coumarianos is a senior mutual fund analyst with Morningstar. Mutual fund analyst Ryan Leggio contributed to this article.