Probably not at these prices.
As the returns of real estate investment trusts have been climbing over the past year, investors have flooded real estate mutual funds with cash.
Although REITs bottomed in early 2009, along with the rest of the stock market, less than $400 million found its way into real estate funds during the year Exhibit 1. It wasn't until after the category roared back later in 2009, finishing the year up 33%, that investors began to notice. For the year through July 31, $1.56 billion of new assets have flowed into real
estate funds. In other words, investors have been putting money into real estate funds with dramatically greater velocity after REIT prices have risen and yields have dropped. Granted, the category had risen by another 15% in 2010 through July 31, but many investors clearly missed an opportunity to snag REITs at meaningfully lower prices in early 2009.
Investors may be giddy with recent performance and the fact that REITs pay dividends. But they are likely chasing REITs for the same reason that they've been pouring money into bond funds--a frantic quest for current yield. By law, REITs pay out 90% of their reported earnings as dividends in exchange for status as tax-free corporations.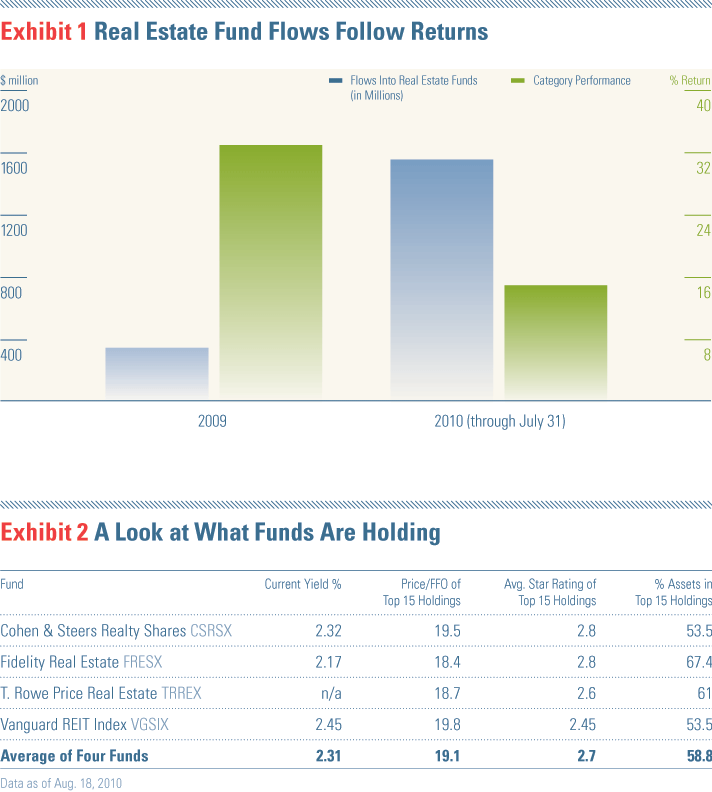 Given the recent climb in prices, however, are REIT funds' best days behind them? We studied REIT funds' valuation from four angles to find out. First, we compared the prices of the top 15 holdings in four of the most popular real estate mutual funds with a REIT cash-flow metric called "funds from operations." Second, we compared dividend yields of REITs with the interest from 10-year U.S. Treasuries, and we studied the future five-year returns of REITs based on the dividend yield at the time of purchase. Third, we examined how Morningstar's equity analysts currently view REITs. Finally, we analyzed how much exposure three go-anywhere mutual fund managers have had to REITs over the past decade or so. We think that go-anywhere managers provide a more objective view of the asset class than dedicated REIT fund managers, who have to own REITs regardless of their underlying valuations.
Analyzing FFO
Funds from operations is a REIT metric that analysts use to see how much cash flow a group of properties or a REIT is generating. To get the FFO number, analysts must adjust a REIT's net income for property sales and depreciation, which is a material noncash charge (the IRS allows real estate companies to depreciate property at a prodigious rate that distorts the reality of a property's cash-flow generation). This, by the way, is why a traditional price/earnings metric is an ineffective REIT valuation tool. REITs actually generate more cash than their net income lines indicate.
To be sure, using the FFO as a valuation tool has its shortcomings. It adds back the full depreciation charge even though, as any homeowner knows, a property requires significant upkeep; appliances, plumbing, wiring, and countless other things wear out and need replacing. But REITs uniformly report FFO, so we'll consider it with the understanding that it can provide a rosier cash-flow and valuation picture than what really exists.