There is no easy answer.
One of the catch phrases of the target-date industry is "to versus through." The idea is that some target-date series are built to manage investors' asset allocation only "to" the time of retirement, as represented by the date on the funds (2010 or 2015, for example), while others are intended to take the investor "through" retirement. The asset allocation, or glide path, of "to" funds does not change after the retirement date, and the "through" funds feature a glide path that continues to shift toward a more conservative stock/bond mix in the five to 20-plus years following the retirement date. That basic distinction can have a big impact on how investors incorporate a target-date fund into a broader portfolio at or following retirement, but there's no easy answer to the question of what that might entail.
No One Size Fits All
The "to versus through" proposition sounds like an elegant division but is muddled in practice. In Morningstar's 2011 Target-Date Series Research Paper, we divvied up the funds based on how providers presented their glide paths in the funds' prospectuses. That exercise was admittedly a rough first pass; we found a great deal of variability within each group, and some series were tough to place in either camp.
The "to" series typically decreases equity exposure more quickly as the retirement date approaches, averaging a 33% equity allocation at the retirement date. In contrast, the "through" funds average a 49% stock allocation at the retirement date, reflecting the belief that retirees require more stock investments over longer periods in order to reduce the risk of outliving their nest egg. Yet those averages mask a wide range of risk/reward profiles within each group. The equity allocations for "to" funds ranged from 24% to 50%, and from 25% to 67% for the "through" funds. The time period that each series takes to arrive at a final asset allocation following the retirement date also ranges widely, from roughly five to 30-plus years.
The asset mix of the funds also varies from series to series. Some series, including Vanguard's, emphasize investment-grade and inflation-protected bonds following the retirement date as a protective measure, while others such as Fidelity and John Hancock provide greater exposure to high-yield bonds as a means of increasing the funds' income stream. Providers such as T. Rowe Price and JP Morgan have built-in exposure to additional asset classes including commodities or real estate in recent years, citing their inflation-fighting and/or diversification potential.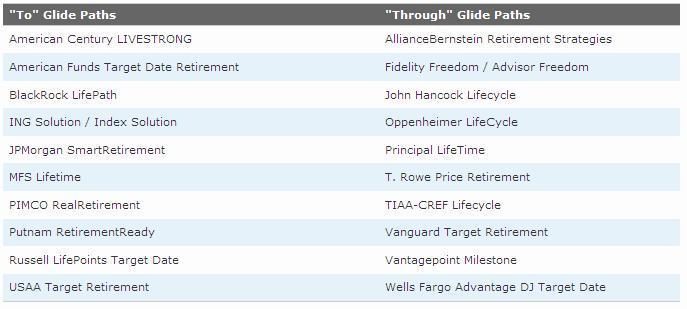 Changes to the funds' asset allocation and asset mix are more common than one might expect. Our colleagues at Morningstar Investment Management shed light on the prevalence of those changes in the recent Ibbotson Target Maturity Report. For better and for worse, those changes mean everyone using target-date funds will need to keep an eye on them to know what they own, and to make sure they still fit the bill.
How Do They Fit?
In light of the complexity mentioned above, investors, financial advisors, and plan sponsors are forced to use their own judgment to determine whether a particular series is suitable or appropriate given an investor's individual needs. For instance, plan participants or investors requiring additional capital appreciation in retirement would be ill-served by solely holding a fund that has shifted to a fixed-income-heavy allocation by retirement. Conversely, investors focused on capital preservation may not want to shoulder the substantial equity risk that comes with some of the funds.
Most investors--whether they own a "to" or "through" fund--will need to consider how to complement the fund with other holdings to better the chances of meeting their individual retirement needs. The first step is to have a clear understanding of the asset allocation, glide path, and asset mix of a given target-date fund in order to assess how it matches up with an investor's other holdings. Investors will also have to determine whether they need to focus on capital appreciation or capital preservation. Assessment of savings and withdrawal rates will shed further light on what income needs a target-date fund should help support. That analysis should shine a light on what gaps exist in an individual's portfolio and how investors may want or need to complement a target-date fund.