Look out for greater volatility and additional tax issues.
Investors know that dividends are a key component of long-term returns. Indeed, more than half of the real return provided by U.S. stocks in the past century came from dividends. In the international developed markets more companies pay dividends and their yields are higher than U.S. companies'. As a result, foreign large-blend exchange-traded funds and foreign dividend ETFs each have yield premiums of about 100 basis points relative to their U.S. counterparts. In addition, because dividends are more common across foreign equities, foreign dividend funds tend to be better diversified across sectors. However, while dividends tend to suggest safety, we highlight that there are some risks that are specific to international dividend funds that do not exist for domestic dividend funds.
Greater Short-Term Volatility
In the past 15 years, a dividend-focused strategy produced better risk-adjusted returns than a market cap-weighted strategy in the World, EAFE, Europe, and Pacific equity categories (see Table 1). In the United States, dividend-oriented strategies are not more volatile market-cap-weighted strategies. Outside the U.S., however, the risk-parity paradigm does not exist. Dividend-oriented strategies internationally are generally more volatile than their market cap-weighted counterparts, and that differential has widened in the past few years.
One reason for this is the fact that foreign companies are not as reluctant to cut dividends when compared with U.S. companies. And following the 2008 global financial crisis, many foreign companies did cut their dividends. In 2009, the U.S.-focused iShares Dow Jones Select Dividend Index DVY saw its dividend fall by 31%, while iShares Dow Jones International Select Dividend Index IDV saw its dividend fall by 62%.
Another issue to consider is that currency fluctuations have a greater impact on volatility in the short term than in the long term--exchange rates in the long term tend to be mean-reverting. As such, the gap in the three-year standard deviation between the S&P 500 and the international indexes was wide relative to the gap in the 15-year standard deviation. Currency volatility in the past three years was also further amplified by the financial crisis. Those who invest in foreign dividend funds for a steady income stream would not have gotten it in the past few years.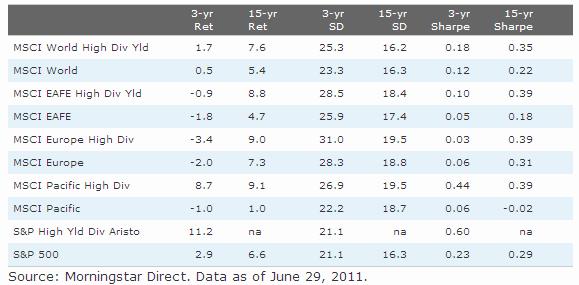 Mind the Tax Complications
Investors in international dividend funds also face additional tax issues, including withholding taxes on dividend income. On average, investors in a broad international fund (such as iShares MSCI EAFE Index EFA) and international dividend funds experienced annual withholding rates of around 9% in the past few years.
The U.S. government, in order to prevent double taxation, allows investors to claim this withholding amount as a tax credit. At the end of the year, fund companies provide investors with tax documents, which list the amount of foreign taxes paid per share. Investors can aggregate the amount of foreign taxes paid across their international funds, and claim it as a tax credit on Form 1040, up to $300 for single filers, and $600 for joint-filers. Those who have paid more than $300 in foreign taxes will have to complete the more cumbersome Form 1116 to claim a credit. The one upside of all this paperwork is that investors would actually realize a yield that is slightly greater than what is quoted by Morningstar (as well as other data providers), as international funds' dividend yields are calculated net of the foreign taxes withheld. But, practically speaking, investors lose out on the opportunity to efficiently reinvest the withheld dividends. We also note that claiming a tax credit only works for funds held in taxable accounts. Because Uncle Sam does not take his cut from funds held in tax-deferred accounts, investors cannot claim a credit on funds held in 401(k)s or IRAs.