Gold gets the headlines, but these funds like the other precious metal.
With gold prices hovering near all-time highs, it's been easy to overlook the performance of the other precious metal--silver. Like gold, silver is seen as a hedge against inflation, and more broadly against a decline in the value of the U.S. dollar and other paper currencies. High gold and silver prices reflect the market's fears that the Federal Reserve's expansive monetary policy, taken in response to the continuing sluggishness of the U.S. economy, will weaken the dollar and eventually lead to high inflation. Silver prices have spiked more than 20% since mid-August, outpacing gold, and recently hit their highest level since 1980.
It's possible to get direct silver exposure through exchange-traded funds such as iShares Silver Trust SLV, which invests directly in silver bullion. Silver-mining stocks provide less-direct exposure to silver, with an overlay of business and macroeconomic risk. (Unlike gold, silver is used in a variety of industrial applications, including electronics and solar reflector panels.) The wobbly economic environment hasn't held back silver stocks lately; they've gained an average of 20% over the past month, in line with silver prices.
Quite a few mutual funds have some silver exposure, mainly through silver-mining stocks. (Only a handful of mutual funds, none of them very big, hold significant amounts of the iShares Silver Trust ETF.) If we limit ourselves to funds with at least $100 million in assets, the following table shows the 10 with the highest percentage of their portfolio in silver stocks. The table also shows the size of each fund's asset base and its percentile ranking in its category over the past month and the past year (as of Sept. 23).
Funds With the Most Silver Exposure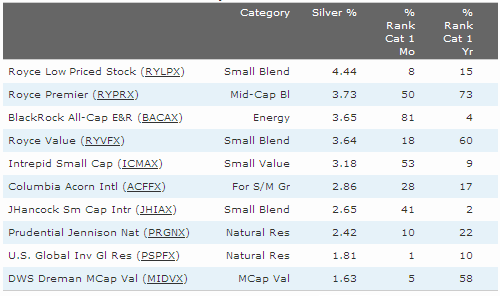 This is a fairly diverse group, with seven different categories among the 10 funds. They've mostly been good performers recently, with five of the 10 ranking in their category's top quartile over the past month, and seven ranking in the top quartile over the past year. Their silver holdings aren't solely responsible for this good performance, but most of these funds also hold some gold stocks, and that combination has helped in the current environment. For example, in addition to their silver holdings, Prudential Jennison Natural Resources PRGNX and U.S. Global Investors Global Resources PSPFX both have more than 10% of their assets in gold, considerably more than the average natural-resources fund, and both have been among that category's best performers over the past month.
The Royce funds, which include three of the top four funds on this list, illustrate the same pattern. All these funds are comanaged by Whitney George, who is the firmwide expert on mining stocks, and who is very concerned about the Federal Reserve's monetary policy fueling inflation down the road. For that reason, both gold and silver stocks have been prominent in these funds' portfolios for years, with the silver stocks serving as "extra padding" against inflation. As of June 30, Royce Low Priced Stock RYLPX had Alamos Gold AGI as its top holding, with Pan American Silver PAA, Silver Standard Resources SSO, and Red Back Mining RBI (a gold miner) also among the top 10 holdings. Those stocks have helped the fund perform very well relative to its peers over the past month and the past year.