These are four of the best.
Get mutual fund and stock information from our analyst team delivered to your e-mail inbox every Tuesday. Sign up for our free Investment Insights e-newsletter.
When it comes to large-cap funds, the big fund companies dominate. But in small caps, they barely have a presence. If you're running $200 billion in large-cap funds and $5 billion in small-cap funds, clearly your priority is not small caps.
To fill that void, some other firms have focused their efforts on small caps. The stocks have less coverage from Wall Street, but the businesses are often simpler and easier to value. As a result, some firms have thrived with that focus. They actually have more analysts and managers looking at small-cap stocks than most of the giants. In addition, some are more willing to close their funds at a manageable amount.
Here, I'll take a look at four of the better small-cap firms and how they run money. I set a minimum of three small-cap funds to be included. Interestingly, each of the smaller firms has about 25 investment professionals--managers and analysts--working on small caps.
I've included a table showing how firms stack up on performance, manager investment, and expense ratios.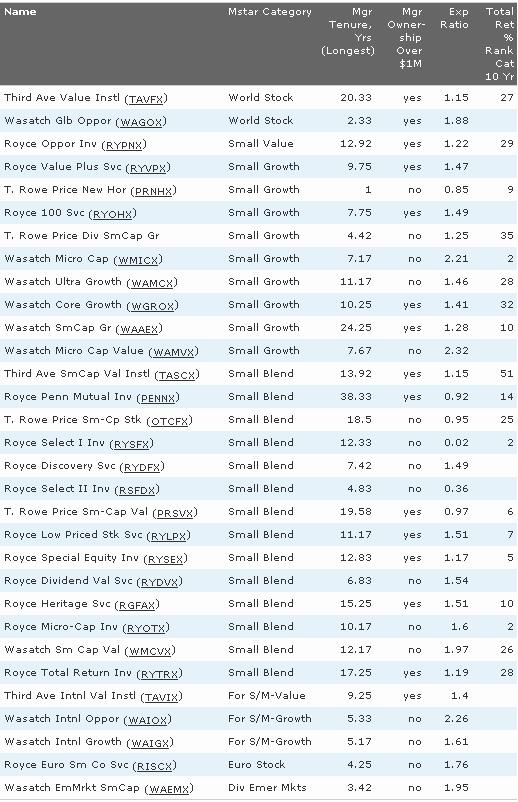 Royce
Royce is darn near synonymous with small caps. Who else would run 14 different small-cap funds? More important, who else could run them this well?
Royce dips a toe into growth, but really the firm leans toward the line between value and blend. The key thing to follow at Royce is the manager. Each follows a slightly different take on market cap and valuation. Whitney George leans a bit more toward growth and the smaller market cap. Chuck Royce tends toward the upper end of small caps and is rather value-oriented, while Charlie Dreifus has a deeper value bias and a greater emphasis on clean balance sheets.
The firm does quite well on nearly every data point that I've highlighted. It has strong long-term performance, low costs, and long manager tenure; and nine of its 14 funds boast manager investments in the $1 million-plus slot.