Large drugmakers are out of favor, but some good funds are banking on a rebound.
As the market has rallied from its lows over the past two years, one group that has had a tough time keeping up is big pharmaceutical stocks. Despite occasional bright spots, large-cap drugmakers as a whole have been lackluster performers, with big names such as Pfizer PFE and GlaxoSmithKline GSK significantly underperforming the S&P 500 Index in both 2009 and 2010.
Part of the problem is that these firms are large, stable cash cows with good dividend yields, and the market rally has mostly been driven by smaller, riskier fare. But there are also concerns about the number of blockbuster drugs going off patent in the next few years and doubts about the ability of these firms' drug pipelines to fill the void. Also, the new health-care law has put pressure on big pharma earnings in the short term.
Still, there are good reasons to think that the market has been treating big pharma too harshly and that these stocks are poised to bounce back. As Morningstar's Alex Morozov recently noted, the big drugmakers have become much more efficient while also lowering expectations, setting the stage for a rebound if worst-case scenarios don't come to pass. Abbott Laboratories ABT and Pfizer, among others, are trading well below our analysts' estimates of their fair value.
Not surprisingly, the mutual funds with the highest percentage of their portfolios in big pharma stocks are all specialty health-care funds, led by ProFunds Pharmaceuticals UltraSector PHPIX and Fidelity Select Pharmaceuticals FPHAX. We limited the final list to diversified funds, where a high pharma weighting indicates a significant bet on the industry. The following table shows the 10 diversified funds with the largest weighting in the "Drug manufacturing--Major" industry, excluding those with less than $100 million in assets and very similar funds run by the same managers. We show each fund's size as well as its percentile ranking in its category for the year to date and trailing three years as of April 6.
Funds With the Most Big Pharma Exposure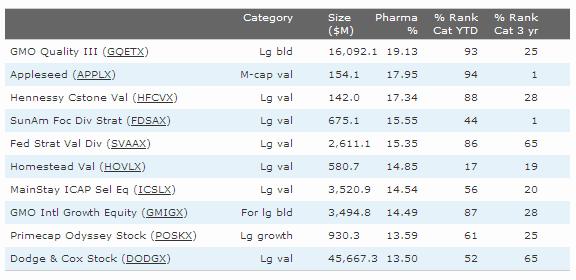 These are mostly value funds, or value-leaning core funds, that place a premium on things like free cash flow and dividends. Two of them (SunAmerica Focused Dividend Strategy FDSAX and Federated Strategic Value Dividend SVAAX have "dividend" in their names. Thus, it's no surprise that they like big pharma stocks, especially right now, when those stocks look relatively cheap. These funds have not performed very well so far in 2011, when (as noted above) more aggressive, risky assets have led the market and stable cash generators have lagged. But most of these funds held up very well in the 2008 market crash, relatively speaking, which is why their three-year records look so much better. In general, this list includes quite a few good funds run by smart managers whom we like.
For example, GMO Quality III GQETX and GMO International Growth Equity GMIGX are institutional funds run by a team at Grantham, Mayo, Van Otterloo & Co., the investment shop founded by legendary value investor and market pessimist Jeremy Grantham. These funds invest in high-quality stocks, mostly mega-caps with wide economic moats, that are trading at a discount to their intrinsic value. GMO Quality III has Johnson & Johnson JNJ and Pfizer among its top 10 holdings and Merck MRK and Abbott Laboratories among its top 20; GMO International Growth Equity has GlaxoSmithKline, Novo Nordisk NVO, Roche ROG, and Novartis NVS among its top 10.
Primecap Odyssey Stock POSKX is managed by the team at Primecap, which has compiled one of the fund industry's best long-term records with Vanguard Primecap VPMCX and which was Morningstar's 2003 Domestic-Stock Manager of the Year. The team has been pounding the table for big pharma stocks for several years now, convinced that the market is overreacting to these companies' problems and underestimating their resilience. For similar reasons, the Primecap managers are also big fans of biotech giants such as Amgen AMGN and Biogen Idec BIIB, both of which are top holdings of Vanguard Primecap.
The team that manages Dodge & Cox Stock DODGX has compiled a strong long-term record with a classic value-investing strategy, looking for big companies that have dominant competitive positions but are trading cheaply. The fund took a big hit in 2008 after the managers underestimated the risks in several financial holdings, but the team has stuck to its strategy. Like the Primecap team, it has been finding a lot of compelling values among big pharma stocks lately; Novartis, Merck, GlaxoSmithKline, Pfizer, and Sanofi-Aventis SNY are all among the top 20 holdings, and in the fourth quarter of 2010 the fund added Roche, along with Amgen. It remains to be seen whether these bets will pay off in the short term, but in the longer term we'd be hesitant to bet against managers with this track record.