Plus, municipal finances draw congressional scrutiny, and more.
Analyst Pick Allianz NFJ Small Cap Value PNVDX will close to an additional set of investors "as soon as practicable," according to an SEC document filed earlier this week.
The fund has been closed to new investors since April 2009 and to all investors except those in 401(k) and other savings plans since August 2009. From here, Allianz will stop additional flows from 529 plans, target-date funds, and some 401(k) plans. The firm hasn't said which 401(k) plans will be shut out and which may continue to send additional money to the fund.
The fund had $8.1 billion in assets on March 31, 2010, up from $6.6 billion a year earlier. The fund's asset growth over the past year is because of strong performance. (The fund has had about $26 million in outflows over the past 12 months through March 31, according to Morningstar fund flow data.) The fund is up 19% over the past 12 months, while the fund's Russell 2000 Value Index benchmark is up around 11.5%.
Allianz NFJ Small Cap Value is the largest actively managed small-value fund and one of the largest in any small-cap category. Even though the fund has been large for quite some time, it still has been a top performer. It ranks near the top of the small-value category over the past five- and 10-year periods.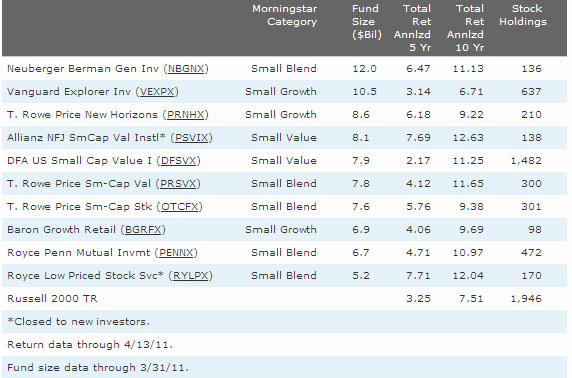 Municipal Finances Draw Congressional Scrutiny
Municipal-bond issuers may face tougher disclosure rules under legislation due out from Rep. Patrick McHenry, chairman of the House Oversight Subcommittee on Troubled Asset Relief Program.
McHenry, whose subcommittee held a hearing in February on the growing concerns over the potential fiscal crisis looming for states and municipalities, said state and municipal governments are preparing for aggregate budget shortfalls totaling roughly $125 billion this year. The governments also are struggling under a trillion-dollar burden of unfunded pension liabilities. Should muni-bond issuers improve their disclosure, investors may better understand the bonds' default risk.
Some states' finances are so poor that the governments may be interested in declaring bankruptcy, but McHenry thinks this is a bad idea. He doesn't support any legislation that would allow states to declare bankruptcy.
Elsewhere in Congress, Rep. Devin Nunes has put forward his own bill to tackle the issues of municipal finances. His legislation would require states to move to more-transparent public pension accounting if they wanted to continue to issue tax-exempt municipal bonds. Nunes' Public Employee Pension Transparency Act (H.R.567) currently has 47 co-sponsors in the House of Representatives.
As municipalities' finances have worsened, so have muni-bond funds' returns. Multiple municipal-bond categories are posting losses this year.
Besides the long-government category, muni-fund categories are the only bond peer groups to post losses. While outflows in such funds are slowing, investors pulled approximately $19.5 billion from municipal-bond funds in 2011's first quarter. More than $450 billion remains invested in such funds.
Etc.
The Securities and Exchange Commission said it does not expect to complete rules on a fiduciary standard for broker/dealers until later this year. The commission also said that any changes to the rules for mutual funds' 12b-1 fees, which are sometimes used to compensate advisors, may not be addressed until 2012.
PIMCO disclosed this week that PIMCO Total Return PTTRX is betting against Treasury bonds. The fund's latest portfolio also shows that manager Bill Gross reduced the fund's effective duration (a measure of interest-rate sensitivity) from 5.1 years in January to 3.6 years as of March 31.
PIMCO launched its first actively managed emerging-markets funds this week. PIMCO EqS Emerging Markets PEQDX will invest in emerging-markets equities, while PIMCO Emerging Multi-Asset PEAEX will invest in equities as well as local and external emerging-markets debt. Both funds will attempt to limit extreme losses, like those seen in 2008 when multiple asset classes lost more than 30%. PIMCO Global Multi-Asset PGMDX uses a similar hedging strategy.
Two former Fairholme FAIRX managers recently launched the Goodhaven GOODX fund. Fund Times previously reported on the fund and its managers when its preliminary prospectus was filed in January.
Dreyfus Large Cap Value DAUAX will merge into Dreyfus Strategic Value DAGVX Nov. 21, 2011.
Thomas Voecking and Jason Inzer will replace the management team of DWS International SUIAX, DWS Emerging Markets Equity SEKAX, and DWS Strategic Value KDHAX April 15, 2011.
Patrick McCafferty replaced Qi Zeng as comanager of ING International SmallCap Multi-Manager NTKLX. McCafferty will comanage Acadian Asset Management's sleeve of the portfolio with John Chisholm, Constantine Papageorgiou, and Brian Wolahan.
ING, parent company to ING Clarion Real Estate Securities, plans to sell Clarion to CB Richard Ellis Group. The sale will be final July 1, 2011. ING Clarion Real Estate IVRIX will keep the same strategy and management team.
Jerome Philpott and Stuart Roberts no longer manage Wells Fargo Advantage Growth Opportunities ESMGX or Wells Fargo Advantage Mid Cap Growth WFMCX. The funds are now managed by Thomas Pence and Michael Smith.
Heather Peirce is no longer a manager of Invesco Global ATKAX. The fund is now managed solely by Dana Love.
Cynthia Brien is no longer a manager on Invesco Short Term Bond STBAX. The fund is now managed by Chuck Burge and John Craddock.
Ted Chisholm is no longer a manager on Invesco Small Companies ATIAX. The fund is now managed by Robert Mikalachki, Virginia Au, and Jason Whiting.
Forward Frontier MarketStrat FRNMX will change its name to Forward Frontier Strategy May 1, 2011.
Forward SMIDPlus ACSIX will change its name to Forward Extended MarketPlus on May 1, 2011.
Tom Murphy, Colin Lundgren, and Jennifer Ponce de Leon will no longer manage Columbia Diversified Bond INBNX. Alexander Powers, Carl Pappo, Michael Zazzarino, and Brian Lavin will manage the fund starting April 29, 2011.
Carl Pappo will no longer be a manager of Columbia Corporate Income LIIAX. He will be replaced by Tom Murphy and Tim Doubek April 29, 2011.
Nathan Griffiths will no longer manage Aston/Barings International ABIIX starting May 1, 2011. The fund will be managed by current manager David Bertocchi.
Senior fund analyst Katie Rushkewicz and fund analyst Kailin Liu contributed to this report.