Plus, municipal finances draw congressional scrutiny, and more.
Analyst Pick Allianz NFJ Small Cap Value PNVDX will close to an additional set of investors "as soon as practicable," according to an SEC document filed earlier this week.
The fund has been closed to new investors since April 2009 and to all investors except those in 401(k) and other savings plans since August 2009. From here, Allianz will stop additional flows from 529 plans, target-date funds, and some 401(k) plans. The firm hasn't said which 401(k) plans will be shut out and which may continue to send additional money to the fund.
The fund had $8.1 billion in assets on March 31, 2010, up from $6.6 billion a year earlier. The fund's asset growth over the past year is because of strong performance. (The fund has had about $26 million in outflows over the past 12 months through March 31, according to Morningstar fund flow data.) The fund is up 19% over the past 12 months, while the fund's Russell 2000 Value Index benchmark is up around 11.5%.
Allianz NFJ Small Cap Value is the largest actively managed small-value fund and one of the largest in any small-cap category. Even though the fund has been large for quite some time, it still has been a top performer. It ranks near the top of the small-value category over the past five- and 10-year periods.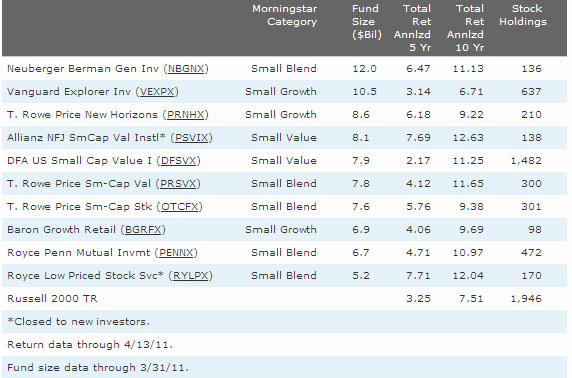 Municipal Finances Draw Congressional Scrutiny
Municipal-bond issuers may face tougher disclosure rules under legislation due out from Rep. Patrick McHenry, chairman of the House Oversight Subcommittee on Troubled Asset Relief Program.
McHenry, whose subcommittee held a hearing in February on the growing concerns over the potential fiscal crisis looming for states and municipalities, said state and municipal governments are preparing for aggregate budget shortfalls totaling roughly $125 billion this year. The governments also are struggling under a trillion-dollar burden of unfunded pension liabilities. Should muni-bond issuers improve their disclosure, investors may better understand the bonds' default risk.
Some states' finances are so poor that the governments may be interested in declaring bankruptcy, but McHenry thinks this is a bad idea. He doesn't support any legislation that would allow states to declare bankruptcy.
Elsewhere in Congress, Rep. Devin Nunes has put forward his own bill to tackle the issues of municipal finances. His legislation would require states to move to more-transparent public pension accounting if they wanted to continue to issue tax-exempt municipal bonds. Nunes' Public Employee Pension Transparency Act (H.R.567) currently has 47 co-sponsors in the House of Representatives.