Viewing five prominent fund shops through the lens of their analyst-run funds.
Plenty of funds are managed the traditional way, with generalist managers who tap the work of analysts but ultimately call the shots for their portfolios. In addition to that model, many fund companies also offer distinct portfolios managed by their analyst research staffs. These funds typically keep sector exposures constrained to an index and allow their sector specialists to pick stocks within their respective sleeves.
By allowing analysts to run a portfolio of cold hard cash, the firms explain, they're providing a place to park their best ideas, think like portfolio managers, and be held more accountable for their picks, all of which should help strengthen the research. In addition, the greater level of responsibility can help make a career-analyst role more appealing and also serve as a retention tool.
These funds offer a unique and interesting window into the inner workings of the asset manager. For this piece, we took a closer look at the analyst-run funds offered by five prominent fund companies to see what we could learn about the investment culture within the organization as well as the analysts' tendencies and abilities. We looked at the performance of these funds and the portfolio makeup. Here's a summary: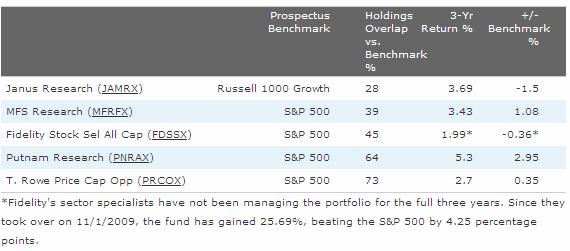 Janus Research JAMRX
Janus has undergone a transformation over the past 10 years, moving away from a culture centered on star managers and toward an environment that balances responsibility, reward, and recognition more evenly between managers and analysts.
As part of its emphasis on analysts and expansion of the team following the tech bust in the early 2000s, Janus handed management of a struggling fund, Janus Mercury, to its analysts in February 2006 and renamed it Janus Research. The fund has distinguished itself among the broader fund universe and has also given other Janus funds a run for their money. From the time the analysts took over through the end of March 2011, it has gained 5.42% annualized, placing it well ahead of large-growth peers and 0.98 percentage points ahead of the Russell 1000 Growth Index. Over that same stretch, it ranks third among Janus' seven domestic-focused funds that invest in mid- and large-cap companies. Only Janus Twenty JAVLX and Janus Enterprise JAENX have fared better.
Compared with other analyst-run funds we looked at, this one had the most distinctive portfolio with only 28% of its holdings replicating the Russell 1000 Growth Index (it overlaps even less with the S&P 500). While sector weights align with the Russell index, the analysts are free to buy stocks that aren't in the benchmark and to decide what to own within their sector teams. The portfolio's inclinations suggest Janus' high-conviction, growth-leaning culture is very much a part of the analyst DNA. Nearly 20% of assets are invested in foreign companies, none of which appear in the fund's domestic-focused benchmark. Many picks are up-and-coming mid-caps with rapid growth trajectories and healthy free cash flows such as Atmel Corporation, a semiconductor company, and Amphenol APH, a hardware firm specializing in connectors. Its latest portfolio doesn't include stalwarts such as ExxonMobil XOM, Coca-Cola KO, and McDonald's MCD, which carry significant weight in the index. The portfolio composition and its competitive performance over the past five years are strong indications that differentiated research is alive and well at the firm.
Fidelity Stock Selector All Cap FDSSX
Like Janus, Fidelity also had a legacy of star managers and bold stock-picking that it has tried to balance out with a deeper, more-seasoned analyst bench and a greater appreciation of risk. Fidelity's analyst-run fund looks more like the new Fidelity than the old--45% of its portfolio at the end of 2010 directly overlapped with the S&P 500. Although not the least active of the analyst funds we examined, its portfolio looks surprisingly bland, given Fidelity's heritage as a competitive, free-wheeling, stock-picker-driven shop epitomized by one of its most influential managers, Peter Lynch.