Plus, Fairholme's new fund bets big on MBIA, and more.
Vanguard has removed the redemption fees on its domestic tax-managed funds. Effective immediately, Vanguard Tax-Managed Balanced VTMFX, Vanguard Tax-Managed Capital Appreciation VMCAX, Vanguard Tax-Managed Growth and Income VTGIX, and Vanguard Tax-Managed Small-Cap VTMSX will stop charging a 1% redemption fee on fund shares held less than five years.
The news comes as flows into tax-efficient ETFs following similar strategies, which can be bought and sold throughout the day and carry no redemption fees (but often require brokerage commissions), have steadily increased. Meanwhile, Vanguard's tax-managed funds have not been big draws recently even though they are very competitive with ETFs on price and tax efficiency.
All of the firms' tax-managed funds have had outflows in the trailing 12 months though March 31. Together, the firm's domestic tax-managed funds have more than $9 billion in assets.
One of the arguments in favor of the redemptions fees has been that they reduced shareholder moves in and out of the funds. Such activity can force managers to sell securities and realize capital gains. It's not clear what effect the redemption-fee cut will have on the funds' tax efficiency.
The firm said it's keeping in place the redemption fee on Vanguard Tax-Managed International VTMGX because, historically, international equity funds have experienced higher levels of short-term trading by investors trying to profit from differences between closing prices for stocks in different global markets in different time zones and when U.S.-based funds price their shares at 4 p.m. Eastern Standard Time.
Vanguard also said it will eliminate Investor share classes for its tax-managed funds and make low-cost Admiral shares available for them. On May 13, 2011, it will change the Investor shares of Tax-Managed Balanced, International, and Small Cap into Admiral shares. Those funds didn't have Admiral shares before. The family also will convert the Investor shares of Tax-Managed Capital Appreciation and Tax-Managed Growth and Income into their lower-cost Admiral shares. All of the Admiral shares will have $10,000 minimum initial investments, down from $100,000.
TCW's Suvall Retires
TCW announced that Susan Suvall is retiring at the end of June. Diane Jaffee will take the helm of Suvall's TCW Value Opportunities TGVOX.
Suvall has endured a stretch of poor performance that has tarnished her longer-term record. Value Opportunities is up 6.21% annually through April 28, 2011, over the past 10 years, while the Russell Midcap Value Index has appreciated 8.9%. The fund has beaten the index by less than 1 percentage point per year since Suvall became a manager on Nov. 3, 1997.
Jaffee runs TCW Dividend Focus TGDFX and TCW Relative Value Large Cap TGDVX. The fund will become a mid-cap version of Jaffee's Relative Value Large Cap strategy, according to TCW. Both of Jaffee's funds have Morningstar Ratings of 3 stars.PAGEBREAK
Fairholme's New Fund Bets Big on MBIA
Bruce Berkowitz's newly launched Fairholme Allocation FAAFX disclosed a big stake in bond insurer MBIA MBI this week. Nearly 13% of the fund's assets are in MBIA equity. Meanwhile, Fairholme Fund FAIRX has 1.2% of assets in the stock.
Berkowitz has said the $200 million Allocation fund will regularly take concentrated positions that the $18 billion Fairholme Fund can't take because of fund regulations.
MBIA's shares surged earlier this month on news that Bank of America BAC agreed to pay another bond insurer more than $1 billion to resolve disputes over mortgage securities. Some investors think MBIA may be in line for a similar deal. However, the company still finds itself in legal battle over its recent restructuring.
The Allocation fund can also own small- and mid-cap stocks that won't move the needle much on the larger Fairholme fund. So far, the fund hasn't bought any such positions--all of the equity holdings in the Allocation fund are also owned by Fairholme Fund.
Top Equity Holdings

As of Feb. 28, the fund had 40% of assets in domestic equities, 18% in commercial paper, and 35% in Treasury bills or money market funds. The fund's most recent portfolio can be found here.
Whoa, Silver!
The value of many precious metals, such as gold and silver, has jumped this year as the value of the U.S. dollar (as measured against other major currencies) has fallen. But silver has appreciated a staggering 47% this year through April 27.
Despite that, several funds that have taken big stakes in the largest silver ETF on the market, iShares Silver Trust SLV, haven't been able to best the S&P 500 Index, which is up 8.4% for the year to date. Here is a table of the largest mutual fund holders (as measured by concentration) of iShares Silver. Only FUNDX ETF Aggressive Upgrader UNBOX has been able to top the S&P 500.
Heaviest Owners of SLV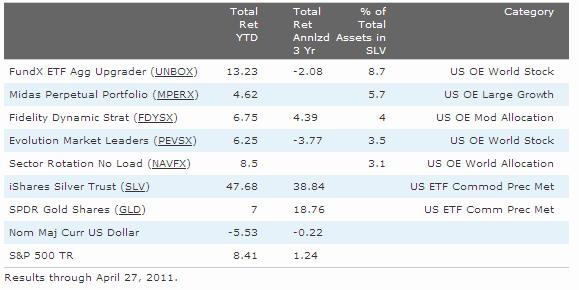 (Note: Many mutual funds that have large allocations to silver own silver bullion rather than a silver ETF. One prominent example is Permanent Portfolio PRPFX, which has about 6% of its assets in silver bullion as of March 31.)
Former Star Bond Manager Barred From Industry
David Baldt, Morningstar's 1997 Fixed Income Manager of the Year, was found guilty of insider trading by an SEC administrative law judge. As part of his punishment, the former Schroder and Morgan Grenfell manager is barred from the investment advisor business.
Baldt improperly told family members to redeem their shares in a mutual fund he managed around that time, according to the SEC.
Baldt says he plans to appeal the decision and continues to deny he committed insider trading.
Some bond funds that Baldt was associated with were forced to liquidate during the credit crisis in 2008.PAGEBREAK
Etc.
Legg Mason's LM Bill Miller thinks NYSE Euronext NYX should consider a merger proposal by Nasdaq OMX Group NDAQ. As of March 31, NYSE Euronext was a 1.8% position in Miller's Legg Mason Value LMVTX. Legg Mason, the firm, is the company's fourth-largest shareholder, controlling about 2.8% of NYSE Euronext's outstanding shares.
VALIC Company I Global Equity VCGEX will change its name to VALIC Company I Emerging Economies on Oct. 1, 2011. The fund will also replace current subadvisor BlackRock with J. P. Morgan on that date.
David Kruth joined the management team of Alpine Cyclical Advantage Property EUEYX. The fund is now managed by Kruth and Samuel Lieber.
David Horsfall and Peter Vaream joined the management team of Dreyfus Inflation-Adjusted Securities DIAVX. The fund is now managed by Horsfall, Vaream, and existing manager Roger Bayston.
C. Wesley Boggs, Warren Chiang, Ronald Gala, Langton Garvin, and Patrick Slattery joined the management teams of Dreyfus Lifetime Growth & Income DGIIX and Dreyfus Global Sustainability DGYAX. The funds are now managed by Boggs, Chiang, Gala, Garvin, Slattery, and current manager Jocelin Reed.
Elizabeth Slover joined the management team of Dreyfus Natural Resources DNLAX. The fund is now managed by Slover and current manager Robin Wehbe.
Dawn Guffey joined the management team of Dreyfus Short-Intermediate Government DSIGX. The fund is now managed by Guffey and existing manager Theodore Bair.
Thomas Casey joined the management team of Dreyfus Short-Intermediate Municipal Bond DMBAX. The fund is now managed by Casey and existing manager James Welch.
Joseph Balestrino, Christopher Smith, Carol Miller, and Dean Kartsonas no longer manage Federated Asset Allocation FSTBX. The fund is now managed by Timothy Goodger and Philip Orlando.
Eagle Growth & Income HIGJX will no longer be subadvised by Thornburg Investment Management as of June 1, 2011. Eagle Asset Management will manage the fund following the change.
Karen Uyehara joined the management team of Nationwide Bond Index GBIAX. The fund is now managed by Uyehara, Scott Radell, and Lee Sterne.
HSBC filed to launch HSBC Emerging Markets Equity on June 30, 2011. The fund will invest at least 80% of assets in emerging-markets stocks. The firm also launched two new emerging-market debt funds. HSBC Emerging Markets Debt invests primarily in U.S.-dollar-denominated debt of emerging-markets issuers, while Emerging Markets Local Debt invests in local-currency debt.
Mutual fund analysts Kailin Liu and David Falkof contributed to this report.