Plus, debate over money market reform continues, and more.
Health-care stocks and sector funds that own them have outperformed every other sector and fund category year to date. The health-care category has gained 17% for the year to date through May 18. The next best-performing category, real estate, is up 11%; the S&P 500 has gained 7%.
Despite the performance of health-care stocks, diversified funds that have made big bets on health care in recent years have posted a wide range of returns. A table of the 10 large-cap funds with the highest health-care exposure follows.
While most of these funds have performed well relative to the S&P 500, RiverPark/Wedgewood Institutional RWGIX and Madison Mosaic Institutional Equity Option MADOX have lagged the index. Attribution analysis shows that poor stock selection in other sectors held these funds back. Poor selection in the telecommunications and consumer services sectors hampered Madison Mosaic Institutional Equity Option, while poor picks among financial services stocks depressed RiverPark/Wedgewood.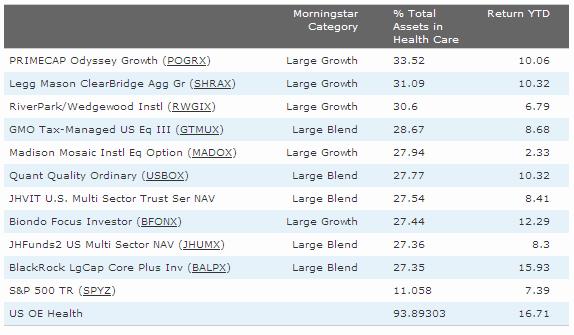 Debate Over Money Market Reform Continues
Fund industry leaders and regulators continued debating money market reforms last week. Vanguard's CEO Bill McNabb reiterated his firm's and the fund industry's strong opposition to proposals for floating net asset values and strict, banklike capital requirements for money market funds.
In a speech at the ICI's Money Market Fund Summit on May 16, McNabb said if the money fund structure changed significantly, "money market funds as we know them would disappear." And that not only would hurt retail investors, but also hamper the short-term debt market and the overall economy.
Without money market funds, many investors would likely shift to bank checking and savings accounts, which have historically lower income levels and worse safety records, said McNabb. He cited "2,800 bank failures since 1971 versus two money market funds that have broken the buck."
The fund industry has been lobbying hard against drastic money market fund reform, including a Securities and Exchange Commission proposal for a floating net asset value. But not all fund families are on the same page. Money market funds' NAVs currently aren't supposed to stray from $1.00. Earlier this month Wells Fargo, Schwab, and Fidelity wrote a letter to the SEC backing a NAV buffer for money funds. Federated Investors countered with a letter pointing out the downsides of a NAV buffer policy (among other suggested reforms) and endorsed a liquidity bank proposal (previously suggested by the ICI) as a superior alternative.
Former Wanger Manager Imprisoned
Former Columbia Acorn Select manager Mark Yost was sentenced to 6.5 years in federal prison for wire fraud, bank fraud, money laundering, and making false statements to banks. Details of the case can be found here and here.