You've heard of the virtual office, but are you ready for Ted Gregory's virtual mobile office?
This January, join Dave in Miami Beach for the 2007 Technology Tools for Today Conference. Learn how today's latest technology can improve your practice.
Ted Gregory, who with his wife, Kate, owns Gregory Advisors of Huntington Beach, Calif., actually has more than one office. In fact, for a firm with just two or three employees at any given time, Gregory has an astonishing number of offices scattered around, as far away from his home as Washington state to the north and Texas to the east. The catch, of course, is that these aren't static offices; they're locations he visits regularly with his mobile office. You see, Gregory's office outside of Huntington Beach is a truck-camper combo.
While Gregory was recovering from serious health problems in the early 1990s, his doctor told him to get rid of stress in his life, including toxic relationships with certain people (some of them clients). "Do only what you love to do," said the doctor.
Interestingly, advisors get this same advice from industry coaches all the time and may or may not follow it. But when your doctor gives you the advice, you tend to take it more seriously. At least, Gregory did. And somewhere in the process of mentally reconfiguring his work life, he decided that any solution he came up with would have to include his wife and daughter. Hence, the mobile office was born.
Gregory has law enforcement folks as clients. He sought one out to talk about RV accidents. "I asked him, 'What's the safest RV configuration I could possibly have?' He said, 'We have the lowest incidence of accidents resulting in death when the vehicle is diesel powered and has a dual rear wheel assembly.'"
Gregory learned that diesel fuel burns rather than explodes; diesel-powered vehicles motor better through slow mountain curves; and with a rear flat on a dual rear wheel vehicle, there is no urgency to change the tire, exposing oneself to a roadside accident. The highway patrolman also told Gregory to choose the right color--either white or neon green--colors much less likely to be found on RVs in accidents.
"So we bought a white camper-style RV that attaches to the bed of our diesel-powered dual rear wheel truck," says Gregory. One wall of the RV slides out to make plenty of space inside for his family.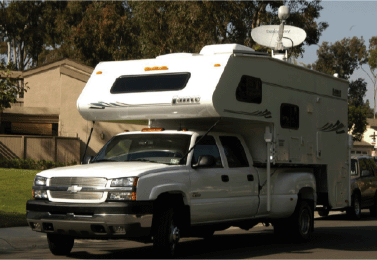 What could drive an advisor to take such radical steps and how is it working for Gregory?