Seven essential steps to take to look good in today's high-tech world.
While today's technology gives you lots of ways to do your own design and output--right in the comfort of your own office--steer clear of the deadly "amateur mistakes" some unwitting firms make if you want to build and maintain strong public perceptions.
It was not so long ago that looking good in print meant finding a good company who you could work with to create materials for you. Planning and thought went into projects because each new print piece represented a significant amount of money. Choices were made deliberately and with guidance from professionals. Do-it-yourself printing simply was not an option. But the personal computer along with powerful software, such as Microsoft Office, has changed everything. Individuals are now empowered to design and print materials on an as-needed basis straight from the desktop, reducing costs and enabling the production of more printed information to get your message across to the public.
On the surface, this sounds great for your marketing efforts! But be careful, software is simply a tool and only works as well as the person operating it. A printed piece that is designed on a whim, through arbitrary choices and produced without a defined purpose can easily dilute your marketing message, make you look like everybody else, and communicate a lack of professionalism.
How to Look Good in Today's High-Tech World
Step One: Begin with a Purpose
Marketing is all about communication. Before producing any printed piece ask yourself these questions:
What am I trying to achieve?
What needs to be communicated in order to achieve this?
To whom should/will I communicate it?
What is the best way to communicate it?
Step Two: Determine Production Method
If the solution to the last question is a printed piece, then you need to determine if it is something you can or should produce yourself or if a professionally-designed and printed piece would be of greater benefit. For example, it may well be worth the investment to get professional help with an invitation to a formal event; even though the purpose seems simple, you are most likely putting some time and effort into producing the event and a well-designed invitation can not only get people to come but can set the stage for the entire event.
Take a look at the holiday invitation sent out by Randy Hallier, CFP, an advisor in Overland Park, Kan. Notice how the invitation and tickets build excitement and position this as an event not to miss.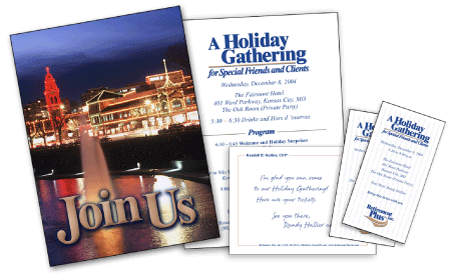 Another determining factor to look at is the number of pieces that will need to be produced. It may be more economical for you to hand this project over to professionals. A quantity of 200 is a good baseline for pricing and considering traditional offset printing. (This is the process used by most quick print shops such as Alphagraphics, Pip Printing and Sir Speedy.)
Tip
Don't fool yourself by thinking you can save money by printing large quantities on an inkjet desktop printer. By the time you figure in the cost of ink cartridges and the time it takes you to feed paper, replace cartridges and manage paper jams, it's likely that a trip to your local copy shop for color laser copies will be to your benefit. Watch for coupons from Office Depot and Office Max; they are now offering color laser jet output at very attractive prices (much better than Kinko's).
If you get to this point and determine that offset printing is the best production method for achieving your purpose, then stop right here and get professional help; you will need to work with a graphic designer. Offset printing requires special technical understanding and high-end graphics software to produce the digital documents that can be color separated into printing plates.
Otherwise, it is very likely that you can design and produce the project in a basic Microsoft Office application that you already have.
Step Three: Develop the Content
See my past articles for detailed advice on writing effective marketing messages. There is a bit of science and a lot of art to crafting a good, client-centered message. With a little awareness and continued practice, you can master this critical skill.
Step Four: Identify Design Elements
Once the verbal message is clearly developed, its time to take a step back and shift your thinking from verbal communication to visual communication. Written language flows linear from begin to end--the way you read a book. However, people read marketing messages differently; their eyes bounce around the page skimming the surface for information before they make the decision to actually read the words. Influencing this decision means providing bits of information in a form that can be easily processed and gradually leads the reader's attention to seek more detail.
The pieces of information and visual tools for guiding a reader's eye into the content are called design elements. They can include:
Headlines
Subheadings
Graphics (a graphic is an illustration that includes words and/or numbers)
Photographs or illustrations
Body copy (the majority of the written words)
Logos
Contact information
Shapes and lines
Call outs (text calling the reader to action which is highlighted in some way to be distinguished from the body copy)
Effective visual communication uses these elements to reinforce the written word, and keep the readers attention. Each element used on a page should be there to communicate--not decorate. If an element does not provide information or serve to guide the reader's attention then leave it out.
Tip
Develop a motif by repeating shapes and lines that are used in your logo as design elements, which can serve dual purposes by guiding the reader's eye and also reinforcing your visual brand.

This close-up of a document for Merit Retirement Advantage demonstrates effective use of a motif. The star from the logo is picked up and used as bullets. Not only do the repeating stars reinforce an emerging brand, but they also create a visual rhythm and draw the reader's eye to these key points.
Everything you put into your document, including blank areas, also known as negative or white space, is part of the design. Once you have identified what the elements are, you can begin thinking about how organize and present them on the page. At this point, professional designers create many small, fast, rough sketches of elements placed on pages, (called thumbnails because of their small size). Getting away from the computer and doing thumbnails by hand frees your mind to design with purpose rather than allowing the software to drive your decision-making.
Tip
Blank areas on the page, also known as negative or white space, if used as a design element can help guide the viewer's eye through the page. As a general rule, the more white space around an element the more likely the reader will notice it.

Tip
Vary the size of text-based elements to guide the order in which words are read. Generally, larger fonts will be read before the smaller ones no matter where they appear on the page. Since the headline is the first thing you want to be read, plan on using a minimum of 15% of the page on your headline.
Step Five: Chose the Right Application
Today's standard business software is Microsoft Office. Although none of the three software programs in this suite of applications (Excel, PowerPoint, and Word) are the preferred choice for professional print designers, they provide more than enough capabilities for average layout and do-it-yourself documents.
Many people find PowerPoint to be the easiest of the three applications when it comes to moving individual elements (pictures and text boxes) around the page. But the purpose of PowerPoint is to create digital presentations and it is not a good choice for producing print documents. Word is the best application in the Office suite for printed documents. It may take a little extra time on the front end to get used to, but the effort will be rewarded it when it comes time to produce the product.
Excel is primarily used for spreadsheets and managing data, but it also has some powerful graphics capabilities and can be utilized to design charts, graphs and tables that can be inserted into your Word documents.
As your design skills develop, you may consider upgrading your software by adding Microsoft Publisher for more complex documents such as newsletters, but before you invest in new software explore the capabilities of Word. There are few things that cannot be achieved in Word the trick lies in figuring out how. Explore the format and option menus, and if you can't figure out how to do something ask "the paperclip help character."
Tip
If teaching yourself how to use the various capabilities of any given software doesn't come easily to you, consider taking an instructor-lead course at the community college or a computer supercenter.PAGEBREAK
Step Six: Layout the Document
When beginning a design project start by defining the page:
What size paper will you be printing on? If it is not a standard letter size, then go to the page set up and under the Settings pop-up menu go to Custom Paper Size and select your page size.
Which page orientation will your document have? There are only two page orientations: portrait and landscape. Portrait is the default for new Word documents but if you want the height of your page to be shorter than the width, simply change it landscape in the Page Setup. Note that there are often two options for landscape. The difference between these options lies in which way the paper will feed into your printer. Most desktop printers require a larger margin on one of the short ends of your paper so there is room for the printer to "grip" the paper as it feeds through the printer. Portrait oriented pages automatically put the gripper margin on the bottom of the page. But Word gives you the choice on landscape-oriented pages of which side of the page you want that larger margin.
How much space do you want between the edge of the page and the design elements? In other words, do the larger default margins in the document serve your design, if not, simply change them. If you don't know how, this is a great opportunity for you to begin asking the paperclip help character simple questions.
Tip
Word has the left and right margin defaults set as 1.25 on both sides. Accepting this default setting makes your documents look like everyone else's. Pick different top/bottom and left/right margin settings to make your company's printed materials look more unique.
Now that you've defined the workspace, begin inserting the elements. This is most easily done through options under the Insert menu. When a design element is text, insert a text box to either write or copy the text into rather than placing it into the body of the document. This will allow you to treat it as "an element" and think of it more like an object than linear verbal text.
Once you insert an element, format it. The layout tab under Format Text Box allows you to free elements from flowing within the text body of the document by selecting In Front of Text. Now you can click and drag the element around the page as you refine the layout based on your thumbnails.
Then go through and format the font styles and sizes. It is wise to pick two basic fonts for your company use, across all mediums. For instance, in printed documents you might use a serif font (which has little feet on each character) such as Times New Roman 12 point regular for all body copy and Arial or some other sans-serif font (there are no little feet on the characters) two point sizes larger for all subheadings. Take your sans-serif font and make it larger by four to six points for headings--or try using your serif font in bold or italics in a large size for headings. Do not use bold and italics on the same bit of text (that marks you as an amateur and makes it look like you are trying too hard). Studies show that it is easier to read a serif font in printed documents, so that should be your choice for all printed materials. In e-mail and on Web sites, the reverse is true, so simply flip the logic for the way you use your serif and sans-serif font choices.
As you continue to refine the placement of elements on the page, gradually begin to focus on details such as color, line spacing, and white space. Occasionally print a hardcopy of the document and look at it from a distance in which you can only read the larger fonts such as headlines and observe the order that you look at the various elements. Just as listening is the most important aspect of oral communication, seeing is the most important of visual communication. The more you develop the ability to see what you are saying, the easier visual design will become for you.
Step Seven: Go into Production
Before you move into producing your print document, make sure it has been proofed and re-proofed for embarrassing typos or missing information, such as how to contact you. Always have someone else proofread documents that you have created because you may be "too close to it" to be able to see errors that would be obvious to fresh eyes.
A great design can be made or ruined by how it is produced. Paper choice should be made as deliberately as any other design decision. The weight, texture, finishes and color of the paper should reinforce the message. Colored paper is rarely advised. Usually, you can't go wrong with a nice bright sheet, but if your brand is more soft and elegant, a natural, slightly cream-toned paper like natural white may be a better choice for you.
The paper should also be compatible with the output device (printer). Inkjet printers have more restrictions than laser printers because the ink is liquid--if the paper is too absorbent it will buckle, and if it's not absorbent at all the ink won't adhere. Sometimes it's hard to predict how paper will receive the medium in any kind of print production so if you have not used a particular paper in a particular process before, request printed samples (or try it yourself, if doing things in your own office) before giving the go ahead to produce quantities.
Finally, protect, store, and distribute the finished product with care and concern to preserve the quality until it reaches the hands of the target reader. All of your work would be in vain if the final piece arrives bent or smudged.
Be sure to read part one of Looking Good in Print for additional thoughts on building and maintaining a strong brand. Your printed materials (and electronic versions of them) are an important part of your professional image. Make sure you understand the basics and hold to a strict quality and style guideline.
This article was co-written by Christy Barron, who has been art director of Impact Communications since 2002.
Get practice-building tips and information, including "Building the Business 101," from our team of experts delivered to your e-mailbox every Thursday. Sign up for our free Practice Builder e-newsletter.