Application is a great addition to Outlook.
Some software programs are incredibly comprehensive and complex. (Microsoft Word comes to mind.) They pack in every conceivable feature you might ever want, and many you will never use, but they take time and dedication to master. At the other end of the software spectrum are some one-trick wonders. These programs are usually incredibly easy to use, and although they do only one thing, they do it well. Anagram falls into the latter camp.
Anagram specializes in recognizing and capturing snippets of information and moving them to another application. Anagram can recognize and capture things like names, addresses, telephone numbers, e-mail addresses, and Web addresses. Once anagram captures the text, it can use the text to create a contact, calendar item, task, or note item within Microsoft Outlook, Palm Desktop, Salesforce.com, or NetSuite.
To demonstrate a simple capture, I'll highlight the contact information within a sample e-mail I've created.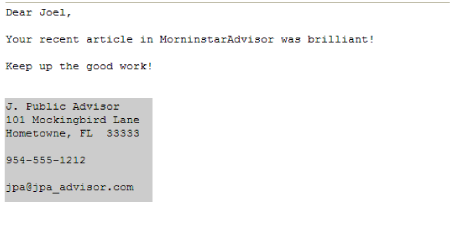 Next, I right-click the mouse to reveal the anagram menu item, as illustrated below.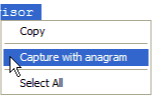 Anagram is smart enough to recognize the text, understand what it means, and paste each line in the appropriate place within a new Outlook contact.
If anagram is not sure about a piece of information, anagram it guesses where it should go. A little warning appears in the upper right, alerting the user that anagram was guessing.
Capturing contact information from an e-mail signature is only one of the actions that anagram is proficient at. For example, if a colleague sends you an e-mail asking to "meet me at 1 p.m. tomorrow for a one-hour meeting," anagram can recognize this as well. If you want to, you can highlight the text. The application will launch the Microsoft calendar appointment dialog box and fill in the appropriate information to schedule the appointment.
You can highlight flight information and paste it into appointments in your Outlook calendar. The application can also capture directions, create to-do's and more.
The new version of anagram is compatible with Windows Vista and Outlook 2007, and it adds some Tablet PC features. It is now possible to capture text exclusively with the stylus by simply tapping the target you want to capture.
If you spend any time at all entering contact information from e-mail and other documents into Outlook, it should be apparent to you what a timesaver anagram can be. If you also make appointments by e-mail, you are going to love this application. Anagram costs $29.95 for a single copy. You can purchase an additional copy for $15.95. A free, 45-day trial is available here: http://getanagram.com.
Get practice-building tips and information from our team of experts delivered to your e-mailbox every Thursday. Sign up for our free Practice Builder e-newsletter.