There's a lot to like about this program, but it's not a slam dunk.
Smarsh, Inc. first announced the launch of its CRM product about nine months ago, and I spoke to the company briefly about it at the 2009 Technology Tools for Today Conference. It was only recently, however, that I finally had a chance to take a good look at the product. For those of you unfamiliar with the firm, Smarsh, Inc. was founded in 2001. Its initial focus was Web-based communications, but it soon discovered that there was more money to be made providing electronic messaging storage, archiving, and retrieval services that meet or exceed all government regulatory requirements. Today, the overwhelming majority of Smarsh's clients are financial services firms. Smarsh, Inc. was listed among the Inc. 500 fastest-growing private firms in 2008. More recently, Smarsh was named the fastest-growing private firm in Oregon by the Portland Business Journal.
Because e-mail and e-mail archiving are core Smarsh competencies, and because e-mail is such a core part of their clients' business, CRM would appear to be a natural extension of what Smarsh does. After all, most advisors want their e-mail integrated with their CRM application, so all tasks, calendaring, communication, client histories, etc., can be stored in one place and linked to the client CRM record. As a result of this thinking, Smarsh decided to enter the CRM business.
Rather than build a CRM application from scratch, Smarsh was able to purchase the code to the old NationBuilder application from iNation. This allowed Smarsh to roll out a product rapidly. Some readers may recall that I reviewed a beta version of NationBuilder back in 2005 for Financial Advisor Magazine. At that time, I thought NationBuilder was rough around the edges, but that it had a good deal of potential. Under the previous ownership that potential was never realized. Whether that was due to lack of a developmental budget, poor marketing, or some other reason we may never know, but Smarsh's purchase of the code has given this product a new lease on life, as well as an opportunity to realize the potential it exhibited four years ago.
Smarsh provided me with a test account so I could try the application for myself. When you first log on to the application, the first thing you see, by default, is the My Day view, illustrated in Figure 1. What is not readily apparent when you first log on is how customizable the elements in this view are. If you go to the preferences menu at the left of the screen, you can easily alter the default settings for each element. For example, I can choose to change the default calendar view from a daily view to a weekly or a monthly one. I can choose to include all tasks on the weekly and monthly view, only open tasks, completed tasks, or no tasks. You can have one calendar displayed as the default on the My Day (home page) and a different default calendar display for the Calendar tab.
You can even set up e-mail notifications when appointments are added or edited. If an assistant is primarily responsible for booking your appointments, you can be notified of all updates immediately. This can also be accomplished through a synchronization with other systems or devices (such as a smartphone). In addition, the system can be automatically programmed to send notifications of upcoming events. So, if some of your contacts have requested information about upcoming events, such as seminars, when you schedule a new event, all those tagged to receive new event announcements will automatically receive notification.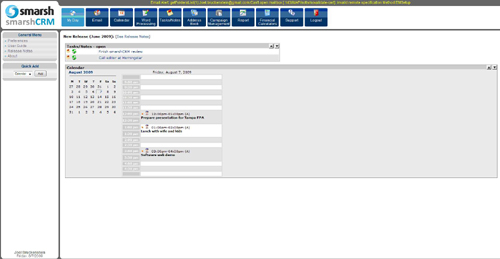 In Figure 2, I've reconfigured some of the default settings for the elements on my home page. I've changed the start of my workday from 9:00 a.m. to 8:00 a.m. and I've changed the end of my workday from 5:00 p.m. to 6:00 p.m. In addition, I've changed my default time interval from 30 minutes to 15 minutes.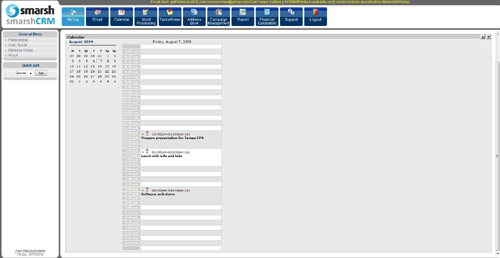 The problem with the My Day page is that currently you cannot choose to add additional elements such as most recent e-mails, news, etc. The home page would be much more enticing if smarshCRM included the flexibility to add additional elements.
Navigating among the various sections of the program is easy. You select a tab at the top of the page (My Day, Email, Calendar, Word Processing, Tasks/Notes, Address Book, Campaign Management, Report, Financial Calculators, Support, and Log Out) and you are there.
The menus on the left are context-sensitive; that is, they change depending on where you are in the program. For example, in the e-mail section, you are presented with an Email Menu (check inbox, compose new mail, search current folder, reset cache) and an Email Preferences menu (edit default account, create new account, manage signatures, manage disclaimers, manage outgoing servers). From almost every view, you can easily access the general menu (preferences, user guide) and the Quick Add Menu. This latter menu allows you to easily add a contact, compose an e-mail, add a task, or add a calendar entry for anywhere in the application.
The smarshCRM email client allows you to use any IMAP account as your default e-mail account, but because Smarsh is a leader in e-mail hosting and archiving, it would seem to me that smarshCRM users would want to use Smarsh for their e-mail hosting and archiving needs. If you choose not to use Smarsh, or if you want to access additional IMAP accounts through the smarshCRM email client, the setup is straightforward.
Like most other e-mail clients, Smarsh allows you to create folders and subfolders and filter e-mail using various criteria. This particular section also makes ample use of Web 2.0 technology so users can, for example, drag and drop a message from the inbox to another folder. This drag-and-drop capability gives the e-mail client a desktop-like feel.
The calendar section also has a desktop-like feel. Users can drag and drop an appointment from one time slot to another. In addition, the calendar makes use of hotlinks. If a task is listed in the calendar, you can click on it to reveal the original task/note entry, along with all the details.
The word processor is not going to replace Microsoft Word anytime soon, but it can serve as a storage area for letter templates and other documents you will use in marketing campaigns and client communications. These letters and documents can be used to create an individual mail merge based upon a predefined grouping, or the user can create a group on the fly, perform a mail merge, and send out the document. In addition, the documents contained here can be used to set up drip marketing campaigns under the Campaigns tab. All correspondence created here creates a link and a history of who the letter was sent to for compliance purposes, but just to be clear, this word processing/document tab does not represent a full-fledged document management system. I'm told that Smarsh has plans to integrate its CRM application with DocuPace in order to offer this functionality to clients for an additional charge.
The so-called address book is not one of the application's strong suits. It is less intuitive and more difficult to navigate than some other sections of the program. This is troubling because it is very important to be able to effortlessly access client and prospect records if clients call unexpectedly.
I think the biggest problem here is that the lack of hotlinks. When you view a list of clients, you can't click on a name to access the client record. Instead, you have to click on the "Edit" button to open the record. Once you get used to the program's conventions this is not a great bother, but for people just learning the system, it certainly is.
On a more positive note, the contact records themselves can be quite extensive, and they are highly customizable. Each record contains multiple tabs. The main tab, labeled "Personal" stores names, addresses, e-mail, phone numbers, and the like by default. You can also record a client type (prospect, client, inactive, etc.), marital status, driver's license number, employment info, referral source, and more. In addition, users can create custom fields. Other tabs store internal information (client preferences, hobbies, etc.), financial information, investment accounts, documents, and notes/tasks. There's also a household tab where you can create family relationships/links.
Campaigns are essentially workflows that combine a number of sets under a single heading. This might include anything from drip e-mails to setting up a seminar to processing a new client into the firm. Each workflow has multiple sets. Each step can be associated with actions, documents, and more. Different steps can be assigned to different people in the office. The power of the campaign is that you can create a workflow template for each campaign, and then the whole workflow can be initiated with a mouse click or two. smarshCRM includes a number of campaign templates that are ready to use. Advisors can create their own and save them by following the instructions provided.
The reporting tool allows users to generate their own custom reports. There were no report templates provided with my test account. Presumably, the software developers believe that creating reports is so simple that templates are not necessary. If that's the case, I'm not sure I agree.
Security is a strong suit. Each firm gets its own secure, encrypted database. Databases are accessed through a secure (https) Web connection. The permissioning system is very granular, so the firm can dictate what each user can view, copy, edit, print, and delete. For example, if you have a receptionist answering the phones, you might want to give that person access to the names, addresses, phone numbers, and e-mail addresses of everyone in the database, but nothing more. A junior planner might have access to the same information, plus additional data on only the clients assigned to that advisor. To facilitate permissioning at larger firms, smarshCRM allows you to create user groups and then assign a set of permissions to the whole group. For example, you might want firm principals to have unfettered access to all options. You could create a group called principals and grant them access to everything.
smarshCRM includes a 144-page Users Guide in PDF format. The guide does a good job of explaining most of the program's configuration options, but I don't think it does as good a job as it could guiding novice users through the ins and outs of actually using the program. There's a good core of information here, but it needs further work.
There are some other bright spots. Smarsh has ensured that the application is compatible with most major browsers. It appears to work fine with Internet Explorer, Firefox, and Chrome. The application offers integration with LaserApp and Quik Forms Library as well as Albridge.
Not all is rosy, however. While Smarsh makes ample use of hotlinks and AJAX in some areas, others are lacking. The address book in particular, which is the gateway to individual client records, seems clunky. There are no shortcuts to directly access your favorite clients. You cannot click on a name in a list to go directly to a client record. The idea of having to click on an edit button to access a client record seems counterintuitive to me.
As stated earlier, the lack of a truly customizable home page is disappointing. Many advisors would like access to the records of their top clients from the home page, for example. Many firms would like a place to post firmwide messages, too.
While the application does offer a great deal of customization flexibility, taking advantage of this flexibility may be beyond the capabilities of some. The same can be said of the reports. For those with good tech skills, setting up and customizing reports will be easy; for others it will be challenging. A preconfigured set of report templates would help. It is easier to edit an existing template than it is to create your own from scratch.
Costs are reasonable. There is a setup fee that can run from about $250 to $1,000 or more, depending on the number of users and the amount of data that must be imported. Monthly fees start at as little as $60 per month for a two- to three-user plan. A five- to 10-user plan typically costs $100 to $150 per month.
After briefly examining smarshCRM, I'm cautiously optimistic, but I'm not sold yet. Some of the ideas underlying the application's design, such as security, granular controls, and individual user customization are right on, but the execution is uneven. Calendaring and group calendaring seem to work well, but navigating client records is suboptimal. The ability to customize is there, but better defaults in the client record section as well as a robust set of report templates are needed.
Given the shortcomings and the broad range of capable competitors, smarshCRM today is probably best suited to existing Smarsh clients who want to integrate their current Smarsh e-mail accounts with a compatible CRM system. It is also an option for those who want to purchase a robust e-mail hosting/archiving solution and a CRM solution from a single provider. smarshCRM holds promise, but at this point it is still a work in progress.
Get practice-building tips and information from our team of experts delivered to your e-mail inbox every Thursday. Sign up for our free Practice Builder e-newsletter.