There's a lot to like about this program, but it's not a slam dunk.
Smarsh, Inc. first announced the launch of its CRM product about nine months ago, and I spoke to the company briefly about it at the 2009 Technology Tools for Today Conference. It was only recently, however, that I finally had a chance to take a good look at the product. For those of you unfamiliar with the firm, Smarsh, Inc. was founded in 2001. Its initial focus was Web-based communications, but it soon discovered that there was more money to be made providing electronic messaging storage, archiving, and retrieval services that meet or exceed all government regulatory requirements. Today, the overwhelming majority of Smarsh's clients are financial services firms. Smarsh, Inc. was listed among the Inc. 500 fastest-growing private firms in 2008. More recently, Smarsh was named the fastest-growing private firm in Oregon by the Portland Business Journal.
Because e-mail and e-mail archiving are core Smarsh competencies, and because e-mail is such a core part of their clients' business, CRM would appear to be a natural extension of what Smarsh does. After all, most advisors want their e-mail integrated with their CRM application, so all tasks, calendaring, communication, client histories, etc., can be stored in one place and linked to the client CRM record. As a result of this thinking, Smarsh decided to enter the CRM business.
Rather than build a CRM application from scratch, Smarsh was able to purchase the code to the old NationBuilder application from iNation. This allowed Smarsh to roll out a product rapidly. Some readers may recall that I reviewed a beta version of NationBuilder back in 2005 for Financial Advisor Magazine. At that time, I thought NationBuilder was rough around the edges, but that it had a good deal of potential. Under the previous ownership that potential was never realized. Whether that was due to lack of a developmental budget, poor marketing, or some other reason we may never know, but Smarsh's purchase of the code has given this product a new lease on life, as well as an opportunity to realize the potential it exhibited four years ago.
Smarsh provided me with a test account so I could try the application for myself. When you first log on to the application, the first thing you see, by default, is the My Day view, illustrated in Figure 1. What is not readily apparent when you first log on is how customizable the elements in this view are. If you go to the preferences menu at the left of the screen, you can easily alter the default settings for each element. For example, I can choose to change the default calendar view from a daily view to a weekly or a monthly one. I can choose to include all tasks on the weekly and monthly view, only open tasks, completed tasks, or no tasks. You can have one calendar displayed as the default on the My Day (home page) and a different default calendar display for the Calendar tab.
You can even set up e-mail notifications when appointments are added or edited. If an assistant is primarily responsible for booking your appointments, you can be notified of all updates immediately. This can also be accomplished through a synchronization with other systems or devices (such as a smartphone). In addition, the system can be automatically programmed to send notifications of upcoming events. So, if some of your contacts have requested information about upcoming events, such as seminars, when you schedule a new event, all those tagged to receive new event announcements will automatically receive notification.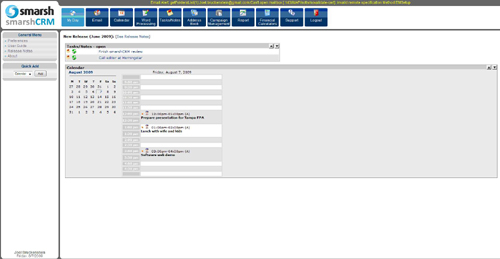 In Figure 2, I've reconfigured some of the default settings for the elements on my home page. I've changed the start of my workday from 9:00 a.m. to 8:00 a.m. and I've changed the end of my workday from 5:00 p.m. to 6:00 p.m. In addition, I've changed my default time interval from 30 minutes to 15 minutes.