Independent Individualists need your help to work through standard-of-living-risk challenges.
Last month, we reviewed the basics of assessing standard-of-living risk for Friendly Followers. Often, advisors will recommend an investment program to a client based purely on their risk tolerance questionnaire. One element that is rarely captured in a questionnaire (or anywhere else, for that matter) is the idea of how risky a person's lifestyle is in relations to their investment portfolio. To advise clients properly, advisors should assess the financial responsibilities of their clients and determine whether clients have ample assets to cover these responsibilities and an appropriate asset allocation to match.
The next behavioral investor type that we will examine is the Independent Individualist.
Review: Independent Individualists
An Independent Individualists are active investors with medium-to-high risk tolerance who are strong-willed and independently-minded thinkers. They are self-assured and "trust their instincts" when making investment decisions; however, when they do research on their own, they may be susceptible to acting on information that is available to them rather than getting corroboration from other sources. Sometimes, Independent Individualists make an investment without consulting anyone. This approach can be problematic because, due to their independent mindset, these clients often irrationally cling to the views they had when they made an investment, even when market conditions change. This makes advising Independent Individualists challenging. They often enjoy investing, however, and are comfortable taking risks, but often resist following a rigid financial plan.
Some Independent Individualists are obsessed with trying to beat the market and may hold concentrated portfolios. Of all behavioral investor types, Independent Individualists are the most likely to be contrarian, which can benefit them-and lead them to continue their contrarian practices. Independent Individualist biases are cognitive: conservatism, availability, confirmation, representativeness, and self-attribution.
Scenario
Suppose you are beginning an engagement with Boris, an Independent Individualist. You give him a standard-of-living risk questionnaire after having tested him for behavioral biases of growth-oriented clients and a standard risk tolerance quiz. Based on his answers to the standard-of-living questionnaire, you identify him as someone with a standard-of-living risk. This means that he may not have an extra cushion of money available to him to withstand a "shock to the system," such as a job loss, disability, and other potential adversities based on current lifestyle. Generally, this can mean that he should accept less risk in his portfolio than those clients without a standard of living risk.
Because he is an Independent Individualist, he is likely to recognize that he needs your help to work through this challenge.
The following analysis presents two investment programs, one for Boris (with a standard-of-living risk) and one for his sister Natasha (without a standard-of-living risk). Natasha's investment program is based primarily on answers to a risk-tolerance questionnaire and her behavioral biases. You are using Natasha's portfolio allocation as a baseline for creating Boris'. Your basic task as to assess a retirement goal for your client and the associated return needed to reach that goal. When working with actual clients, you will need to adjust this analysis to suit your purposes.
Independent Individualist with and without a Standard-of-Living Risk
As we know, Independent Individualist clients:
Have primarily cognitive biases.
Are Independent thinkers.
Need you to collaborate with them to make good financial decisions
For Boris, an Independent Individualist with a standard-of-living risk, we are going to make an assumption that he may have difficulty sticking to a portfolio with a probability of a loss year at greater than 30%. For Natasha, an Independent Individualist client without a standard-of-living risk, 30% may be okay. But sometimes, Independent Individualists take on more risk than is necessary, so being somewhat conservative may be the best course of action.
The following table summarizes the investment programs for both Boris and Natasha.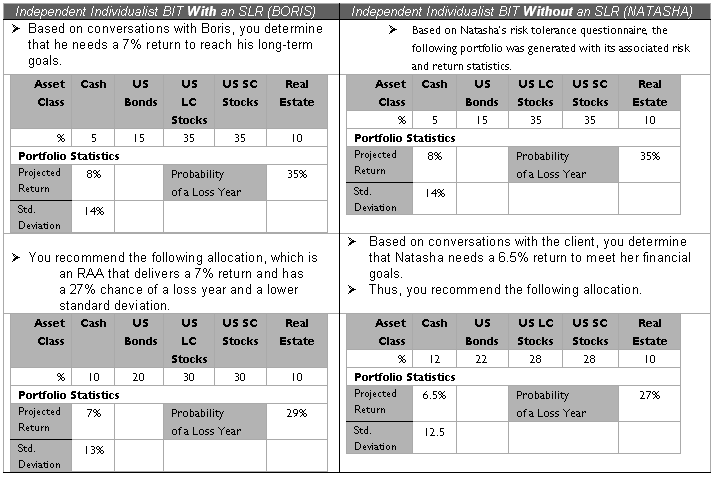 Advisors to Independent Individualists need to remember that they can be difficult clients to advise because of their independent mindset, but they are usually grounded enough to listen to sound advice when it is presented in a way that respects their independent views. Independent Individualists are firm in their belief in themselves and their decisions, but can be blinded to contrary thinking. As with Friendly Followers, education is essential to changing behavior of Independent Individualists; their biases are predominantly cognitive.
A good approach is to have regular educational discussions during client meetings. This way, the advisor doesn't point out unique or recent failures, but rather educates regularly and can incorporate concepts that he or she feels are appropriate for the client.
Because Independent Individualist biases are mainly cognitive, education on the benefits of portfolio diversification and sticking to a long-term plan is usually the best course of action. Advisors should challenge Independent Individualists to reflect on how they make investment decisions and provide data-backed substantiation for recommendations. Offering education in clear, unambiguous ways is an effective approach. If advisors take the time, this steady, educational approach should yield positive results.
Next month, we will learn how to use standard-of-living risk information with Active Accumulators.