There are slim pickings, but palatable options exist for the dedicated.
Sustainable investing--where investors seek firms with strong records on environmental, social, and governance, or ESG, issues--has been on the rise lately. A recent report by the Social and Investment Forum indicated that $2.5 trillion are invested in funds incorporating such criteria into their research and portfolio-construction processes. Institutional investors are particularly committed to the trend, accounting for the lion's share of that total, but mutual fund investors are participating, too. Morningstar's fund flow analysis estimates that sustainable mutual funds have taken in nearly $8.5 billion since the start of 2006. That represents a growth rate of more than 35%.
Equity funds are at the center of the sustainable trend. They make up over 90% of the sustainable-fund assets in Morningstar's database. That leaves bond investors with few sustainable choices.
In fact, only six sustainable-bond funds exist in Morningstar's database. To make matters worse, none of them are compelling options. Four of the six have trailing five- and 10-year returns that rank in their category's third quartile. None of them have been able to beat their respective benchmarks in more than half of rolling three-year periods over the last decade. All of them are expensive.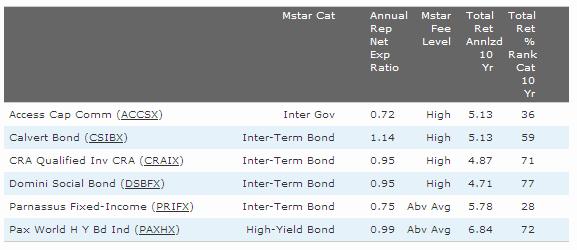 There are some fairly reasonable explanations for these slim pickings. All of the funds have small asset bases: Only one of them has breached the billion-dollar mark and just barely so. Funds with small asset bases often have higher expense ratios because there are fewer shares over which to spread the fixed costs of running a mutual fund. High expense ratios have a particularly negative impact on bond funds because the range of returns tends to be narrower. Such small scale also puts a limit on the research resources available to managers and makes it difficult to attract top talent. In addition, the fund firms that employ a sustainable approach tend to be equity shops first and foremost. Bond-fund management just isn't in their core circle of competence.
Still, sustainable investors deserve better. More bond-fund options exist for faith-based investors, and some of those have attractive records. Some faith-based funds, such as the GuideStone funds, are subadvised by well-respected bond managers, such as PIMCO and Western Asset. Granted, it may be easier to implement faith-based strategies because they typically involve a negative screen, where certain firms or industries are prohibited entirely. Subadvisors can simply remove those firms from their standard portfolios. In contrast, sustainable investing seeks firms that have best practices, making implementation a bit more complicated and subjective. But if such a process can be done on an in-house basis, it could conceivably be implemented using a proven subadvisor as well.
The current roster of sustainable bond funds may be flawed, but fortunately, they tend to be less risky than many of their traditional counterparts. Most of them have Morningstar Risk ratings of low or below average, and most fared better than the majority of their category peers during 2008's financial crisis. But as is the case with many relatively conservative strategies, the sustainable funds also have lagged since the recovery began, generally because they take on less credit risk.
For investors willing to accept the funds' potential drawbacks in an effort to build a diversified portfolio of sustainable funds, there are some palatable, if not standout, options.