You won't see much fireworks here except for maybe a snake or some caps.
We've got half of a strange year in the books. For all the economic drama, returns on most U.S.-stock funds are rather tightly bunched around the mid-single digits with one happy exception. Sorry, no fireworks here. This seems like a good time then to take a look at how the largest actively managed stock funds have fared so far.
While I think it's quite useful to understand what happened at these funds, you don't want to lose perspective. The surest way to wreck a portfolio is to make decisions based on short-term performance. You judge a manager by his entire record, not six months. So, I hope this helps you to understand what's happening, but keep in mind that it's your emotions telling you that the short term should count for more than the long term, but all evidence suggests that the long term is what matters. Please read the analyses to get our take on whether each fund is a worthy investment.
A quick look at our category performance table shows us what has done best and worst so far. Health care, real estate, and utilities were the best sectors, while financials, natural resources, and technology were duds. By the Morningstar Style Box, small growth and mid-growth fared the best, while small value and large growth were the mutts.
Overall, the first half wasn't all that glorious for our 10 giants. Three were in the top quartile, but one was in the bottom quartile, and two were just barely above it.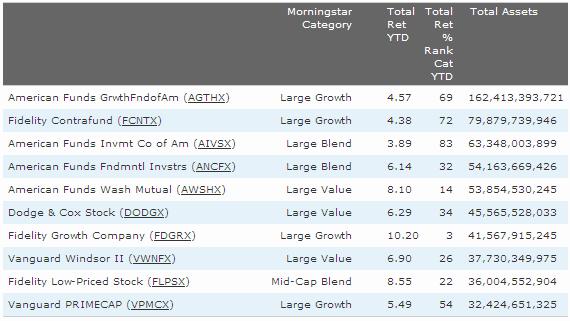 1. American Funds Growth Fund of America AGTHX 4.6% return, 69% percentile rank (1 = best and 100 = worst)
A sizable overweighting of financials such as Citigroup C and Wells Fargo WFC has led to a sluggish first half for the biggest actively managed stock fund. Nor has it helped that it has Google GOOG and Microsoft MSFT among its top holdings. The fund has nine managers, plus it hands a stake to the firm's analysts. So, for a stock to make it into the top holdings, at least a couple managers would have to be on board.
As a side note, many shareholders are voting with their feet as this fund's $9.5 billion in year-to-date outflows is the largest of any fund.
2. Fidelity Contrafund FCNTX 4.4% return, 72% percentile rank
Will Danoff has a third of the portfolio in tech, but he's been light on health care. So, it is not an ideal sector stance for the year. But the most interesting part of the tech story is that Danoff has bought stakes in Facebook and Groupon prior to their IPOs. Given the very limited supply of shares, both stakes are small slivers of the fund, but Danoff isn't one to pass up a stock that can boost performance, even if just by a small amount. But Danoff doesn't write off smaller and less liquid positions just because they can't be a big part of this $80 billion fund on their own. In the past he's bought baskets of small- or mid-cap names in a particular industry he wants exposure to.
3. American Funds Investment Company of America AIVSX 3.9% return, 83% percentile rank
Management was right to underweight financials, but a technology overweighting and a health-care underweighting have held the fund back this year. Like their brethren at American Funds Growth Fund of America, the seven managers here have been stung by Microsoft and Google, but they also have shares of the lagging Hewlett-Packard HPQ.
4. American Funds Fundamental Investors ANCFX 6.1% return, 32% percentile rank
All right! Our first outperformer. OK, this fund is just 200 basis points ahead of the above funds, but we'll take what we can get. The fund was nicely underweight financials and technology. On the plus side, management has done well with Philip Morris PM, Baxter International BAX, and Bristol-Myers Squibb BMY--now that's playing both sides of the street. The fund also had the slight benefit of having the biggest foreign-stock weighting of our top 10--22% of assets. Nearly all of that is in Europe. Despite the Hellenic tragedy, European stocks have actually performed a little better than U.S. stocks.
5. American Funds Washington Mutual AWSHX 8.1% return, 14% percentile rank
This is American's most dividend-oriented fund, and that's made it a good spot to be in this year. Stakes in big oil companies, such as Chevron CVX and Royal Dutch Shell RDS.B, and some big telelecom companies have led to solid results. In addition, that has kept the fund away from Google and Microsoft, which has held other American funds back.
6. Dodge & Cox Stock DODGX 6.3% return, 34% percentile rank
Overweighting health care and technology has been a mixed bag. Hewlett-Packard has hurt, but Pfizer PFE and Sanofi-Aventis SNY have been strong. All three are good representatives of Dodge's value style. Dodge likes companies with strong positions but with cheap shares because they seem to be at low ebb in their cycle. Dodge bets on a comeback and figures the low valuations will provide some downside protection if they are wrong.
7. Fidelity Growth Company FDGRX 10.2% return, 3% percentile rank
Steve Wymer's fund is the star performer of our group of 10 for breaking into double digits. He got there by taking on more risk than any of the other funds on the list, and it paid off. The closed fund sports names, such as Lululemon LULU, Salesforce.com CRM, Red Hat RHT, and Alexion ALXN, that you won't see in the other portfolios. Not surprisingly, the fund also led this group of giants in the snapback year of 2009. Wymer buys smaller, faster-growing companies than you'll see in the other funds here.
8. Vanguard Windsor II VWNFX 6.9% return, 26% percentile rank
And now for the other end of the value/growth spectrum, we go to deep-value player Vanguard Windsor II. Lead manager Jim Barrow plays a more extreme version of the Dodge & Cox strategy I described. He likes stuff that's really cheap and really battered. Yet interestingly, he's got some similar names like Pfizer. You know Pfizer has fallen a long way when the former growth darling makes it into Barrow's portfolio.
9. Fidelity Low-Priced Stock FLPSX 8.6% return, top 22% percentile rank
Joel Tillinghast was in the middle of the mid-blend pack at the end of May, but then the market hit an air pocket. Now he's in the top quartile because his defensive strategy tends to lose less in down markets. As usual, it's an eclectic group of names that has helped this 800 stock portfolio to outperform. Names such as UnitedHealth UNH, Fossil FOSL, and Next PLC NXT have led the charge. Tillinghast may be the only one who could successfully run an 800 stock small/mid-cap portfolio.
10. Vanguard Primecap VPMCX 5.5% return, 54% percentile rank
The growth stalwarts at this closed fund are having a middling year despite a big health-care bet. While Biogen Idec BIIB has been a big winner, other names such as Amgen AMGN and Roche RHHBY have been dull. Moreover, they've suffered from that one-two punch of Google and Microsoft.